Ole Gunnar Solskjaer is pleased to see that his working method at Manchester United has had an effect. The Red Devils had a messy season, but secured third place on Sunday and with that a Champions League ticket.
"I don't think many people predicted this. Many expected that we would finish in sixth or seventh place," Solskjaer told Sky Sports after the crucial final game with direct competitor Leicester City, which was defeated 0-2 in its own King Power Stadium.
Manchester United had a particularly difficult first half of the season, in which the club soon lost the connection with league-leader Liverpool and was also far from the top four. Solskjaer's position was under severe pressure, but things continued to improve during the season.
After the 0-2 defeat to Burnley on January 22, United didn't lose a league game again, returning England's twenty-time champion to battle for the Champions League tickets. Sunday's victory at Leicester, which had been on course for a long time to participate in the ball of millions, was sufficient.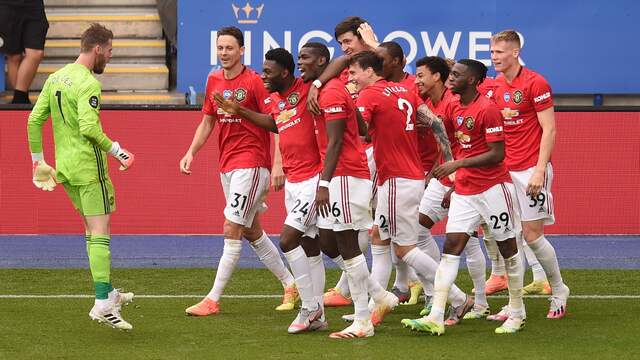 Manchester United players celebrate winning the Champions League ticket. (Photo: Pro Shots)
"I prefer not to be praised too much"
Although Solskjaer faced a lot of criticism this season, he has not been alarmed. "If I am criticized, it only makes me stronger. I also prefer that I am not praised too much, because then I get satisfied faster. That is how I am put together," said the Norwegian, who in December 2018 took over from the fired José Mourinho.
"I believe in what I do. We all have different ideas about fulfilling the role of manager and I do it my way. The players and staff picked it up great. I said before the game against Leicester in the locker room that the season is anyway successful, because we are building something here. "
Manchester United can prepare for the Champions League after a year's absence due to third place. The Solskjaer squad is still active in the Europa League this season, which will be completed in August.
View the results and the final score in the Premier League
.