Siheung-si, Gyeonggi-do announced on the 15th that it held a supply contract agreement ceremony with a supplier of gifts for the hometown love donation system on the 14th.
At the time of the agreement, representatives and officials from 13 companies selected by the City Hometown Love Donation Program return gift selection committee attended, and a meeting and agreement related to the hometown love donation system were drawn up. The contract period is until the end of this year.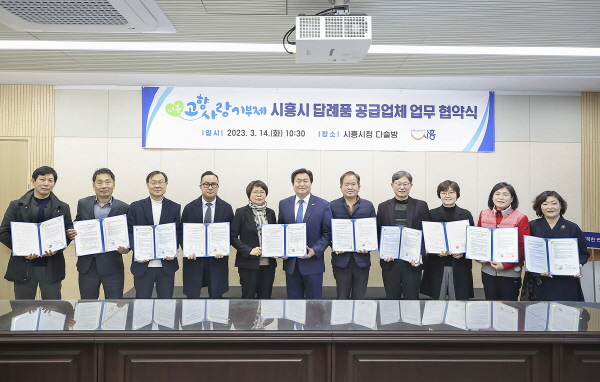 The companies participating in this agreement are △Wave Park Co., Ltd. (Wave Park admission ticket and basic lessons) △Gaetgol Farming Association (Naeman tidal flat lotus root fry) △Naeum Social Cooperative Association (Remember Health 12 songs) △Dalkong (homemade cookie set) △Siheung City Jangdokdae Cooperative Association (Two types of traditional soybean paste and red pepper sauce set) △ Korea One Ginseng Co., Ltd. (Hongiksam red ginseng stick) △ Local Salim Social Cooperative Association (Salim Dorazion) △ Tree Salim (wooden acupressure footrest) △ BSTN Co., Ltd. (eco-friendly) Acidic solid shampoo bar) △ Elite Friends Co., Ltd. (ESG management practice product, eco-friendly kitchen towel set) △ Hogam Communication Co., Ltd. (naturally dyed lotus leaf buckwheat pillow) △ Harusup (Two types of shampoo and soap set from Harusup) △ Social cooperative Ieum, etc. A total of 13 companies.
The hometown love donation system has been in effect since January of this year, and if you donate 100,000 won, you can receive a full tax deduction and a return gift worth 30,000 won. Even non-residents in Siheung can donate to the city if they belong to a workplace, business place, school, etc. in Siheung.
Mayor Lim Byeong-taek said, "I hope that the Donation to Love Hometown will be an opportunity to publicize the high-quality products produced in the city throughout the country." I will do my best," he said.
I would like to pay a subscription fee for this article.
Add +1,000 won
Add +10,000 won
-Add 1,000 won
-Add 10,000 won
Payment may not proceed smoothly in some Internet environments.

343601-04-082252 [예금주 프레시안협동조합(후원금)]Account transfer is also possible.