This is the "cheat pack of the year"
---
Updated on 01/23/2023 – 18:34Reading time: 2 min.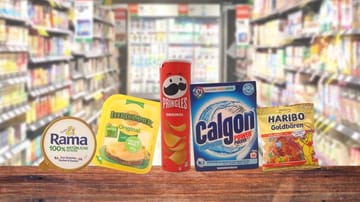 The Hamburg consumer advice center has had the "deceptive package of the year" voted on. This is the result.
"Rama" has been voted "Sham Pack of the Year 2022". This was announced by the Hamburg consumer center on Monday.
Since last year, the well-known spreadable fat from the manufacturer Upfield has been sold with 400 instead of 500 grams for the same price in a can of the same size. The product became 25 percent more expensive, according to consumer advocates, who are demanding that legislators better protect consumers from such hidden price increases.
Every year, Hamburg's consumer advocates vote on the worst "sham pack of the year" and thus oppose the trickery of the large corporations who cheat on filling quantities or packaging sizes. In January, consumers voted online to determine the loser from five candidates.
Never before received so many complaints
"Upfield has gone too far and Rama more than deserves the vote for 'deceptive packaging of the year'," says Armin Valet from the Hamburg consumer advice center. "If the contents shrink but the pack doesn't, consumers have little chance of noticing the less-in trick."
Since spread fat is also a food that is often bought and is almost always offered in 500 gram cups, the procedure is particularly bold. Never before had the consumer advice center received so many complaints about a product.
Rama is followed by Leerdammer
The second place behind Rama is the "Leerdammer" sliced ​​cheese, the content of which has shrunk from 160 to 140 grams, although "permanently one more slice" was promised. The "Calgon" water softener, the "Goldbears" from Haribo and the "Pringles" chips landed in places three to five. Here is the list:
Platz 2: "Leerdammer" von Lactalis: The price of the cheese has not only increased, the content has also shrunk from 160 grams to 140 grams. Consumers pay up to 43 percent more.
3rd place: "Calgon" by Reckitt Benckiser: You pay 42 percent more – but due to the trickery in the dosage information, this is not noticeable at first glance.
4th place: gummy bears from Haribo: The company puts less fruit gum in the bags, which means you pay up to 14 percent more.
5th place: "Pringles" from Kellogg's: The chips have become 25 percent more expensive, and the can also contains 15 grams less than before.