At first glance, there is nothing crazy to see when Serena Williams heads to the training track a day before the start of Wimbledon. Camera crews closely follow the American tennis star and a small tennis fan runs towards her with pen and paper. Williams signs and then walks on.
As usual as the scenes around the 40-year-old tennis star are, her 21st participation in Wimbledon is as uncertain. Williams was injured last year in the first round with a hamstring injury at the grass tournament in London and has not played in singles since. She dropped to place 1204 in the world ranking and is present at the All England Club thanks to a wild card.
Her last title in London dates back six years, but the seven-time winner at Wimbledon is still the queen of the grass tournament. In 2002 she captured her first Venus Rosewater Dish. Twenty years later she traveled to London for nothing less, although it is unclear what her level is.
"Oh come on, you already know the answer to this question," she responded with a smile when a journalist asked what she thought would be a good result at Wimbledon. "I have high goals, we'll see. I will not answer it further.' The 23-time grand slam winner still hopes to equal the record of the Australian Margaret Court: 24 titles.
Fit or not, no tennis star feels more at home on Center Court than Williams. She played eighty matches in the famous tennis theater, which is celebrating its centenary this year. No active female player can tell her that. Williams won 71 out of 80 games. In 2018 and 2019 she lost the final. "It's great to be back at Wimbledon, although it still feels a bit surreal."
For a long time it was uncertain whether Williams would return to the track. As speculation about a possible retirement grew, she became less and less vocal. "Last year was tough," Williams said. "I tore my hamstring and tried to make it to the US Open. When that didn't work, I put my racket away for a while so that I could recover physically and mentally.'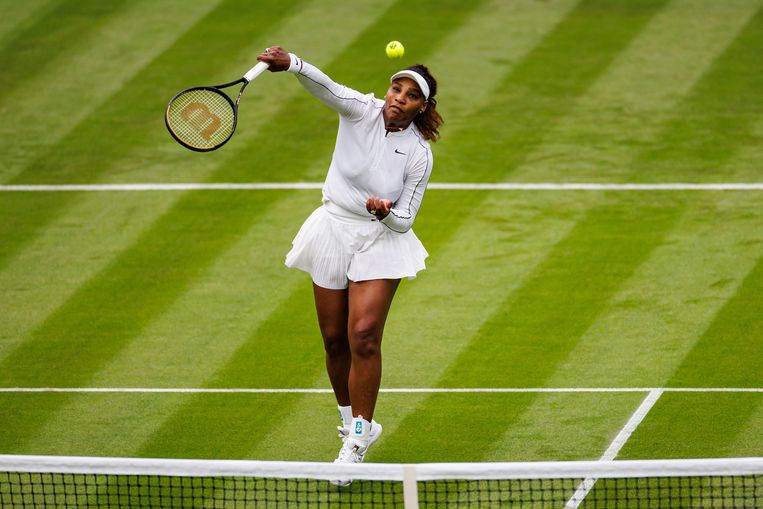 Williams focused on other matters. She had more time for her four-year-old daughter Olympia and became more involved in her company Serena Ventures, through which she invests in other companies. In April, it was revealed that she, together with Formula 1 driver Lewis Hamilton, wanted to invest more than eleven million euros per person in Chelsea. The English football club went on sale at the beginning of this year after Russian owner Roman Abramovich withdrew.
'My life consists of more than playing tennis tournaments. If you have your own business, you have to give it your all," Williams said. "But I won't be in the office for the next few weeks. If you send me an e-mail, you will receive an automatic message back that I am not here. Everyone knows I'll be back in a few weeks.'
Williams must not do it alone with her return to Wimbledon without rhythm. It is also the first time in ten years that she has not had her regular coach Patrick Mouratoglou by her side. Two months ago, Mouratoglou decided to end their partnership after Williams decided not to participate in Roland Garros. He had lost his enthusiasm.
On the basis of the 52-year-old Frenchman, Williams conquered ten of her 23 grand slam titles and after a lesser period she again became the number one in the world. 'How does it feel to be at Wimbledon without him? I haven't even thought about it," Williams said curtly. 'It feels good. I'm having a great time here.'
Yet Mouratoglou is present at Wimbledon. He currently works with Simona Halep. The former number one in the world experienced its peak in 2019 at Wimbledon by beating Williams in the final. Williams and Halep could meet in the quarterfinals.
Williams will face Harmony Tan, France's number 115 in the world, in the first round. In preparation, she played just two doubles at the Eastbourne grass tournament last week. Is an eighth title really a possibility? In any case, she wants to wash away the bad aftertaste of last year at the place where she experienced her greatest successes. "To be honest, that's always been a really big motivation for me."