Sangji University Industrial Cooperation Foundation (Director Kim Sang-ho) Usan-dong Urban Regeneration Field Support Center announced that the '2023 Wonju Highball Festival' will be held in the ecological riverside area of ​​Usan-dong from 6:00 pm to 10:00 pm every Friday until the 30th.
This festival, as part of the 'Usan-dong Urban Regeneration New Deal Project' under consignment operation by Wonju City, is co-organized with the Usancheon Merchants Association located in the business area to increase the floating population of Usan-dong and revitalize the local commercial district. A variety of events and programs are available.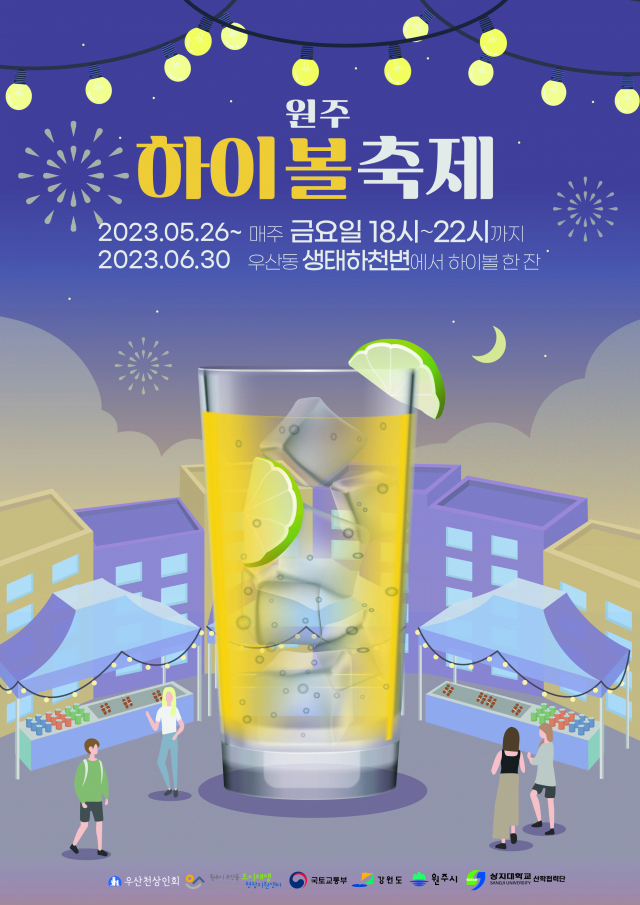 In addition, Sangji band clubs 'Dolphins' and 'Yejire' band performances, hip-hop club 'Maya in the Freestyle' dance and rap, 5-member orchestra 'One Sound Ensemble' picnic concert, and Haevichi band performances are prepared to restore the ecological river. The project is expected to revitalize the newly renovated Usan-dong commercial district.
Choi Jin-young, president of Usancheon Merchant's Association, said, "Thank you to all the visitors who came to this festival."
The Wonju Highball Festival, which was held three times from August to September of last year, attracted more than 7,000 people to the 120m Daehak-ro Street with explosive chemistry between the 'highball', which quickly emerged as the latest trend, and the 'outdoor pub' concept reminiscent of Euljiro 3-ga, Seoul.
I would like to pay a subscription fee for this article.
Add +1,000 won
Add +10,000 won
-Add 1,000 won
-Add 10,000 won
Payment may not proceed smoothly in some Internet environments.

343601-04-082252 [예금주 프레시안협동조합(후원금)]Account transfer is also possible.