To not miss anything on African news, subscribe to the newsletter of World Africa from this link. Every Saturday at 6 a.m., find a week of current events and debates treated by the editorial staff of World Africa.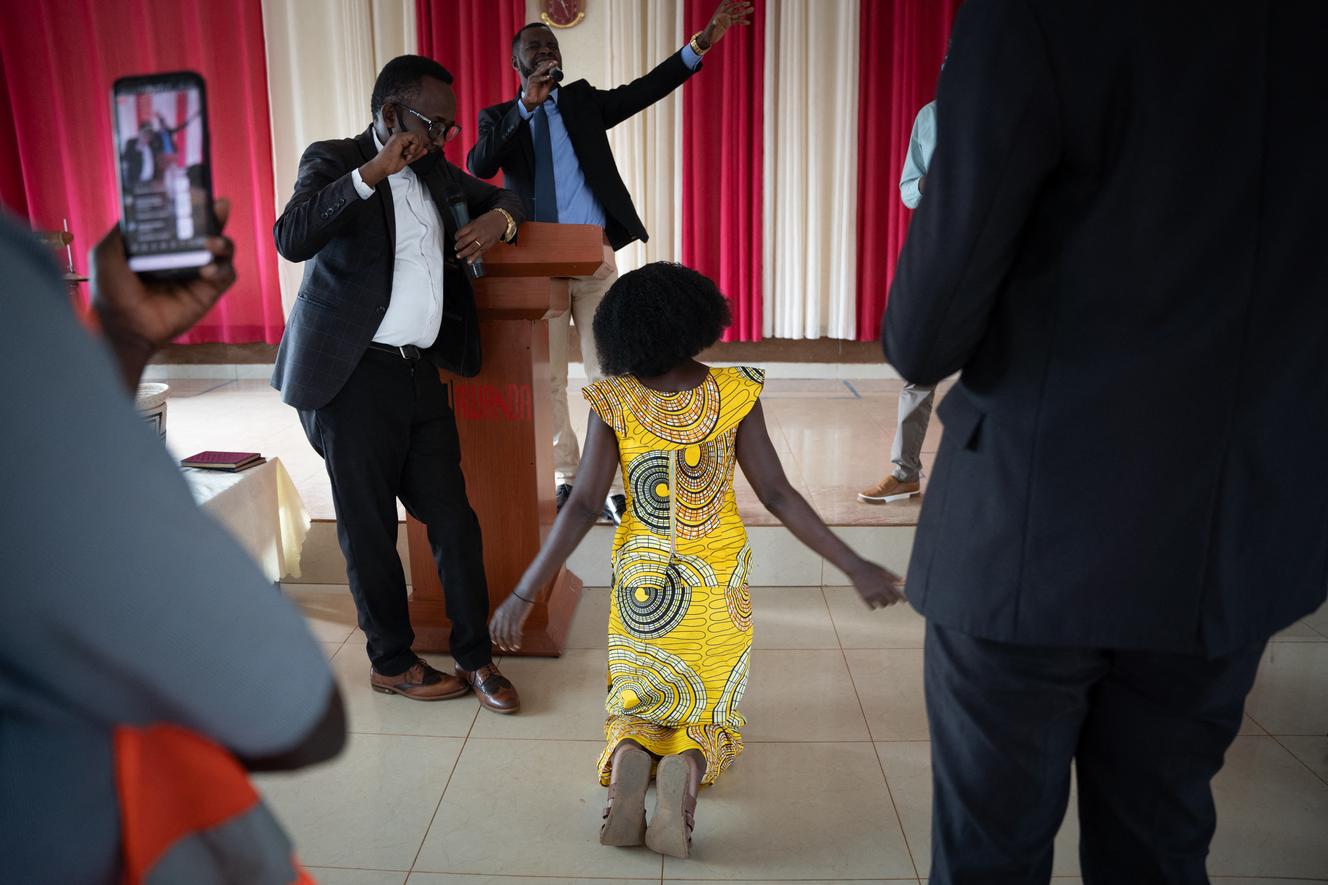 When the popular Rwandan singer Albert Nabonibo revealed his homosexuality, he lost everything overnight: work, friends, family… Rejected from his parish, he found an unexpected welcome in an evangelical church in Kigali.
For several years, the Church of God in Africa in Rwanda (EDAR) has publicly displayed its openness to LGBT + people, ignoring the prevailing conservatism. While homosexuality is not prohibited in Rwanda, LGBT + people are frequently discriminated against: dismissed, disowned by their relatives, deprived of medical care or even beaten.
Read also
LGBTQ + rights: a bill in Ghana divides the Anglican Church
Albert Nabonibo experienced this bitterly when he said in a 2019 interview that he was gay. "Before, I was invited to sing in Christian concerts, to sing in church. A lot of people liked my music. But when I came out, everything changed ", says this gospel musician, now 38 years old.
Suddenly, the job offers disappeared. His Pentecostal church let him know that he was no longer welcome unless he « suddenly ». "I have lost all my friends. (…) Most of my family no longer speak to me ", he adds.
"Demon" and "abomination"
Then he discovered the EDAR church and its pastor Jean de Dieu Uwiragiye. "I was surprised, it was different from the way I had been treated by other Christians, in my family and among my friends", he emphasizes.
Long-time supporter of the LGBT + cause in Rwanda, Jean de Dieu Uwiragiye decided to open the church four years ago, when he took over as its director. "I was convinced that it was necessary to break the conservative views of the church and bring in LGBT + members there(…) because I knew that many of them were suffering and that the churches were rejecting them ", explains the religious, 45 years old.
Read also
In the Democratic Republic of the Congo, the LGBT community more than ever 2.0
His decision triggered a shock wave. Within weeks, many worshipers left the church, calling the decision an abomination. Pastors of other churches claimed that Uwiragiye was possessed by the demon, homophobic slurs rained down from worshipers as well as complete strangers.
Today, EDAR has two homosexual pastors and a community of two hundred faithful, the majority of whom identify as heterosexual. "I have been mistreated and rejected by other Rwandan pastors because they fear what I represent, but it is my vocation, explains Seleman Nizeyimana, one of the gay pastors. They twisted the Bible to make it seem like God hates us. But why would God hate his own creation? "
Abuse and stigma
At a recent service – the first since the Covid-19 pandemic – in the music-filled church, the choir sang energetically, calling on the faithful to stand up. "This church has offered me something that no one else has ever offered me: acceptance and understanding., specifies Cadette, 23-year-old transgender and member of the choir. I like to sing. But other churches judge you and don't offer someone like me the opportunity to serve God. Here I have this opportunity and I find other people who feel like me. "
Rwanda is one of the few African countries to sign a 2011 United Nations joint declaration condemning violence against LGBT + people. But abuse and stigma are recurrent there.
Read also
Kenya censors documentary on gay couple, deeming it "blasphemous"
The Health Development Initiative (HDI), a non-profit organization based in Kigali, documented 36 cases of alleged human rights violations against LGBT + people in Kigali in 2019.
Victims rarely file a complaint with the police because they fear being further denigrated and believe that"It is unlikely that their complaints will be followed up", explains HDI director Aflodis Kagaba. HDI and a coalition of NGOs are pressuring the government to institute laws protecting LGBT + people from arbitrary arrest and detention.
Read also
In Uganda, Cleopatra Kambugu becomes the first transgender woman recognized by the state
For his part, Jean de Dieu Uwiragiye organized anti-discrimination training for other church leaders, as well as doctors and nurses. The pastor does not change his optimism. The people "Need time to change their beliefs, he says. I see them slowly becoming more tolerant. "
For Albert Nabonibo, the very existence of this church is a source of hope. He begins to dream: "No church allows homosexuals to marry in Rwanda, but hopefully things will change in the future. "