The Russian Defense Ministry has again warned of the danger of Ukrainian sea mines floating freely in the Black Sea.
the essentials in brief
Russia again warns of free-floating Ukrainian sea mines.
Turkey had therefore banned fishing in its waters.
The mines had become detached from their moorings and would be drifting off the coasts of the neighboring countries, Major General Mikhail Mizintsev said in Moscow on Monday evening. The Turkish side has defused two such mines in the Bosporus and in the Black Sea near the border with Bulgaria. But the danger still exists.
Turkey defused mines in its waters
The Russian ministry and the Russian secret service FSB, which is responsible for border protection, had previously warned of the mines. The Turkish Ministry of Defense announced on Monday morning that it had once again discovered a sea mine in its waters.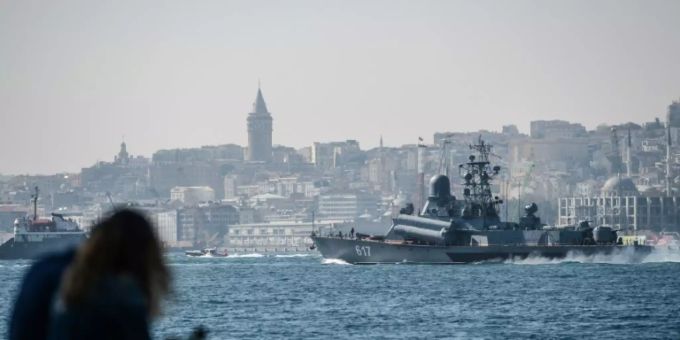 A sea mine was discovered and rendered harmless on Saturday in the Bosphorus Strait, which connects the Black Sea with the Mediterranean Sea. The authorities also banned night fishing off Turkey's north-western Black Sea coast. Russia and Ukraine accuse each other of mining the Black Sea.
The Russian military also reported new attacks in Ukraine. In the Zhytomyr region, two large ammunition depots were destroyed by rocket fire. In addition, three fighter jets were shot down. In the embattled port city of Mariupol, a helicopter was destroyed which, according to Moscow, was intended to bring fighters from the Ukrainian Azov regiment to safety. The information could not be verified.
The Russian side again accused Ukrainian troops of firing on civilians fleeing the embattled cities of Sumy and Zaporizhia. Ukraine also repeatedly accuses Russian troops of using fire to sabotage the escape of civilians. The Russian Defense Ministry said that 469,683 people, including 97,345 children, have been brought to safety from the contested areas in Ukraine. More than 105,000 people were taken out of Mariupol without the involvement of the Ukrainian authorities. The Ukrainian authorities accuse the Russian military of kidnapping the civilians.
More on the subject:
Fire

---