Sport At 30, and after years and years of traveling the world with the XV du Thistle, Stuart Hogg decided to hang up his boots after the World Cup. Back on the career of a prodigy.
Sport The end of an era
After more than 12 years of good and loyal service, but at only 30 years old, Stuart has decided to end his career. Scheduled after the World Cup, the Exeter full-back announced the news on his social media, which surprised the oval community, as well as his many fans in Scotland. It must be said that with the whimsical number 15, Scotland will lose one of its best players, but also a manager and a locker room dad. Recent international centurion, Hogg celebrated his 100th caps against Ireland, in the 6 Nations Tournament. In his message posted on Twitter, then relayed on a good number of online sites, Stuart Hogg explains the reasons for his "early" retirement: "JI don't think my body can meet the demands I set for myself for a long time and I always wanted to finish at the top of the game. After this competition, a new career is coming, and I will attack it the same way I play."Still too early to say if the iconic Scotsman will head for a coaching career, but it's all of world rugby that salutes one of the best backs of this decade.
The Final Chapter… pic.twitter.com/gUhq7jkVrv

— Stuart W Hogg (@StuartWHOGG_) March 27, 2023
Sport A great career!
With more than 12 years spent on different terrains around the world, there are things to tell about Stuart Hogg! First of all, the Exeter full-back is a great talent, an instinctive player who can turn the tide of a game in a split second. He is also a good defender, a big kicker and an exceptional top speed. So much quality, it's bound to be worth a few selections to the British Lions, and Hogg has 2 of them, and has been on 3 tours with the British selection! In addition, the latter was launched with the XV du Chardon in 2012, at only 19 years old. Since that year, Hogg has never left his national team and won numerous club titles. Indeed, he won the UCR in 2015 with Glasgow, then the Premiership and the Champions Cup with Exeter in 2020. During the 2016 and 2017 editions of the 6 Nations Tournament, he was voted best player in the competition, which is an achievement two years in a row.. In September 2023, the World Cup in France will be his third, and Stuart Hogg will try to do better than in 2015 and 2019. Finally, the Scottish fullback is also a leader, and since 2020, he has the captain's armband of XV du Chardon, with which he has worn his own 27 times. To sum up, he is a great player who will be retiring next fall.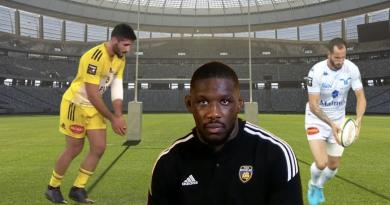 RUGBY. Dumora, Tanga… These players who lit up the Top 14 this weekend!