Sport This year, Oyonnax flies over the Pro D2 championship with a 21 point lead over Grenoble. Four days before the end of the championship, can they beat the points record?
In April, the regular phases end, making way for the long-awaited final phases. This season, in Pro D2, US Oyonnax crushed their opponents. By having five defeats and a draw on the clock, the players of Ain accumulate 21 points ahead of the second, Grenoble, and have 96 points in the general classification. Four days from the end, Joe El-Abd's men have already qualified for the semi-finals and are hoping for a third Pro D2 title. But before that, can they beat the record for points scored in a Pro D2 season? The latter is 117 and is held by Lyon in the 2015-2016 season. Unfortunately no. Even if Oyonnax won their next four games with an attacking bonus, they would only have 116 points. The rise of Agen in the last moments of this weekend's match (37-29), deprives the USO of the offensive bonus and a potential record.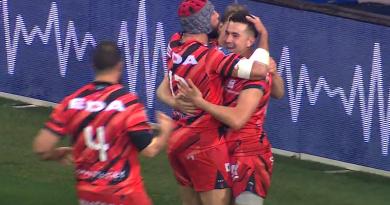 RUGBY. PRO D2. It's strong ! Oyonnax is already mathematically qualified for the semi-finals!
Sport The Lyon season in 2015-2016
During this 2015-2016 season, Lyon had a similar season to that of the USO this year. Only five defeats for twenty-five victories. A performance achieved thanks to strong recruitment such as Julien Bonnaire, Napolioni Nalaga and Ti'i Paulo. With the key, a title of champion of France of Pro D2. Something to make Oyonnax supporters dream of.