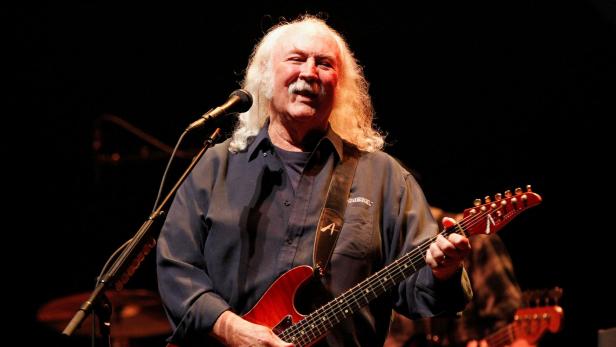 © REUTERS / Mario Anzuoni
He embodied the credo "Sex, Drugs and Rock'n'Roll" – and for many years was considered "rock's most unlikely survivor".
Today, -55 minutes ago
David Van Cortlandt Crosby, one of the most influential rock singers of the 1960s and 70s with the Byrds and Crosby, Stills, Nash & Young (CSNY), is dead: "It is with great sadness that our beloved David (Croz) Crosby has passed away after a long illness," quoted the US magazine "Variety" Crosby's wife Jan Dance.
Crosby, born on August 14, 1941 in Los Angeles, was a founding member of two legendary rock bands: from 1964 to 1967 he recorded five albums with the country and folk influenced Byrds – and wrote the hit "Eight Miles High". After arguments he left the band – and formed with Stephen Stills and Buffalo Springfield CSN and including Neil Young CSN&Y. The supergroup performed at the Woodstock Festival, among others. After the CSN&Y double live album "4 Way Street" (1971) the musicians concentrated on solo projects. As a member of both groups, Crosby – guitarist, singer and songwriter – was inducted into the Rock & Roll Hall of Fame.
Musically, Crosby was notable for his intricate vocal harmonies, unorthodox open tunings on the guitar, and incisive songwriting. His work with the Byrds and CSN/CSNY blended rock and folk in new ways, and their music became part of the soundtrack for the hippie era.
Personally, Crosby was the embodiment of the "sex, drugs and rock 'n' roll" creed, and a 2014 Rolling Stone magazine article called him "rock's most unlikely survivor."
Along with drug addictions that eventually led to a transplant to replace a liver worn by decades of excess, his tumultuous life has included a serious motorcycle accident, the death of a girlfriend, and battles with hepatitis C and diabetes.
"I worry that the time I have here is so short and I am deeply angry with myself for wasting at least 10 years of time just to destroy myself," Crosby said Los Angeles Times in July 2019: "I'm ashamed of that." He had "fallen as low as a person can fall," Crosby told the Times.
He also managed to alienate himself from many of his famous former bandmates, for which he has often expressed remorse in recent years. His drug habits and often aggressive personality contributed to CSNY's decline and members eventually stopped speaking to each other. In the 2019 documentary David Crosby: Remember My Name, he made it clear he hoped they could work together again, but conceded that the others "really don't like me."
Crosby fathered six children – two as sperm donors for rocker Melissa Etheridge's partner and another who was put up for adoption at birth and Crosby did not meet until he was in his 30s. This son, James Raymond, eventually became his musical collaborator.
We would like to show a login here. Unfortunately, you did not give us your consent for this. If you want to view this, please agree to Piano Software Inc.
dear community,
With our new comment function, you can now post directly anywhere in the article. To do this, simply click on the speech bubble symbol at the bottom right of your screen. Or click hereto open the comments section.