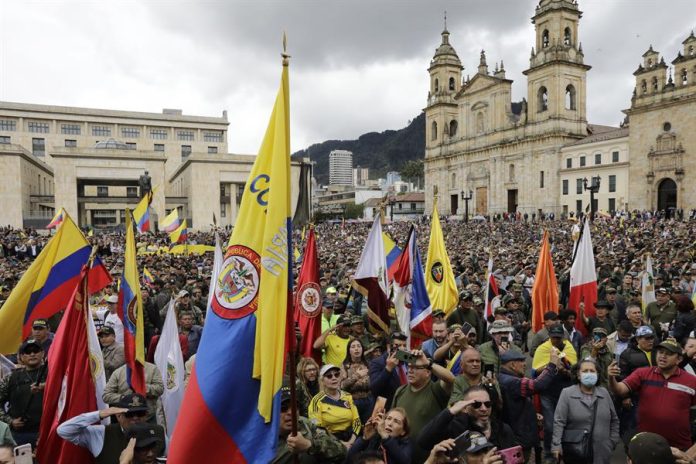 Thousands of retired soldiers and policemen filled the Plaza de Bolívar in Bogotá on Wednesday. Protest measure against the security and defense policies of the government of the Colombian President, Gustavo Petro; just as they clamored for respect for the separation of powers.
The retired uniformed men shouted anti-government slogans and messages such as "out with Petro." Some were accompanied by relatives or carried Colombian flags; but they all wore military or police clothing.
During the demonstration, the participants sang the country's anthems and those of each of the forces. That is to say, that of the Police, the Army, the Navy and the Air Force.
They also held a minute of silence for their comrades who have died in combat. They also carried banners with messages such as: "Acknowledge our heroes despite progressive scorn."
The demonstrators also took down flags of the M-19 guerrilla, to which Petro belonged. They also removed those of indigenous communities that waved in the monument of Simón Bolívar that is in the center of the square.
Petro: between protests and controversies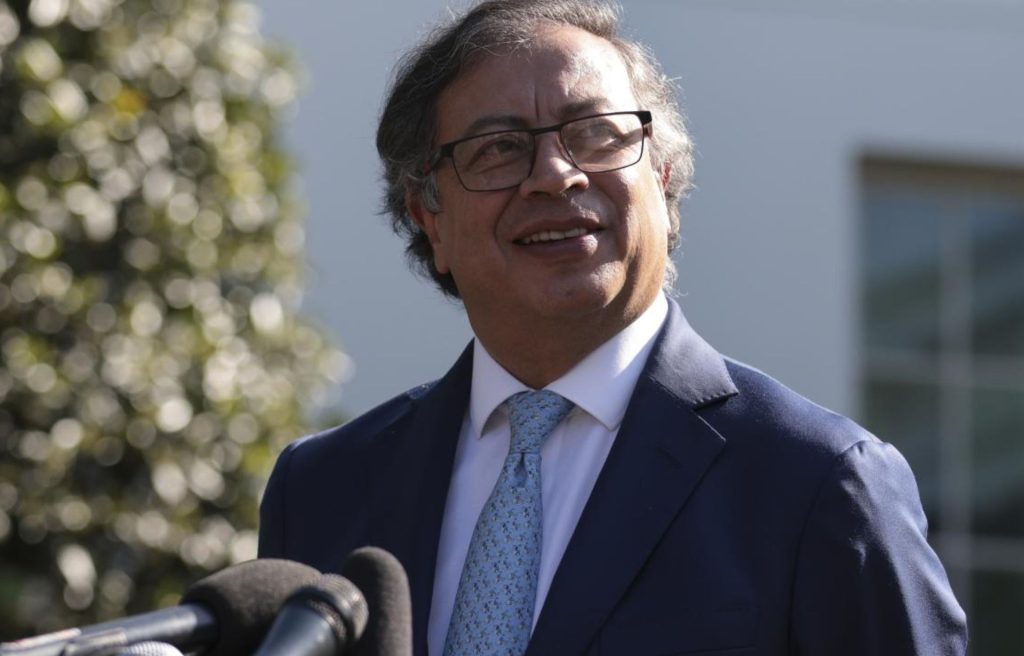 Last week, Petro sparked a controversy from Salamanca, Spain. From there, he declared that -as head of state- he is demanding information on a case; and not insults from someone of whom he is "only the administrative head and no more. But that he deserves to be answered by the head of state ».
«The prosecutor forgets one thing that the Constitution orders: I am the head of state. Therefore his boss," Petro said.
The declaration of the president of Colombia was given in the midst of a controversy that he has had for months with the attorney general; who has questioned the president's decisions, mainly related to his total peace policy.
Criticism of the president came from various sectors. Especially in the judicial branch, he expressed his concern because he considers that the president is making a "wrong interpretation of article 115 of the Constitution."
What Petro said, according to the Supreme Court of Justice, ignores "judicial autonomy and independence, the founding clause of Colombian democracy and an essential pillar of the social rule of law."
For this reason, Barbosa assured that his family will leave the country for "fear that they will be assassinated because of what has happened today in Colombia."
Petro is also having trouble pushing through health, labor and pension reforms. The distrust of the parliamentary groups that supported him has forced him to carry out a profound restructuring of his cabinet, the second since he assumed the Presidency, just nine months ago.
Independent journalism needs the support of its readers to continue and ensure that the uncomfortable news they don't want you to read remains within your reach. Today, with your support, we will continue working hard for censorship-free journalism!