The bronchiolitis epidemic was particularly weak this winter, due to the important respect for barrier gestures. But Santé Publique France fears that the lack of immune training in children will lead to a larger epidemic this year.
An epidemic of bronchiolitis, "of greater magnitude than that observed each year is possible next year," writes Public Health France in its latest report on this respiratory infection, widespread in babies. However, the number of cases of bronchiolitis fell sharply during the winter of 2020-2021.
"The amplitude of the epidemic was much lower than that of the previous season", details SPF, but "an epidemic of greater magnitude than that observed each year is possible next year due to the lower immune stimulation induced by the low circulation of the virus this winter, in a context of the lifting of barrier measures ".
A drop in cases due to barrier gestures
Bronchiolitis "is a respiratory infection of the small bronchi due to a very widespread and very contagious respiratory virus", explains the site of the Ministry of Health. "This seasonal epidemic generally begins in mid-October and ends at the end of winter with a peak during the month of December". The infection affects the youngest, "30% of children under 2 years are affected by bronchiolitis each year", writes the ministry which specifies that this virus "is potentially serious for young children", in particular infants.
During the last two winters, up to 6,000 emergency room visits per week have been recorded in metropolitan France for cases of bronchiolitis in children under two years old, with a peak in November / December. During the winter of 2020-2021, this figure barely exceeded 2,000.
"There were a few cases, but it was much less important than the other years and especially later. The peak took place in February / March", explains to BFMTV.com Brigitte Virey, liberal pediatrician and president of the National Union of French Pediatricians.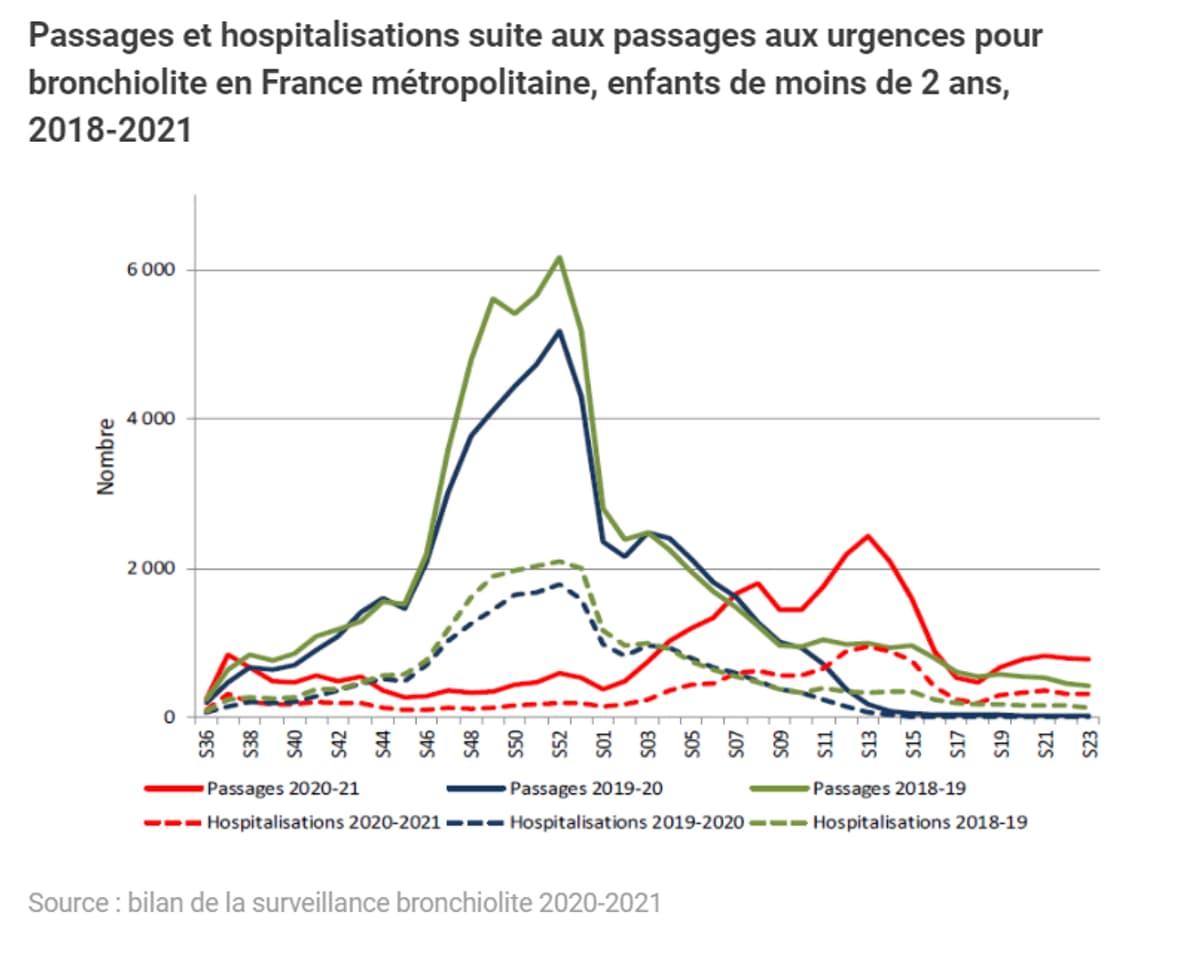 For her, there is no doubt that this collapse of cases is due to the application of barrier gestures due to the Covid-19 pandemic. "These are the barrier gestures that explain this decrease", also declares to BFMTV.com Fabienne Kochert, liberal pediatrician and president of AFPA Neonatology (French association of ambulatory pediatrics). The virus is transmitted by sneezing, or by soiled hands and objects by an infected person.
A stronger epidemic in 2021-2022?
"Diseases such as bronchiolitis and gastroenteritis are essential passages for the infant", explains Fabienne Kochert, "as and when they become immune, and take less serious forms".
After this epidemic drop, Public Health France assumes that the lack of immunity of babies, who will not therefore have produced antibodies against the infection, will lead to an increase in the number of cases this winter. "Such a phenomenon has been observed in Australia, which reported an epidemic of unusual intensity this fall," the report said.
For Brigitte Virey, it is indeed possible that the epidemic is stronger this winter, because "the immunity of children has not been solicited, so indeed it is likely to rebound", she explains. "The children will have less trained immunity", but not only against bronchiolitis, because the gastroenteritis epidemic has also been very weak this year, "we can then say that all infectious diseases are likely to rebound."
But this scenario is less certain, for Fabienne Kochert: "Between assumptions and real life, you never really know what will happen", she declares. She explains that in 1995, during the major transport strikes, the number of cases of bronchiolitis had fallen sharply because the babies no longer went to the nursery. The following winter there had been no greater than normal peak.
"Respect barrier gestures"
This winter, it is also possible that the French will continue to respect barrier gestures, which could once again lead to a weaker epidemic. To prevent a child from catching bronchiolitis, it is necessary, in any case, to "respect barrier gestures such as hand washing, ventilation, surface disinfection, but also to wear a mask in the event of a cold", explains Fabienne Kochert, measures similar to those to be observed for the Covid-19 epidemic.
To avoid bronchiolitis, you must also postpone any visit with your baby to a person with a cold, "avoid taking your child to public places where he might be in contact with people with a cold", or even not discussing " baby bottles, pacifiers, cutlery and uncleaned glasses ", details the Ministry of Health.
There are no vaccines or treatments for bronchiolitis, like viral infections, the symptoms are treatable, and you have to wait for the infection to go away.
The disease "usually begins with a simple cold and a cough, then the child is embarrassed to breathe and he may have difficulty eating and drinking. Coughing fits are very frequent and may be accompanied by wheezing", explains the ministry which adds, "in the event of signs of bronchiolitis, it is necessary to quickly contact a doctor who will confirm the diagnosis".

Salome Vincendon BFMTV reporter