Sport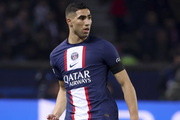 Achraf Hakimi sparks criticism at PSG.
Author of mixed performances and entangled in extra-sporting affairs, the right side Achraf Hakimi is arousing internal criticism at Paris Saint-Germain. However, for the moment, the Moroccan international, close to Kylian Mbappé, remains in the project of the Parisian leaders.
At Paris Saint-Germain, Achraf Hakimi has never succeeded, since his arrival for 68 million euros from Inter Milan in the summer of 2021, to shine over time. Excellent with Morocco during the 2022 World Cup, the right side even embodied a club disappointment in this second part of the season.
Disturbed by physical problems, the native of Madrid has not always given the feeling of being 100% involved with the reigning French champion.
Lots of internal criticism
According to information from the daily L'Equipe this Saturday, the former talent of Borussia Dortmund has also been targeted by many internal critics after his recent expulsion against Lorient (1-3) in Ligue 1. While the Ile-de-France staff is generally disappointed with his performance, his entourage defends him with several arguments: his desire to play despite pain, his physical data and his use with direct criticism compared to a system that is not well suited to his qualities.
But in reality, the doubts around Hakimi at PSG do not only concern the sporting aspect. Off the pitch, the 24-year-old also arouses tensions because of his nocturnal habits. With an indictment for rape at the beginning of March (he defends himself by denouncing an extortion attempt) and the separation with his partner, the Moroccan is not in the best conditions to display a good level.
His future ? Rather at PSG but…
Despite a complicated 2022-2023 financial year, Hakimi's future still seems to be written in Paris. Under contract until June 2026, the defender, who dreams of returning to Real Madrid in the long term, retains the support of PSG. The current Ligue 1 leader is not considering a departure, especially in relation to his strong relationship with striker Kylian Mbappé. However, a big offer for Hakimi this summer could still lead to reflection among Parisian leaders …
What do you think of Achraf Hakimi's situation at Paris Saint-Germain? Do not hesitate to react and discuss in the area "add a comment» …
Par damien dasilvathe 13/05/2023 10h37