Preview Japan Expo: Will this original video game between Persona 5 and Cyberpunk be unmissable?
During Japan Expo, we were able to get our hands on Mato Anomalies, a newly announced Chinese game with an attractive cel-shaded aesthetic. With its universe between cyberpunk and mysticism, does the title have enough to be a turn-based role-playing game to watch in 2023?
Summary
An aesthetic "between tradition and modernity"

A gameplay between Persona and Griftlands?
A small studio based in Shanghai and founded in 2016, Arrowiz first worked on titles like Beats Fever, a virtual reality game reminiscent of Beat Saber, then on Hermitage: Strange Case Files, a horrific visual novel set in the Hermitage, a bookstore attracting customers all involved in business bordering on the paranormal. On the strength of this second experience, the company will take up themes from its second project for its new game, Mato Anomalies, developed with funding from the Chinese giant Tencent. We were able to play it exclusively at Japan Expo in order to discover the central mechanics of the experience.
An aesthetic "between tradition and modernity"
Mato Anomalies therefore takes place in a neo-futuristic version of Shanghai, which gives a rather unique aspect to the city. It embodies Doe, a private detective hired by one of his regular clients to investigate a mysterious phenomenon that takes place on the docks of the port. By inspecting in a container, our hero will find himself sucked into a parallel dimension populated by strange creatures who do not hesitate to attack him. Fortunately, the latter is saved by Gram, an unpleasant exorcist/shaman. Once out of the Lair, name given to this dimension, we learn that Nightshade, a secret organization, uses this kind of cargo filled with Bane Tide, name of the strange creatures, to achieve their goal. To put an end to their actions, our detective and our excorsist will cooperate with each one on a very specific mission.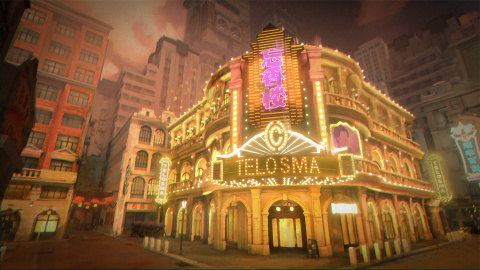 Visually, Mato Anomalies attracts attention with its beautiful rendering. Like many Asian role-playing games, the title of Arrowiz uses the cel-shading method which gives an anime look to the whole thing. If we are used to seeing this type of technique with Japanese games, we benefit here on the contrary from a Chinese aesthetic which brings a breath of fresh air. Thus we walk in an imaginary Shanghai which is literally "between tradition and modernity" as the cliché goes, with both giant holograms à la Blade Runner, while offering buildings with typically Chinese architecture. As for the characters, they benefit from an inked style of the most beautiful effect which puts them even more forward, while the cutscenes take the form of comic book boxes. As a result, the title benefits from a real character that sets it apart from other games of the same genre and thus gives it a visual identity. We also find a work on the general atmosphere with a soundtrack with jazz notes which gives a style of film noir to the adventure.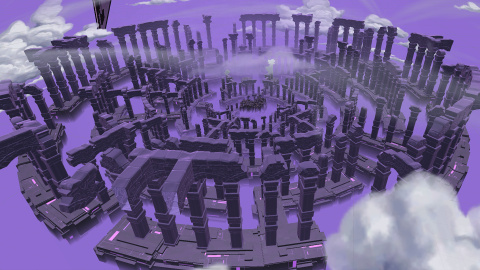 A gameplay between Persona and Griftlands?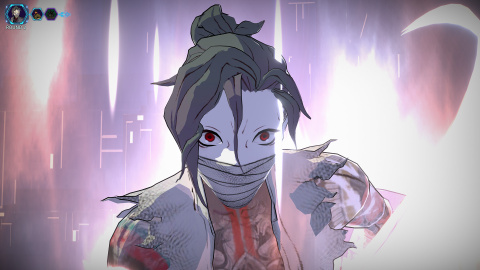 In terms of its playability, Mato Anomalies is divided into two types of well-separated sequences. First of all, when we evolve in the Lairs, we are led to cross Bane Tide that only Gram can face. These phases take the form of classic turn-based combat, with basic attacks and skills that can only be used once recharged. Nothing special on that side since we were only able to play at the beginning of the game and we fought only with Gram. However, it is obvious that as one progresses in the adventure, new mechanics and new companions will be added to the set.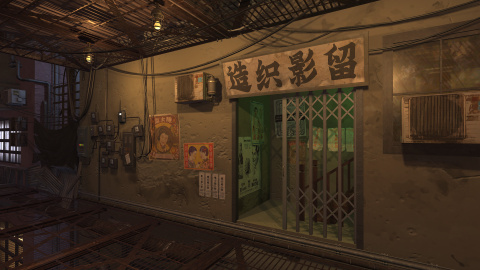 Once out of the Lairs, we find ourselves in control of Doe who can speak with people on the street, resulting in dialogues with multiple choices. Inevitably, by his private detective side, we imagine that these choice of answers will have an importance later in the story. More interesting, it is sometimes possible to "hack" the mind of someone who does not wish to answer you using Sky Eye, Gram's assistant. This kind of sequence then takes the form of a card game during which the player must overcome the internal demons of his interlocutor while weakening his spirit. To do so, we have four cards and three actions per turn, each card having attack and defense points as well as different effects of course. Inevitably, this recalls the discussions of Griftlands, Klei's latest game (Mark of the Ninja, Don't Starve, Oxygen Not Included…) which is based on a similar system. In any case, these phases bring a little variety therefore and should gain in complexity as one progresses.
Nos impressions
With its original aesthetic and approach, Mato Anomalies seems to be one of its curiosities to watch closely in 2023. By placing its action in a neo-futursite Shanghai, the title is distinguished by its unique visual identity which gives it a real charm. Besides that, it also offers classic turn-based battles, as well as mind-hacking phases that bring a bit of variety. In any case, we will have to wait to get our hands on the final game to see if the Arrowiz project is as promising as it seems.
Editorial review
Promising
Mato Anomalies is slated for release in 2023 on PC, PS4, PS5, Xbox One, Xbox Series, and Switch.