Investors are watching for signs of a slowdown in high inflation rates, but the first set of monthly data for June is not encouraging.
By David Rees, Chief Emerging Markets Economist
Inflation in emerging countries seems to have increased further in June. Fears that inflation has yet to peak could increase pressure on emerging assets. With emerging markets already under pressure, investors are increasingly anticipating a global recession.
Overall, inflation beat expectations in the 13 major emerging market countries that released data last week. Based on these early reports, headline inflation in emerging countries appears to have increased further from the 20-year high of 9% reached in May (year-on-year).
We exclude Turkey in this analysis given specific challenges related to a slow balance of payments crisis, which pushed the consumer price index (CPI) up to 80% year on year in June.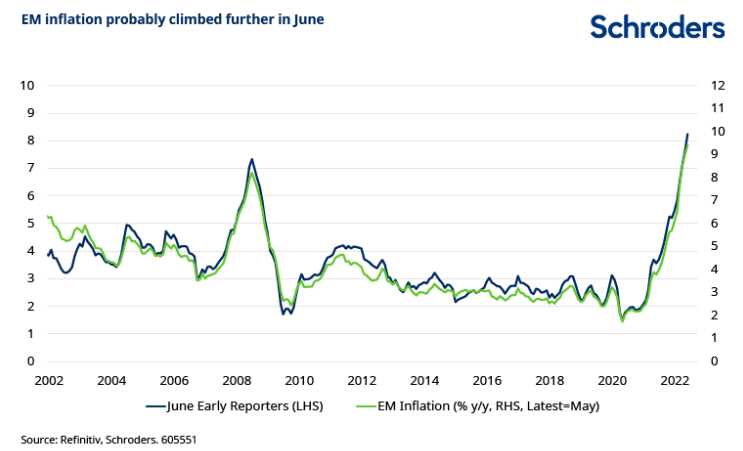 Our regular readers will recall that we entered 2022 expecting a spike in inflation to be the catalyst for opportunity in local bond markets (see When will emerging market inflation peak?). This anticipation was based on the slowdown in the rise in food and energy prices and on the fact that past increases in interest rates limited the pressure exerted by demand.
This outlook was supplanted by a double exogenous shock at the start of the year which led to a further rise in inflation in emerging countries and a further correction in the bond markets.
The Russian invasion of Ukraine at the end of February led to a sharp rise in the prices of food and energy products. At the same time, the imposition of lockdowns in China to contain outbreaks of Covid-19 led to further disruption of global supply chains which added to underlying inflationary pressures.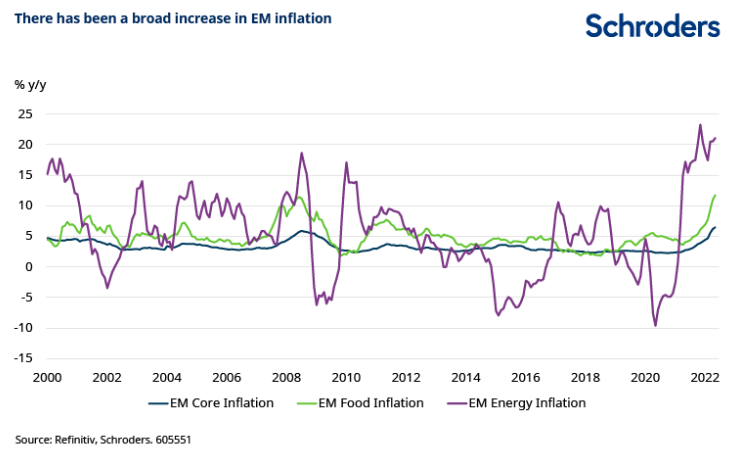 Looking ahead, it seems unlikely that a resolution to the invasion of Ukraine will come soon. This means that geopolitical risks emanating from Russia will continue to weigh on the outlook for commodity prices for some time to come.
Energy markets are particularly vulnerable to fears that Russia will cut gas supplies to Europe. At the same time, the disruption of fertilizer supplies threatens the prices of agricultural products, in parallel with climate change and the nationwide embargo on exports of certain foodstuffs.
Beyond these particular risks, the macroeconomic drivers of commodities are deteriorating. Activity indicators are softening and the risk of a global recession is increasing (see Are we heading for a global recession?). This has started to put downward pressure on prices for many commodities in recent weeks and the possibility of demand destruction suggests further downside is looming.
At the very least, barring much stronger stimulus measures in China, it seems unlikely that demand-side pressures will drive commodity prices up significantly.
This means that the rise in food and energy prices in emerging countries should slow in the coming months. Admittedly, the use of futures prices in inflation estimates has been doomed to failure over the past two years. The backwardness of futures prices has been consistently misleading and is one of the reasons many economists have gotten the inflation outlook wrong.
Strongly positive real interest rates are needed
However, the current expectation of lower commodity prices is at least in line with the deteriorating growth outlook, which means that inflationary pressures should ease. In fact, as shown by the two graphs below, at first glance food and energy prices could fall by 6 and 20 percentage points (pp) respectively over the next 12 months. This would be enough to reduce average headline inflation in emerging countries by around 2.5 pp.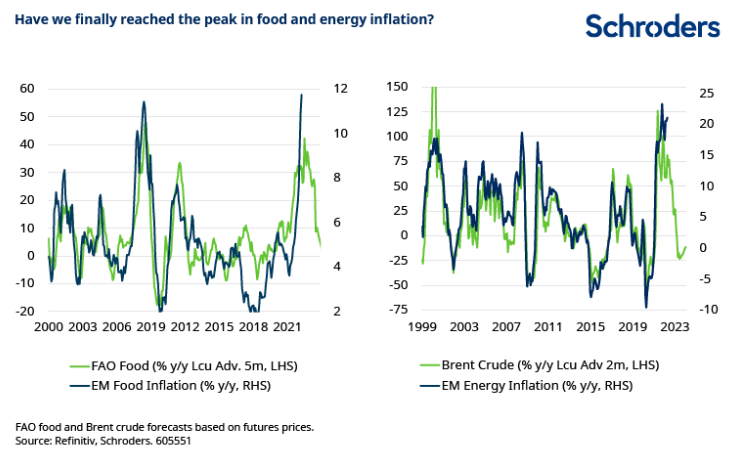 Core inflation in emerging countries should benefit from easing shortages of goods in the coming months. Global Purchasing Managers' Indexes (PMIs) show delivery times from suppliers are improving as inventories are replenished, while port activity in China appears to be normalizing. A more general rotation of global demand in favor of services should also help dampen the rise in goods prices.
However, underlying inflation in emerging countries has exceeded many indicators of price pressures. For example, core inflation is well above the rate implicit in producer prices, which themselves have exceeded corporate producer prices. And the relationship between underlying inflation and the evolution of exchange rates is totally broken.
This suggests that the disruptions in the goods sector were not the only driver of the acceleration in inflation and that the overheating of the economy has also pushed prices up in some cases. There are, of course, nuances at the country level, but in general this means that central banks in emerging markets need to raise their policy rates into positive territory to alleviate demand pressures.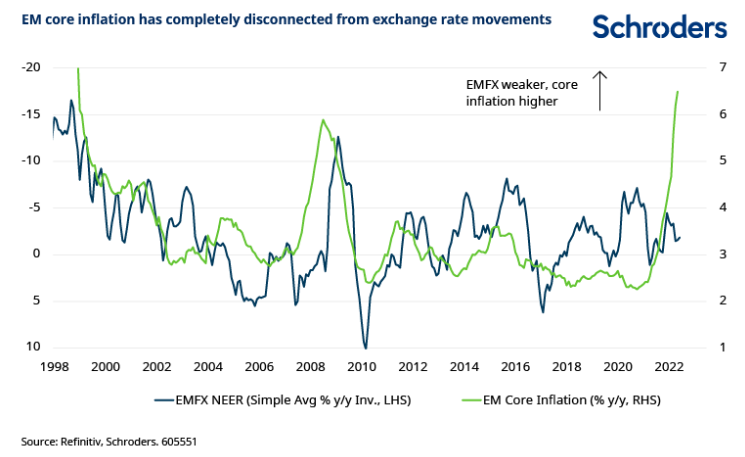 If we compare inflation expectations for the coming year with market expectations for key rates in emerging countries, it is clear that central banks in Latin America are on the right track to achieve this. In fact, real rates in the region may start to look prohibitive as the economic outlook deteriorates, suggesting opportunities exist in these markets.
On the other hand, however, forward real policy rates look too low in parts of Eastern Europe and Asia, meaning that the relevant bond markets are likely to experience further repricing.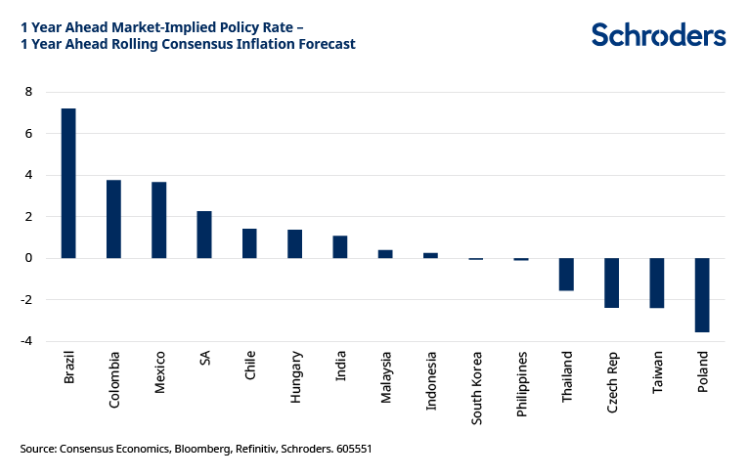 Show article disclaimer

---
Important Information: This communication is intended for marketing purposes. This document expresses the opinions of its authors on this page. These views do not necessarily represent those expressed or reflected in other Schroders communications materials, strategy or fund presentations. This material is intended for informational purposes only and does not constitute a publication of a promotional nature. The material is not intended to represent an offer or solicitation to buy or sell any financial instrument. It is not intended to provide, and should not be considered as accounting, legal or tax advice, or investment recommendations. The opinions and information provided herein should not be relied upon in making individual investments and/or strategic decisions. Past performance is not a reliable indication of future results. The value of investments can go down as well as up and is not guaranteed. All investments involve risk, including that of loss of principal. Schroders believes the information in this communication to be reliable, but does not warrant its completeness or accuracy. Certain information cited has been obtained from external sources which we believe to be reliable. We decline all responsibility for any errors made by or factual information obtained from third parties, knowing that this data may change depending on market conditions. This in no way excludes Schroders' liability to its customers under any regulatory system. Regions/sectors are shown for illustrative purposes only and should not be considered a recommendation to buy or sell. The opinions expressed in this material contain forward-looking statements. We believe that these statements are based on our expectations and beliefs in reasonable assumptions within the limits of our current knowledge. However, no guarantee can be given as to the future realization of these expectations and opinions. Views and opinions are subject to change. This content is published in the UK by Schroder Investment Management Limited, 1 London Wall Place, London EC2Y 5AU. Company registered in England under number 1893220. Authorized and regulated by the Financial Conduct Authority.
---