ideal
Wednesday, February 22, 2023, 09:24
Don Felipe and Doña Letizia presided over the award ceremony of the 2021 National Culture Awards, which express the recognition of society for the contribution to the enrichment of the Cultural Heritage of Spain. Among them, the Granada-born Patricia Guerrero, National Dance Award in the Interpretation modality (2021), stands out for «the personality and strength of her art, for having known how to incorporate new forms and aesthetics into her dance from the most traditional flamenco, as manifested in her latest shows, especially in her recent interpretation of La Bella Otero as a guest artist of the National Ballet of Spain».
Prior to the start of the act, the President of the Government of Aragon presented to Their Majesties the King and Queen the sketch of the sculpture by Carlos Saura, a recently deceased filmmaker that will be destined for his hometown, Huesca.
After the welcome by the master of ceremonies, the act continued with the intervention of the mayor of Zaragoza, Jorge Azcón and the Minister of Culture and Sports, Miquel Iceta who delivered the laudatio of the winners.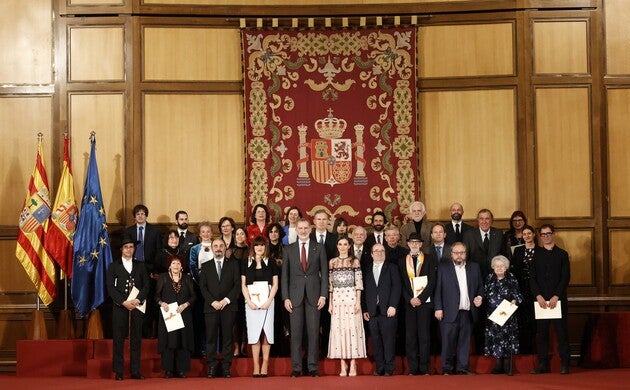 Next, the master of ceremonies read the award certificate of the 2020 National Culture Awards, and then invited Their Majesties the King and Queen, accompanied by the Minister of Culture and Sports and the President of the Government of Aragon, to go on stage to deliver the prizes.
After the awards ceremony, there was a speech by María de los Ángeles Rozalén «Rozalén», National Award for Current Music on behalf of the winners and then she performed the song «Y busqué». After the performance, there was a speech by the President of the Government of Aragon, Francisco Javier Lambán.
Next, His Majesty the King made his speech, where he highlighted: «It is a pleasure for the Queen and for me to be here today, in this new delivery of the National Culture Awards. An appointment that allows us to celebrate the creative spirit of our culture, and, at the same time, give thanks −as spectators, as readers, as listeners− what, through it, the creators contribute to society. Undoubtedly, contributions that deserve support and recognition for the enormous effort they entail, for all the work they entail and which, in many cases, are the result of lifetime trajectories".
Once the intervention of His Majesty the King has finished, and after the photograph of Their Majesties the King and Queen together with the winners. Don Felipe and Doña Letizia held a meeting with the attendees.
These awards, granted by the Ministry of Culture and Sports, grouped by different thematic areas, are intended to promote cultural activities, understood as a service to citizens, and to express society's recognition of the work of individuals or institutions that Either through their works or through their active participation in various fields of artistic or literary creation, they contribute to the enrichment of Spain's cultural heritage.
Themes
Culture
Danza
Flamenco