Game news Palworld: Harvest Moon, Pokémon and Guns
It has games that you never think to announce, and Palworld is clearly one of them. At the heart of a confused Indie Live Expo, very oriented towards Japan, a title has appeared whose genre influence is very intriguing.
The Pocket Pair studio, to which we owe Craftopia, has just announced Palworld, a title that takes Pokémon et Harvest Moon, and which takes them to a universe much less childish. Players will be able to develop an entire estate with farming, fishing and building development, but also hunt and capture colorful creatures whose inspirations are beyond doubt. Unlike Pokémon, which relies on a friendly approach to creatures and their connection to trainers, Palworld makes no secret of its intentions.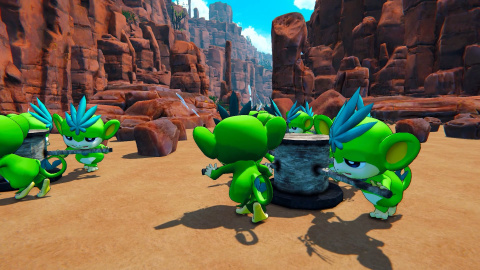 If the game displays a shimmering and rather cute art direction, the creatures are locked up, and are used to fight or be used as a shield, to work in the factory (without any form of limits) or in the cultures. It is even theoretically possible to eat them to be more powerful, but this is frowned upon. Beside that, it will be possible to explore dungeons, lakes and skies, indulging in poaching, crime, and multiplayer. An almost cynical vision, which is accompanied by firearms. For now, PalWorlds is slated to hit PC sometime in 2022.
Through MalloDelic, Journalist jeuxvideo.com
MP