Reports of attacks in multiple regions
Von
afp, Reuters, dpa, t-online
Updated on 01/25/2023 – 23:53Reading time: 27 min.
Day 337 since the beginning of the war: The USA also delivered battle tanks to Germany. Other countries want to join. All information in the news blog.
Reports of attacks in multiple regions
11:20 p.m.: Ukrainian media reported airstrikes in several regions on Wednesday evening. Explosions were heard in Kherson, Dnipro and Zaporizhia, reports Kanal 5, among others. "The enemy is increasing pressure on the Bakhmut and Ugledar directions. Heavy fighting continues, the enemy is dumping a significant amount of personnel, weapons and military equipment into battle, tries to break through our defenses, suffers significant losses, but does not give up on his plans. The intensity of the fighting is increasing," Deputy Defense Minister Anna Malyar wrote on Facebook.
Recommended external content
We need your consent to display the Twitter content embedded by our editorial team. You can display this (and thus all other Twitter content on t-online.de) with one click and also deactivate it again.
Pistorius wants to quickly close gaps in Bundeswehr equipment
11:05 p.m.: Defense Minister Boris Pistorius wants to talk to the arms industry quickly about closing equipment gaps in the Bundeswehr that are caused by arms deliveries to Ukraine. "We are now doing everything we can to ensure that things are replenished quickly," said the SPD politician on Wednesday evening in the ARD "Tagesthemen". He wants to hold talks with the armaments industry very soon, probably as early as next week.
Pistorius admitted: "We've accumulated a lot of replacement deficits in the past few years." There are also gaps caused by the surrender of weapons during the Ukraine war. What matters now is reliable and binding agreements with the industry. "Because one thing is clear: the gaps that are now emerging should and must be closed quickly." Pistorius also advocated strengthening the industry. "We need more armaments industry in Germany, but, I think, also in concert in Europe," said the minister.
Zelenskyj: NATO is supposed to deliver missiles and aircraft
9:48 p.m.: Ukrainian President Volodymyr Zelenskyy asks NATO Secretary General Jens Stoltenberg in a telephone call for long-range missiles and aircraft. That's what Zelenskyj said in his evening video speech. When it comes to tank deliveries, speed and numbers are the most important factors in his country's war effort. An armored force would have to be set up so that tyranny would no longer stand a chance.
USA: No signs of Russian attack on NATO territory
9:38 p.m.: According to the US government, there are no indications of an imminent Russian attack on the territory of the NATO defense alliance. "All I can tell you is that we have seen absolutely no indication that Mr. Putin has any intentions to attack NATO territory," National Security Council communications director John Kirby said on Wednesday. Kirby answered a journalist's question as to how Russia's President Vladimir Putin could react to the promised deliveries of main battle tanks to Ukraine – also with a view to NATO countries such as Poland.
The US government had previously announced that it would send Abrams main battle tanks to Ukraine to ward off Russia's war of aggression. Kirby echoed US President Joe Biden's statement that the tanks posed no "offensive threat" to Russia. But: "Do they pose a threat to Russian soldiers (in Ukraine)? And do they do that?" Biden had previously described the Abrams as "the most powerful tank in the world".
Unesco: Old Town of Odessa declared a World Heritage Site in Danger
9:36 p.m.: The UN cultural organization Unesco has declared the old town of the Ukrainian port city of Odessa, which was repeatedly shelled during the war, as an endangered world cultural heritage. This means that technical and financial aid can be used to ensure the protection and preservation of the threatened old town, Unesco announced in Paris on Wednesday. Odessa is located in southern Ukraine and is considered a cultural metropolis.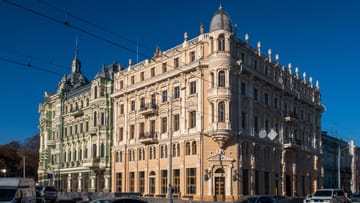 Ukrainian President Volodymyr Zelenskyy welcomed UNESCO's decision. "This international step will help us protect our Odessa," he said in his daily video address on Wednesday evening. "Ukraine and the world offer protection, Russia can offer nothing but terror and attacks."