Big N has just formalized the release of a new big Nintendo Switch pack. It will be the most famous plumber in video games who will be honored.
Summary
The rumors around the next Nintendo Switch pack were therefore true. For some time now, Big N has been celebrating the famous Mar10 Day or Mario Day. This year, everything led to believe that the publisher was going to pull out the big game with the launch of a new special pack. A bundle which had been teased with a blurred image in support and which is officially revealed today. We now know exactly what it will contain.
A new Nintendo Switch Mario bundle
While rumors around the Nintendo Switch 2 continue to swell, the Japanese firm intends to capitalize on its current hybrid console for a little longer. Several Japanese sources had indicated that the production of the nomad was going to increase this year and we understand a little better why. While the Switch OLED Zelda Tears of the Kingdom is slow to become official, the publisher confirms the arrival of a new Nintendo Switch pack dedicated to Mario.
It will therefore contain the classic console in its V2 revision with two red Joy-Con, stickers bearing the image of the Super Mario Bros film and, a little surprise, a code to download the game from the license of your choice from a selection. We find in the lot Super Mario Odyssey, Mario Kart 8 Deluxe and New Super Mario Bros. U Deluxe. This new Nintendo Switch pack will therefore be marketed on March 10, 2023 for 299.99 dollars, or about 269€ in France. The European price should be announced in stride.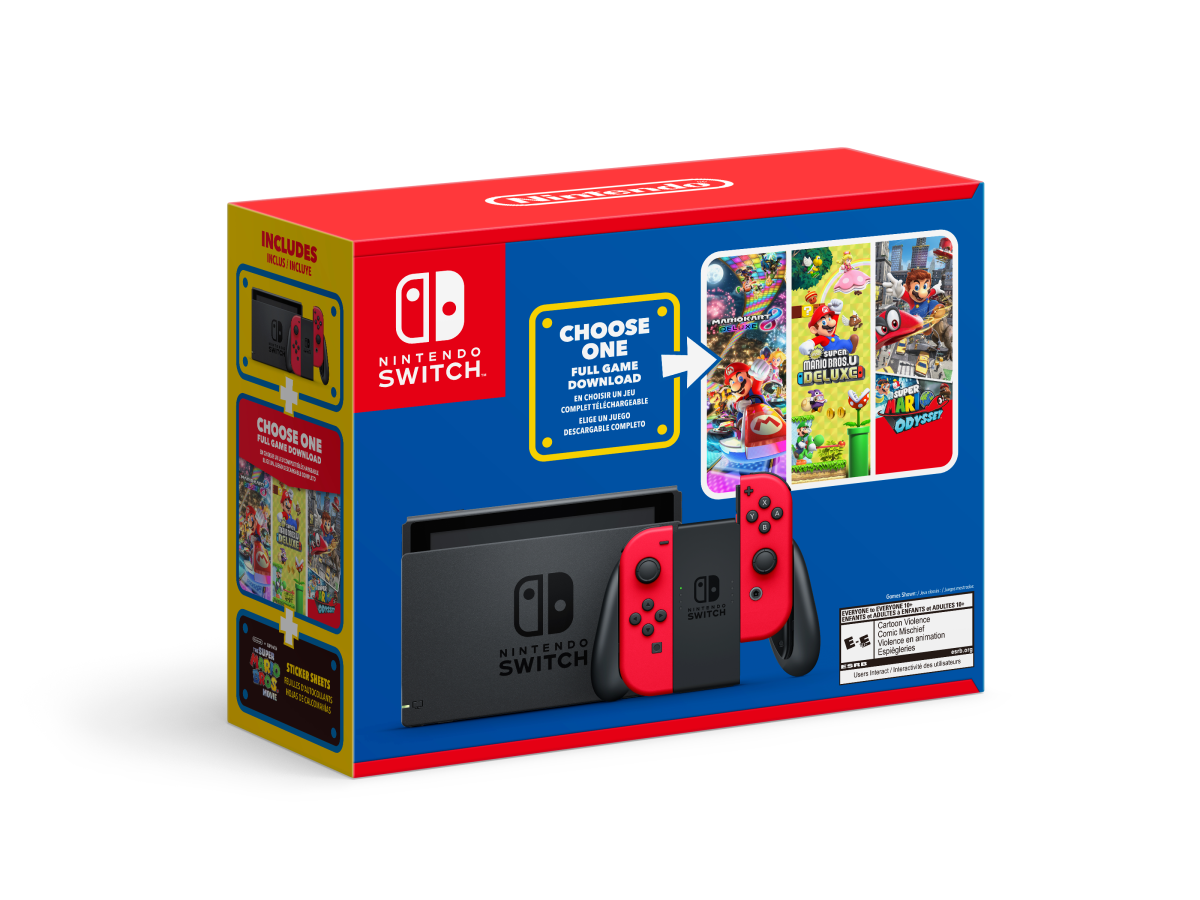 Also to celebrate Mario Day, Nintendo made several other announcements. Starting with the release date of Wave 4 of Mario Kart 8's DLCs, which will therefore arrive on March 9, 2023. Promotions around games from the plumber's universe will also be launched on the eShop during the festivities, with the key to reductions also on the various extensions of the titles concerned. Mario Party Superstars, Donkey Kong Country: Tropical Freeze, Yoshi's Crafted World or Luigi's Mansion 3 are mentioned in the official press release.