The child, Muhammad Al-Fakhrani, caused a state of controversy after he surprised the audience by losing a lot of weight, after the audience knew him in many works of excess weight.
FilFan contacted Muhammad Al-Fakhrani to find out the reasons for his weight loss, which we will monitor in the following lines:
We recommend to you: #fashion_police: Belqis Fathi wears dresses from Hussein Bazaza in her latest video, "Momkan"
– I lost because of my health and there were people who were leaving me, I am 15 years old, and I am overweight than my childhood age.
– I lost 21 kilos of weight, my weight was 85 kilos, and I have now reached 64 kilos.
– At first, I contacted a nutritionist for a week and I did not continue the journey with him because his diet was not suitable for my body, and then I followed a healthy diet of my own and continued to exercise in the gym and play football.
– I was not afraid of changing my appearance after losing weight, but my features did not change because of the color of my hair and the color of my eyes. The brave actor is looking for roles.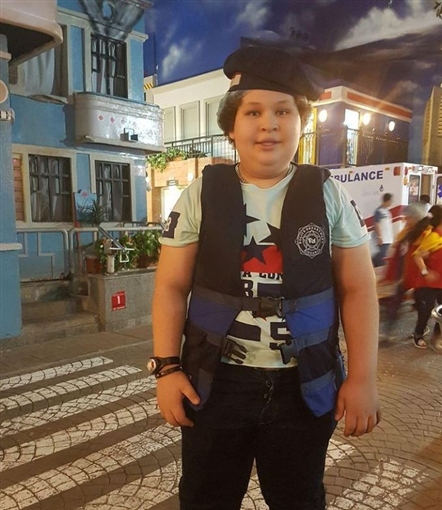 – I wanted to show a new look and personality that surprised the audience, and I thank the singer Sandy for her support and encouragement after I lost weight.
– I still hope to work with the great star Yehia Al-Fakhrani and it is an honor to work with him.
Muhammad Al-Fakhrani was known to the public when he participated in a scene in the series "The Fourth Wife", then participated in the movie "Baba" with Ahmed El-Sakka, and his scenes in the two works were few, and he participated in many series, including "Sahib al-Saada," "Bahr" and "The Street that And Rana, "The Wind of Madam" and "Al-Ajl Al-Anab". He also participated in the films "Baba", "Al-Khalbous", "Captain Egypt", and "Kaleb Baladi".
It is noteworthy that the last work of Muhammad Al-Fakhrani was his participation in the series Hamada Hilal "Ibn Osoul", and embodied during the events the character of "Youssef", the younger brother of the hero of the work, and it was written by Ahmed Mahmoud Abu Zaid and directed by Muhammad Bakir.
Read also
Yasmine Abdel Aziz celebrates her daughter's graduation (video)
The funeral of Sherine's brother after his death with the Corona virus
I don't mind… Afaf Mustafa announces the death of Muhammad Al-Helou's wife 6 years after her departure
Notes on the trailer for Tamer Hosny's "Mesh Anna" movie… Majid El-Kadwany's comedy and the guests of honor
.