The Pfizer vaccine has significantly more breakthroughs than Moderna's, which is said to provide better protection against the delta variant of the coronavirus.
the essentials in brief
Moderna's vaccine is better at protecting against breakthrough vaccine than Pfizer's.
This indicates better protection against the delta variant.
With both vaccines, protection decreases over time.
Despite being vaccinated, you can get infected with the coronavirus and get sick from it. However, vaccination breakthroughs are very rare. In Switzerland, only 460 cases were registered between January and August. The FOPH was unable to answer the question of which vaccines were used in the infected.
The "Mayo Clinic" from the US state of Minnesota has analyzed the vaccine breakthroughs regarding vaccine. In a report published on Monday that has not yet been reviewed by colleagues, she presented the study results. According to this, vaccine breakthroughs occurred almost twice as often with the vaccine from Biontech / Pfizer than with the one from Moderna.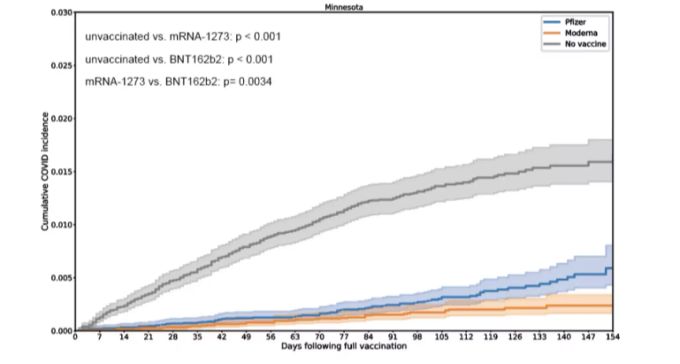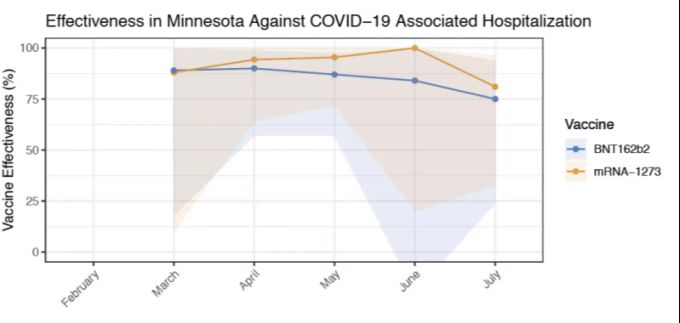 People vaccinated by Moderna were around 89 percent less likely to test positive for the coronavirus. The numbers are also similar for people who were hospitalized for Covid 19 disease despite being vaccinated. According to this study, Pfizer-vaccinated people are twice as likely to have to be treated in the intensive care unit.
There were no coronavirus-related deaths in any of the groups.
Moderna more effective than Pfizer against Delta variant of the coronavirus?
The researchers examined data from around 50,000 people from January to July 2021. During this period, the delta variant has spread widely in the area investigated, as the authors point out. In May, only 0.7 percent of the coronavirus infections were due to this variant. At the end of July, Delta was already responsible for 70 percent of the new infections.
Pfizer's mRNA vaccine may therefore be less effective than Moderna's against the Delta variant.
The effectiveness of the vaccines decreases over time
The study also shows that the effectiveness of both vaccines has diminished over time. At Moderna, the effectiveness was still 86 percent at the beginning of 2021, in July it was still 76.
However, the decline was more dramatic for the Pfizer vaccine. In the same period, its effectiveness fell from 76 percent to just 42 percent.
What vaccine have you been vaccinated with?
However, both vaccines remained effective in preventing corona-related hospitalizations. But a refresher with the Moderna vaccine may soon be necessary, according to study leader Venky Soundararajan. This also applies to everyone who has previously received the Pfizer vaccine.
More on the subject:
Data Coronavirus Pfizer Study

---
.