Miryang City, Gyeongsangnam-do, is accelerating efforts to attract companies by signing investment agreements with companies one after another in the nano-industrial complex, which is important for revitalizing the local economy and influx of population.
According to Miryang City on the 8th, the nano industrial complex completed investment agreements with 41 companies, including signing investment agreements with GV Motors and Unitech on May 30th. The amount of investment so far has reached 1.3 trillion won.
In particular, investments by large corporations such as CJ Logistics are contributing greatly to the increase in regional value. In addition, investment inquiries are continuing from various companies across the country.
Miryang Nano Industrial Complex is planned to include 820,000 m2 of industrial facility site (50% of the project site), 120,000 m2 of research complex, and support facility site on a site of 1.65 million m2 (500,000 pyeong) in the Bubuk-myeon area. It is scheduled to start on November 15 and be completed in October 2024.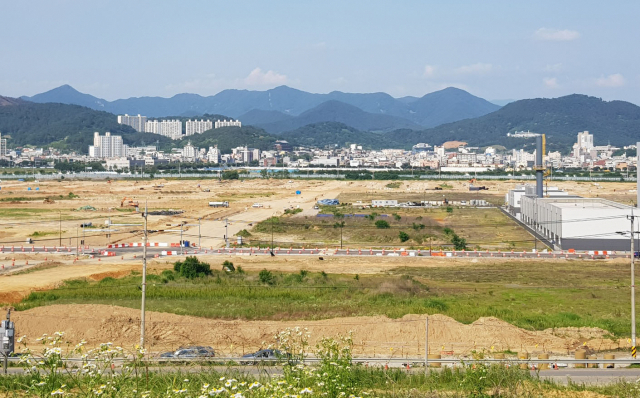 In order to improve the expected high energy consumption and environmental problems if the nano-industrial complex is created as planned, the city has been attracting new and renewable energy businesses and supporting eco-friendly projects with its own budget. Achieved the achievement of being designated as an 'industrial complex'.
Accordingly, the city plans to complete the project to establish a renewable energy power generation complex and operating system by 2030.
The city expects to activate the local economy and induce employment if the investment and attraction of the nano-industrial complex is successful.
In particular, Miryang City, a declining population, has a population of 102,685 as of the end of last month, but it is expected that the completion of the nano-industrial complex will greatly help population inflow.
The total induced population of the nano-industrial complex is 16,405, and when 100 or so companies move in, it is expected that 7,672 jobs will be created and an economic effect of KRW 1.178 trillion will appear.
In addition to the existing new Daegu-Busan Expressway, Miryang expects to contribute to regional development such as revitalizing the local economy and influx of population when the nano-industrial complex is completed following the expansion of transportation infrastructure such as the opening of the Ulsan-Hamyang Expressway.
Meanwhile, the construction of the Miryang Nano Industrial Complex currently shows a 70% completion rate. Companies wishing to move into the nano-industrial complex can contact the Miryang City Nano Convergence Team (055-359-5285).
I would like to pay a subscription fee for this article.
Add +1,000 won
Add +10,000 won
-Add 1,000 won
-Add 10,000 won
Payment may not proceed smoothly in some Internet environments.

343601-04-082252 [예금주 프레시안협동조합(후원금)]Account transfer is also possible.