© APA/AFP/CHRISTOF STACHE / CHRISTOF STACHE
The was presented for the first time Microlino already 2016now the mini electric car is to go into series production, reports Golem.de.
The Pioneer Series of Microlino is on 999 Limited vehicles and manufactured in Turin. The first edition is intended for interested parties who reserved the vehicle years ago and have been waiting for it ever since.
The vehicles of the first series of the two-seater vehicle are equipped with a 10,5 kWh Battery shipped and intended with a charge up to 177 Kilometer according to a statement from the manufacturer.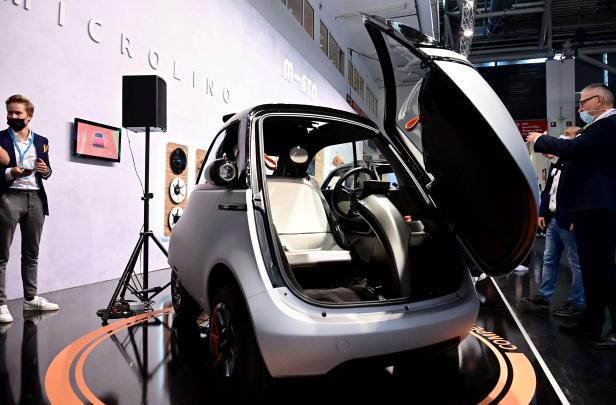 The car weighs 515 Kilogrammhas 230 liters trunk volumen and is 2,52 meters long, 1,47 meters wide and 1,51 Meter high. In addition to a sunroof and a vegan leather and suede interior, it also comes with a portable Bluetooth speaker.
Launch-Event
Other versions of the vehicle are to come onto the market this year, a smaller one with 6 kWh capacity and a larger with 14 kWh. The charging time is given between 3 and 4 hours. The maximum range of the top model is included 230 Kilometer. The base price should be according to the manufacturer's website 12.500 Euro be.
Am 24. May also invites Micro to a virtual launch event. Then the start dates of the other versions should also be announced.