---
Miguel Bosé was her guest on 'El Hormiguero' and gave one of his most sincere interviews. The singer, together with the actor José Pastor, came to the program to promote 'Bosé', the series based on the artist's life which will be released on March 3. The creator of songs like 'Bandit Lover' has always been in the news. Recently he has been in the spotlight because he knew firsthand the state of health of his former partner Nacho Palau. This Wednesday, March 1, Bosé opened up on many aspects of his life. The series explicitly recounts his life, from his childhood, his beginnings in the world of music, his sentimental relationships… First, the presenter asked him about his relationship with his parents.
"My relationship with my father at the beginning was bad, he didn't love me, he thought I was not a worthy heir and treated me ugly. After time passed, I decided to force the meeting and there I discovered a man who did not correspond at all with the one I had met. He was a man with incredible tenderness, incredible warmth, funny as hell, a brilliant, fast man. He was fascinating," he commented. "My mother was the complete opposite. She distant, cold, beautiful to rage. Intellectual, cutting edge. That is, the complete opposite of my father. I don't know how they ended up together. That's what's called karma."he commented ironically.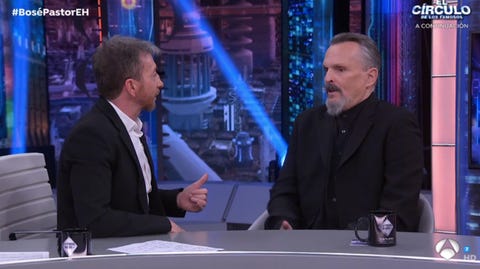 Twitter
Other aspects in which the singer has been honest has been what it meant for him to speak naturally about his bisexuality: "In my house there were no such problems, but the record company did not want me to say it. In that Spain, those things still could not be discussed openly. It was an ordeal, when I went out on Fridays I always caught a piece, whether it was from one side or the other. In the end he had to lie. I lived a lot with my back to myself, they told me that I had to pretend. It was horrible. But hey, that also teaches."
About his controversies statements about the Covid and vaccines, Miguel Bosé has also had an opinion: "What we have to talk about is freedom. I issued my opinion. It's okay, you get vaccinated, I don't get vaccinated… There is room for everyone. It turned out that the constitutional right that protects us to express ourselves and think freely had disappeared, as many others have disappeared today. The government did not like that he contradicted what they intended to launch. With a single tweet I turned against all political parties. I thought: 'there you stay'. Close my social networks and let everyone do what they want. Each one who realizes what they have to realize ".
Diezminutos.esIn Diez Minutos we inform you about the latest news from the heart and the monarchy and about your favorite reality shows, series, soap operas and television programs.