After several hours of suspense, the Mega Millions lottery finally announced a winner in Illinois over the weekend. The 29th draw since April 15 was successful and a Rank 1 winner with all 5 numbers and the Mega Ball bonus number hit the jackpot.
The jackpot was initially estimated at $1.28 billion, but "the final value was higher than estimated"…players bet in droves and so it's a first prize of $1.337 billion which was won.
The winner can choose to take the entire sum in payments spread over 30 annuities. He can also choose to take 780.5 million in cash directly. All that for a $2 ticket!
"We are excited to have witnessed one of the biggest jackpots in Mega Millions history. We can't wait to find out who won and hope to congratulate the winner soon!" said Pat McDonald, a Mega Millions manager from Ohio in a statement.
You had to play the following numbers to win the jackpot: 13-36-45-57-67 (Mega Ball: 14). This 1.337 billion jackpot is the second biggest win in the history of Mega Millions, the record belonging to the October 23, 2018 draw where a ticket in South Carolina secured 1.537 billion for its holder!
26 players played all 5 correct numbers without having the Mega Ball for a gain of at least $1 million. There is a one in 303 million chance of finding the magic combination of 6 numbers…
We won $2.00 in the Mega Millions lottery. Please respect our privacy as our family decides how to move forward in… https://t.co/swqvl3O3xc

— Stacie Thrush (@CrashieRoberts)
Memories of Mega Millions winnings
| | | |
| --- | --- | --- |
| AMOUNT | DATE | WINNING TICKETS |
| $1.537 billion | October 23, 2018 | 1 South Carolina winner |
| $1.337 billion | July 29, 2022 | 1 Illinois winner |
| $1.050 billion | January 22, 2021 | 1 Michigan winner |
| 656 million dollars | 30 mars 2021 | 3 winners (Illinois, Kansas and Maryland) |
| 648 million dollars | December 17, 2013 | 2 winners (California, Georgia) |
| 543 million dollars | July 24, 2018 | 1 winner California |
| 536 million dollars | July 8, 2016 | 1 Indiana winner |
POKERNEWS' CHOICE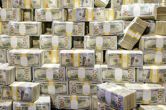 Mega Millions: The jackpot has 1.6 billion has fallen