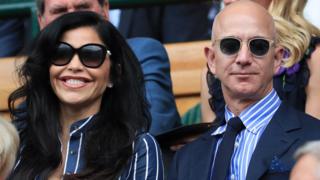 The average value of houses in the US town of Medina is almost US $ 2.8 million.
Yours is he seventh richest zip code of all country.
Not surprisingly, there live two of the wealthiest people in the world: Bill gates, co-founder of Microsoft, and Jeff Bezos, Amazon's majority shareholder.
In this small quiet town and away from the hustle and bustle of Seattle (in the state of Washington, northwestern US) live about 3,000 people with an average per capita income close to US $ 190,000 a year.
7 graphics showing Amazon's extraordinary growth in the world
Hidden among its vegetation and at the foot of Lake Washington rise gigantic mansions with all kinds of luxuries.
The Gates' is so big and famous that it even has its own page on Wikipedia.
According to local media, it has 24 bathrooms, one for each guest that could sit for dinner in the living room, almost 100 square meters.
Medina is a town of rich people that offers an "unsurpassed" quality of life, according to its authorities.
And even then, the town is about to wreck financially.
At the moment the coffers project a deficit of US $ 500,000 for next year, which can reach US $ 3.3 million in five years if the situation does not change.
Low collection
The problem is that despite the inhabitants of Medina and its properties have a high value In the market, taxes on housing have a limit.
The little known history of the underground city on which Seattle was built
Can only increase 1% per year and that, for the expenses that the people have to face – police, fire, medical assistance, parks and natural areas, municipal courts, permits, etc. – is not enough.
"The total income of city property taxes in 2019 will be US $ 2.8 million and a 1% increase would only generate an additional US $ 28,000 in 2020, a figure that does not cover the rising cost of services, "explains the document sent to the inhabitants of Medina.
The tax on the houses or property tax It is one of the main sources of money collection for a mayor's office. That is why it is so important.
"You may find it difficult to imagine that the city does not have enough income to maintain current service levels, particularly in this economy. This is because although the value of the properties continues to increase, the income of the city does not do it at the same level, "say the authorities.
So this November, Medina organized a public vote among your neighbors to decide if the collection is raised or some of its services are cut.
The mansion with a ballroom and movie theater in England that sold for $ 2.5
The average increase for each house is US $ 50 per month, according to calculations by the city council itself.
An acceptable figure according to the per capita income of its inhabitants, but it remains to be seen if I acceptedton voluntarily pay un increase in a state with a long tradition of low taxes.
Remember that you can receive notifications from BBC News Mundo. Download the latest version of our app and activate them to not miss our best content.
Do you already know our YouTube channel? Subscribe!