Mazda MX-30 is the first electric of the Japanese brand, a name that might sound strange to those who know the range since SUVs all use the CX abbreviation. The electric SUV, however, chooses to resume a historical tradition of the brand, that of using the initials MX for breaking models. So it was for MX-5 in 1989, so it is for MX-30 in 2020, production cars that add to the large array of concepts:
MX-81: sedan concept with retractable headlights created with Bertone (1981)
MX-02: concept with rear steering wheels and HUD (1983)
MX-03: concept with airplane cloche, display, all-wheel drive, four steering wheels, triple rotor engine (1985)
MX-04: concept with panels to transform it from coupe to roadster (1985)
MX-3: production car with the smallest V6 in the world (1992)
MX-6: coupé style for the price of a family member
MXR-01: the race prototype
DIMENSIONS AND LUGGAGE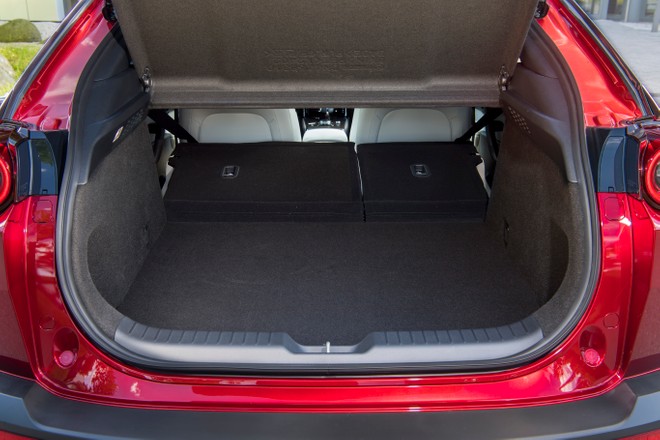 MX-30 is a compact electric crossover: 4,395 mm long x 1,795 mm wide (without mirrors) x 1,555 mm high, with a 341-liter trunk in the version with Bose sound system and 366 liters without this accessory. Thanks to a compact battery, the weight was contained in 1.645 kg (unladen mass).
The trunk it is accessible, well exploitable but runs into the defect of proposing an important one step when the seats are folded down, making it impossible to create a uniform load compartment due to the platform and the space occupied by the batteries.
INTERIORS, INTERIOR AND COMFORT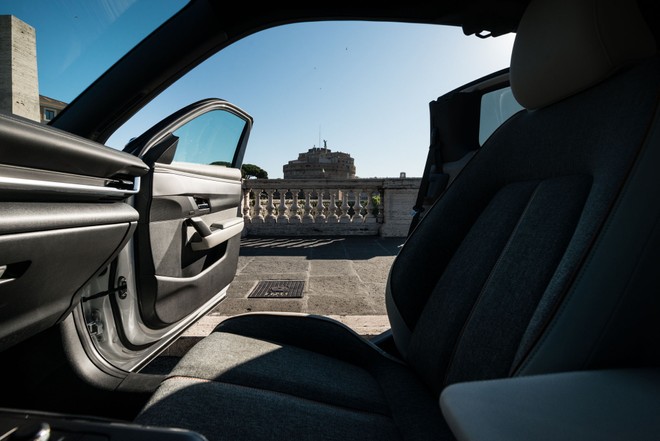 The cockpit is a blaze of materials, not necessarily prestigious or expensive but still able to return a superior range sensation in terms of care, texture, choices and combinations. The cork it is a welcome touch of color and plastic nobility that would otherwise be anonymous and not too high in quality.
The eco-leather convinces in its softness and response to the touch and the seats are also surprising because at first glance they seem not very enveloping and containing, revealing instead a sustained seat, even in the side panels.
The driver's seat is always a guarantee: the driver finds, as is customary for Mazda, the perfect harmony with the controls, even those of the infotainment which is managed via the central controller. Behind there is no lack of space, the pace is still average with 2.65 meters, but coupé shapes, folding doors and reduced glass surfaces make everything a little claustrophobic.
The floating console is a touch of class… which, however, is impractical: the smartphone is placed in the cup holders or under the gearbox, a different position than that which we have long been accustomed to with "traditional" dashboards. On the one hand it is an advantage to forget it (the USB are two and are almost at floor level), on the other it becomes problematic to take it and reposition it.
BATTERY, CHARGING AND AUTONOMY
Designed as a city electric crossover, the Mazda MX-30 doesn't just limit battery capacity, 35,5 kWh for the pack of lithium-ion batteries (310 kilograms), but also the charging options.
The idea is that of a car for those who can load at home and at the columns but without reaching the three-phase support, therefore stopping at 6,6 kW alternating current (AC) e 50 kW in direct current (DC, 125 A). The stated times for charging from 20% to 80% are 36 minutes with fast charging or 3 hours in alternating current.


Auto
11 Apr


Auto
04 Apr
The short Roman test translated into a consumption measured between 14 and 16 kWh / 100 km depending on your foot and your electric driving skills: the first case is that of a careful and predictive driving that allows you to make the most of the regeneration while the second refers to a test that simulates driving as if it were a car with combustion engine.
Impossible to give a reference for consumption in extra-urban: in this case we must be satisfied with Mazda's declared: 19 kWh / 100 kilometers.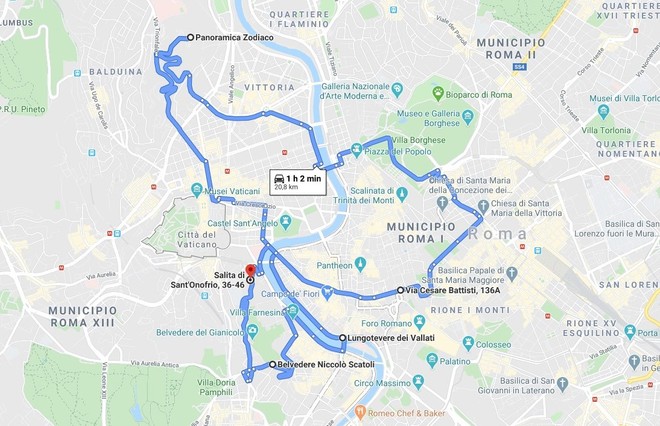 Using this data, autonomy in the city is between 250 and 220 kilometers. In extra-urban, assuming a mixed cycle from the hinterland to the big city with a sliding ring road, it drops to 180/190 kilometers on a full charge, although it is a numerical calculation since the test did not last long enough to unload battery.
Battery that works at 355 V and can count on a liquid system for cooling and thermal management in addition to the heat pump proposed as standard. The tubes pass under the battery modules and keep them in temperature by means of a heat exchanger.
HOW ARE YOU? FIRST (SHORT) CONTACT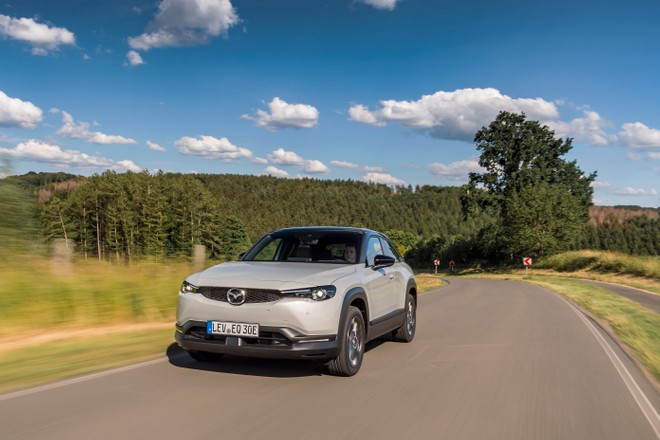 Short but intense test that of Mazda's electric SUV which, on the comfort side, had to clash with Rome, certainly not a board. Despite the 18-inch wheels (standard with 215/55 tires), a non-featherweight and a suspension scheme with Mac Pherson and twisting bridge, MX-30 confirms that it knows work well of frame just like CX-30 and Mazda 3. Unlike these, however, the battery pack is also integrated as a structural element and is clearly useful for lowering the center of gravity.
The MX-30 is not surprising for the engine, a synchronous alternating current (brushless permanent magnet) electric motor with 107 kW (145 HP) and 270 Nm of torque. Rather it is the driving dynamics that manages to move away from that of the other heavier electric SUVs of the competition and return less rolling and more driving fun.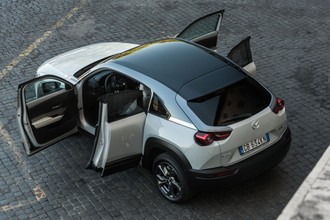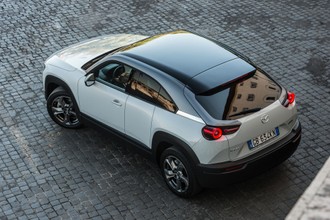 Once again I find myself having to limit the impressions because of the context, only urban, but a special mention must be made to the G-Vectoring Control Plus (e-GVC Plus) which finds its perfect application in electricity: it anticipates the intentions of the driver from the movements of the steering and consequently (and imperceptibly) changes the torque playing with the load transfers at the entrance and exit of the curve. It works? Tried making some entry and exit in a deserted roundabout, it seems so, but should be evaluated in situations slightly more pushed than the city ones.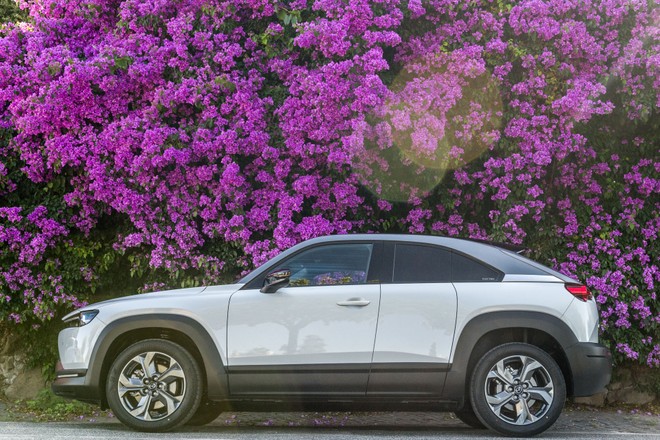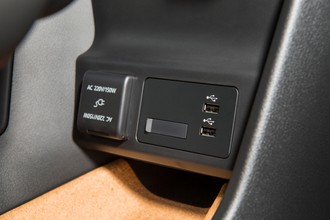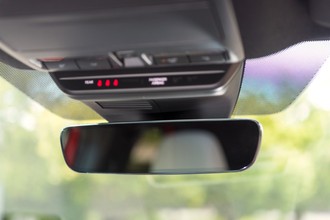 The deceleration is disappointing … but only if you come from another electric: Here there is no real guide to an MX-30 pedal is meant for be a car of conquest (as a second auto for example) and Mazda preferred not to detach himself too much from the driving to which all we are used to. Brilliant but never brutal delivery: gas on a tablet and the MX-30 gives you everything immediately, in a sweet but decisive way.
The paddles on the steering wheel must be used differently from the Korean electric ones: here it is as if each position also brings with it an instant mapping, also changing the sensitivity of the "gas" pedal and not only the intensity of the regeneration. In any case, the -2 returns a second full engine brake, 0 simulates the inertia of a traditional petrol engine, +1 simulates the inertia of a diesel and +2 that of a wankel
In the days of #hdelettrico, the year I left my car at home to travel only on battery-powered cars, my approach was to demonstrate that my life was EV-proof, albeit with some sacrifices and inconveniences. From the series: if I survived with Smart EQ and e-Up, I would probably also survive with MX-30 and its 160/240 kilometers.
In reality Mazda does not even look at me as a potential customer but prefers to cut the bull's head and wink directly at those looking for a second or third car, only for the city or to move from the suburbs to the center, all with the possibility of recharge at home.
The Japanese idea is particular but not necessarily wrong and that empty space in the engine compartment proves it: today the electric only makes sense if balanced and not too heavy, for this reason the recipe is that of limited batteries that can be recharged with the range extender. You like it? Well … don't you like it? Go further or wait for further evolutions in the energy density of cells.
PRICES AND SET-UP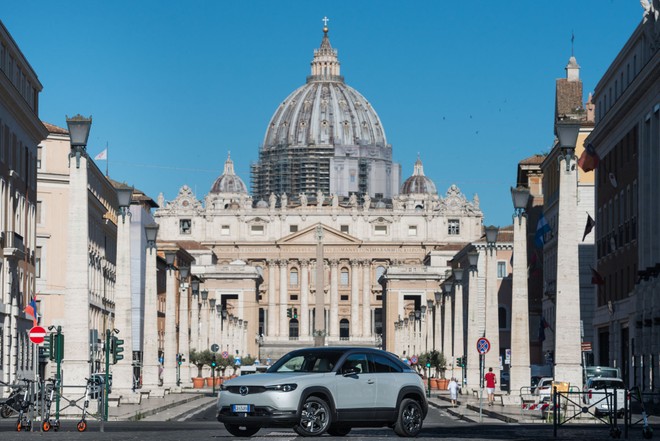 Three settings but almost everything you need is included from the entrance level:
MX-30 Executive: 34.900€
MX-30 Exceed: 37.600€
MX-30 Exclusive: 39.350€
Executive has 18 "alloy wheels as standard, front and rear LEDs, electric mirrors, automatic climate control, infotainment and digital instrumentation, light and rain sensors, two USB, CarPlay and Android Auto, video camera, front and rear sensors, almost all the ADAS and the two charging cables are included with Executive.
Already with Exceed we have matrix LEDs and headlamp washers, tinted windows, HUD, electric, keyless seats, 150 W socket and photochromic frameless rear view mirror.
Exclusive adds the electric sunroof, BOSE system and the ADAS that were missing: camera fatigue monitoring, front monitoring when exiting the parking area, rear automatic braking when exiting the parking area and automatic rear braking with pedestrian detection, in addition to Cruise & Traffic Support .
VIDEO