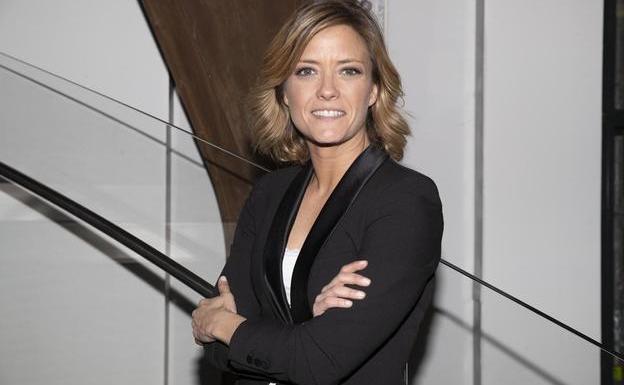 Maria Married / EP
The journalist will be a mother with her partner, the singer Martina diRosso
María Casado had a very special surprise in store to celebrate Valentine's Day: the announcement of her pregnancy. The journalist and president of the Television Academy, has published the news on her Instagram profile where she has uploaded a video with a photograph in which she shows the ultrasound of her first baby while giving a romantic kiss to her partner, the artist Martina diRosso, followed by the image of the ultrasound machine with the sound of the heart of his future son. "We're going to be mommies!" she writes. «The family grows… I am pregnant! Martina and I are delighted and happy to break the news to you on such a special day," she continues. A post in which she does not hesitate to declare her unconditional love to her wife.
The audiovisual director of Soho TV, a company founded by actor Antonio Bandera, also takes the opportunity to thank the team at the Marbella clinic that has made it possible to "make our dream come true with such care and attention."
Martina, for her part, has also shared the same image to say that they are waiting for "the best gift of our lives." "Infinite happiness! Maria and I are going to be moms and I couldn't be more excited," she writes. «I wanted to shout to the world that the family grows and that with you everything is better. We are always on the same team. Go for 2023 », she ends.
Enthusiastic, the couple also refers to María's state of good hope in their stories where Martina has shared some churros with chocolate with the message: "Now everything is based on satisfying the cravings of my wife María Casado", ending with a laughing emoticon. .
María and Martina met thanks to a mutual friend a little over two years ago. A love story that the artist turned into a song: «Here is the story of how I ended up living in Malaga. I was in a square called La Merced, waiting for a very skinny girl. She was a Catalan blonde, green eyes, 1.70. And I fell in love ». And it is that, after the journalist surprisingly ended her professional relationship with Televisión Española after 21 years, she received an offer from Antonio Banderas to be part of the audiovisual production company of the actor from Malaga. Thus came her transfer to Malaga where she found love with Martina. «I became malaguita when I saw her smile. We kissed and I told him: 'I'm staying here to live'". So it was.
Since then we have seen them posing on different red carpets, showing off their love. The first time was in August 2021, at the Starlite Festival photocall, where they made their relationship official. Now, they add a new chapter to their romantic story and they will be mothers in the coming months.