Yesterday at noon will surely be a historic and indelible moment for Luis Novaresio and Braulio Bauab as they said yes and they became a couple in the Civil Registry of Uruguay Street with 10 guests since the link was held outdoors. Then at around 4 pm they made a massive zoom to celebrate with their friends and today they shared some images of what was their big day.
Both the prestigious journalist and the real estate entrepreneur shared their experiences of the day through stories from their Instagram accounts. There you can see the look of both for the wedding, when they put the rings and even a capture of the family computer where you can see almost all the guests at the celebration via zoom.
"We are married and we are happy, I choose this man for life to become old men. It is a very special day and we want to live it fully ", Braulio had said moments before entering the civilian.
Enter the photo gallery and see all the moments that the marriage shared.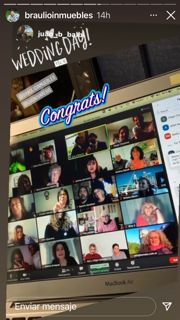 The day came: Luis Novaresio married Braulio Bauab
Yes OK his idea was to get married in March of next year and have a great outdoor party, Luis Novaresio changed his mind and will go through the Civil Registry today from Calle Uruguay to say yes with his partner, businessman Braulio Bauab.
The marriage will be celebrated just the day in which they are pro to fulfill 11 years of the sanction of the equal marriage. "The crown changed a lot of things even that we are making this video, what for? Luis began by saying and his boyfriend Braulio added: "To tell you that we are going to get married and although we would love to have a mega party and invite you and we cannot, then …" and Novaresio complete: "We are going to have a virtual party later on is the link, but we are waiting for you there", concluded the prestigious journalist.
"They gave us a couple of options and we chose this one," Novaresio said upon reaching the civilian. For his part, Braulio affirmed: "I am very happy to marry this great man with whom I want to grow old." For his part, Luis expanded: "The face-to-face party I don't know when we're going to do it, we can't do the Honeymoon … Maybe we're going to celebrate for a weekend".
FL