It was without a mask – or was it not one of the measures they were contesting – that hundreds of people protested this Sunday in the streets of Lisbon and Porto. In the country's capital, the meeting took place in front of the Assembly of the Republic. At Invicta, the concentration began in Praça de Leões, next to the university rectory. descending to Almeida Garrett square, in front of the City Hall, a journey of about one kilometer.
At issue are some of the sanitary rules to control the Covid-19 pandemic, such as the use of a mask on public roads and the presentation of the digital vaccination certificate to gain access to some places. Since March 2020, the pandemic has killed 17,207 people in Protugal and a total of 930,685 cases of infection have been registered, according to the Directorate-General for Health.
In Porto, there were a few hundred people protesting against the measures imposed by the Goevrno, as they considered them to undermine their freedoms. "We took to the streets to defend our freedom, and to contest the measure of the Covid-19 digital certificate as well as the measures that have constantly been trampling our Constitution", proclaimed the movement in the call for protests.
"Acorda Portugal" asserts itself as a group of citizens with no connection to political parties and claims to have joined, in just two days, 10,000 people in a group of social networks.
At the Porto protest, protesters held up posters with phrases such as "freedom, yes; segregation and oppression, no" or "free—no going back". Speaking to the protesters, Cátia Moura, from the "Acorda Portugal" movement, stated that "what is at stake is freedom", not agreeing "with completely oppressive and absurd measures".
"They will not stifle our Constitution," he added. And the audience responded in chorus: "Never!"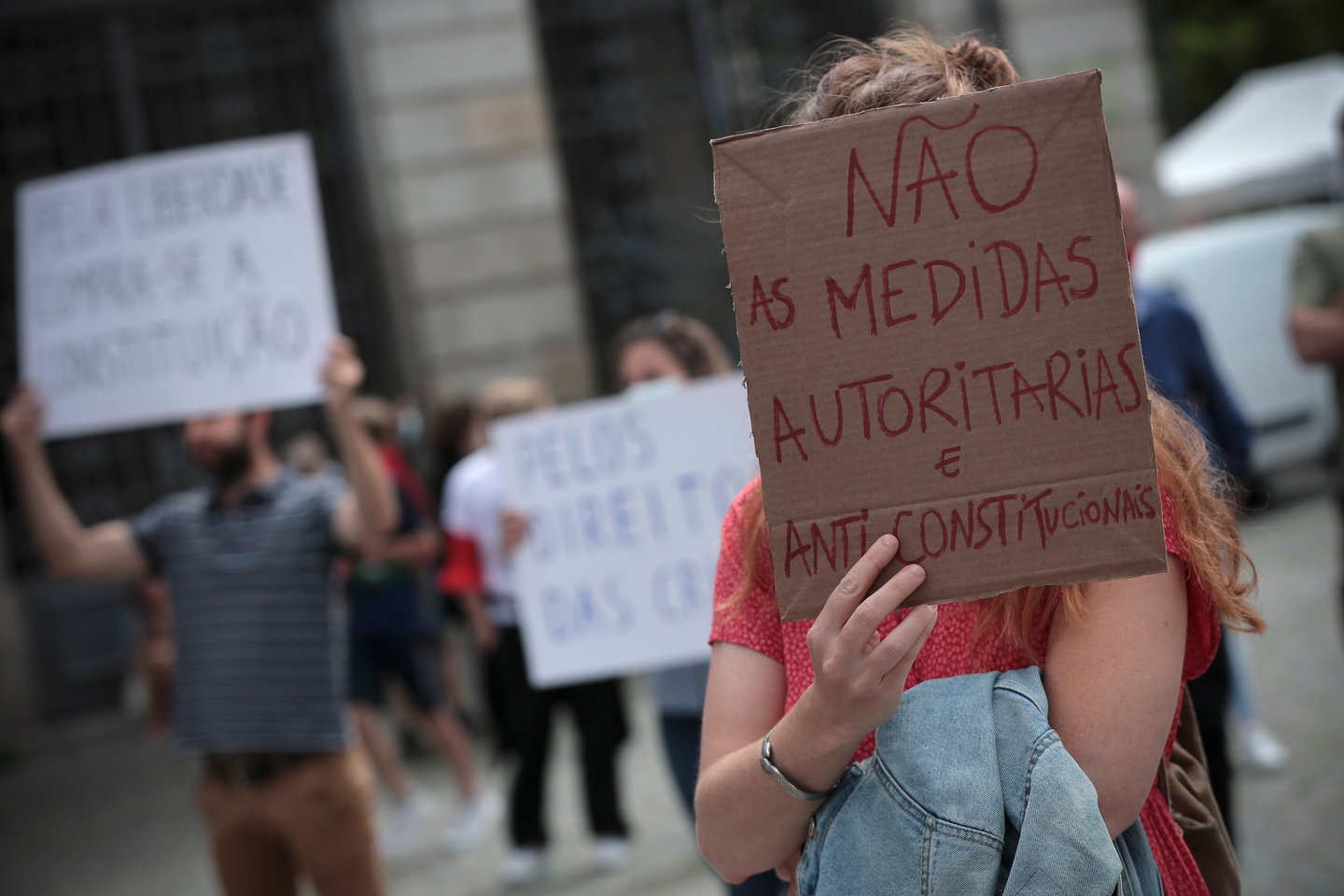 In front of the Assembly of the Republic more than half a thousand people demonstrated.
"We are not cattle" and "nobody touches me in my body" were some of the shouts of order from the protesters who took part in this protest action, which began in Terreiro do Paço and was organized, as in Porto, by the "Wake Up" movement Portugal".
Armed with posters and Portuguese flags, most of them without masks and without complying with the security distance, they expressed their displeasure at the "dictatorial measures" of the health authorities.
"This digital certificate story is only meant to establish a dictatorship and we are opposed to that. We value human rights. We are human. We are not cattle", said the organizer and spokesman for the movement, Daniel Leal, quoted by the Lusa agency.
The protest action brought together around 600 people, figures put forward by the organization.