SANTO DOMINGO, Dominican Republic.- Several groups of the revolutionary left in the Dominican Republic accused the so-called influence Alofoke (Santiago Matías) for having set an alleged "trap" for the merenguero Bonny Cepeda, for having sung to the president of Venezuela, Nicolás Maduro, on the occasion of the president's birthday.
Through a statement, they affirmed: "thanks to the unconventional war, the recognized right-wing, influencer, dembowsero and businessman Alofoke (Santiago Matías) put an imprisonment on the artist Bonny Cepeda, who made a full exercise of his artistic career made several presentations in Venezuela.
They stated that Bonny Cepeda, a Dominican merengue player, was seen performing a song at the Miraflores Palace, in Caracas, for the birthday of President Nicolás Maduro.
They affirmed that Maduro is the constitutional president of Venezuela, elected by the votes of the people in free and democratic elections, and is also president of the majority United Socialist Party of Venezuela, "which has a membership of 7 million 633,149 Venezuelans."
Likewise, they expressed that "the media war continues, Santiago Matías, the godfather of the well-known reactionary, fascist, misogynist and designated as an agent of the Company, Agustín Laje, denounces that he receives threats. Alofoke, fear not, you are the fascists, the historically violent are the sector you defend and the team to whom you belong ".
They added that, thanks to the aforementioned war, the oligarchies, the North American empire and the unity of the international right with their media, have decided to turn the presidents of socialist systems into monsters, and into saints Democrats, recognized genocidal monsters, fascists, corrupt and drug traffickers, like Iván Duque and Álvaro Uribe Vélez in bloody Colombia.
They told Aloke that those who use violence to impose themselves are his allies and defenders, Leopoldo López, Juan Guaidó, Trump, Bolsonaro, Duque, JOH, Netanyahu, Moïse …
"We revolutionaries are lovers of peace and respect for Human Rights and for this reason, we once again express to the democratic president of the Bolivarian Republic of Venezuela, Nicolás Maduro, all our support and solidarity. isolated! "
The document was signed by the Movimiento Patria para Todos y Todos (MPTT), Movimiento Rebelde (MR), Partido Comunista del Trabajo (PCT), Popular Dominican Movement (MPD), Solidarity Agenda, Dominican Human Rights Committee, Afro-Dominican Action , Patriotic Committee "Francisco Alberto Caamaño Deñó, Caamañista Movement (MC) and Revolutionary Left (IR).
Below is the full text issued by the entities: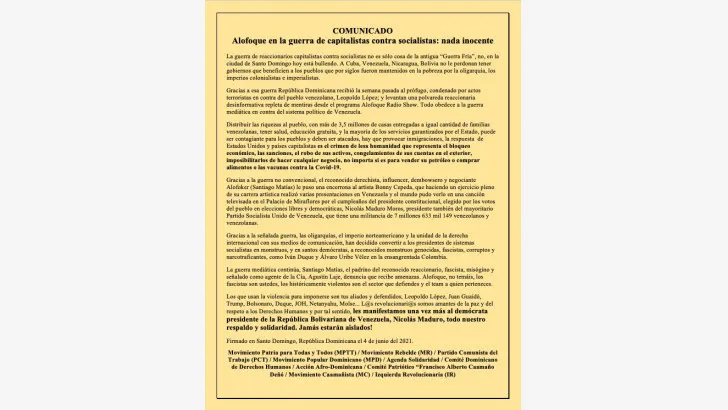 .