"Anti-democratic and undignified iconoclasm"
---
Updated on 03/05/2023 – 11:12 amReading time: 2 min.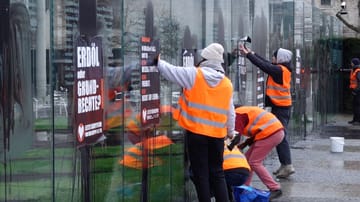 Activists of the "last generation" smeared a constitutional monument with a black liquid. Politicians are appalled.
In Berlin, activists from the "Last Generation" climate protection group have smeared a monument to the Basic Law. As the group announced on Saturday, several supporters had "soaked the glass sculpture "Basic Law 49" near the Bundestag "in 'petroleum'". A video shows several activists spreading a black liquid on the glass panes with the fundamental rights articles. Politicians from various parties expressed their dismay.
"What a cheap, undignified action," wrote SPD foreign policy expert Michael Roth on Twitter. "You shit on basic rights, destroy art like the Taliban and still feel like heroes," says Roth.
The President of the Bundestag, Bärbel Bas (SPD), was "shocked that the activists of the last generation smeared this important work of art on the Basic Law. It stands as a reminder to respect our fundamental rights. Also the freedom of expression and assembly, to which they support themselves." The two SPD politicians received support from his party colleague Detlef Müller, among others. "This abnormal action shows very clearly what you are: not activists, but extremist idiots," wrote the member of the Bundestag.
Embed
There was also criticism from the FDP: "Regardless of what message is supposed to be associated with the daubing of the "Basic Law 49″ monument by the Israeli artist Dani Karavan: It can only be wrong!", said Federal Justice Minister Marco Buschmann.
The FDP politician Kristine Lütke also became clear. "Anyone who smears and defiles our Basic Law damages our democracy and free basic order as a whole," Lütke also wrote on Twitter. The "last generation" is trampling on the federal government's constitution.
Activists: "Burning oil or protecting fundamental rights?"
Volker Ullrich, member of parliament for the Union faction, accused the activists of "anti-democratic and undignified iconoclasm". "In doing so, she says goodbye to basic rights, which many billions of people around the world long for," wrote the CSU politician. The CDU politician Kai Whittaker explained that nobody needs a generation that smears the Basic Law with oil.
The action was also condemned by the Greens. Britta Haßelmann, leader of the party's parliamentary group, wrote on Twitter: "No point. The Basic Law is the best we have. And the work of art 'Basic Law 49' by Dani Karavan is impressive."
The group had explained the background to the action: "Fire oil or protect fundamental rights? In 2023 only one of the two is possible." The protest by the climate protection activists was therefore directed at the federal government, which, according to the constitution, has a duty to protect livelihoods and freedom. However, the government is not fulfilling its duty.