Collaboration is becoming active among peer startups in South Korea to create synergy between different technologies and accelerate an early stage startup's transformation into scaleups amid the prolonged funding squeeze.
Forms, a Korean developer of virtual humans using artificial intelligence technology, has teamed with WaveDeck, a local AI sound engineering and voice AI training startup, to develop virtual humans, using local celebrities' intellectual properties for the first time in Korea.
"I have asked for a partnership with AI startup WaveDeck, which I encountered at a D.Camp event, on expectations for great synergy with our technology," said Lee Jung-jin, the founder and chief executive officer of Forms.
Like Forms and WaveDeck, more startups are collaborating in Korea these days for synergy in business and product launches.
According to the startup industry on Wednesday, Tailor Town, the operator of men's fashion online platform Danble, is currently working with local AI startups CodiMe and MeTown to develop virtual fit models, using CodiMe's generative AI technology and MeTown's 3D virtual fitting room technology.
Once they develop the technology, Danble users will be able to try clothes on with virtual humans before deciding to buy them.
3D technology startup RebuilderAI and AI-backed commerce software developer Deepixel have joined hands to develop 3D content for augmented reality (AR)-integrated video commerce, increasingly populare these days.
RebuilderAI has recently developed technology that can generate and recover lightweight 3D models, while Deepixel has developed StyleAR Seamless, an online ad program using AR fitting technology.
"Lightweight 3D content and low costs play critical roles in the success of an AR business," said Lee Je-hoon, the founder and CEO of Deepixel, explaining the reason behind its collaboration with RebuilderAI.
Startups' collaboration is becoming popular as the decision-making and development process is speedier in partnerships among early stage startups than cooperating with major conglomerates or SMEs, which often comes with complicated terms.
Amid growing economic uncertainty, conglomerates and mid-size enterprises have also become less enthusiastic about open innovation to find new growth drivers, reducing partnership chances with startups.
But thanks to the expansion of the Korean startup ecosystem in recent years, young entrepreneurs now have a broader network, in which they can connect with each other for teamwork.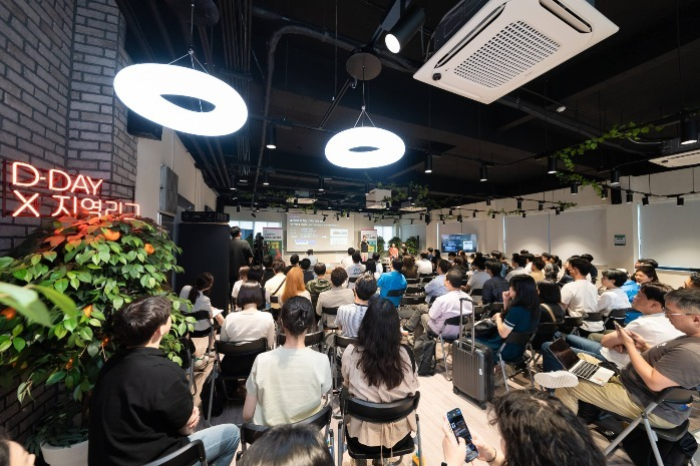 D.Camp, the Korean startup accelerator backed by the Banks Foundation for Young Entrepreneurs, has hosted a startup pitch competition D.Day every month since June 2013, giving more than 600 startups a platform to level up their business and to network.
Korean internet giant Naver Corp. and Korea Startup Forum have also been organizing similar events for startups.
STARTUPS INVESTING IN STARTUPS
Growth- and late-stage startups are also keen to become scaleup partners of early stage startups.
Crowdfunding platform company Wadiz in July set up a startup incubating subsidiary Wadiz X to unearth promising startups to help them become scaleups.
Teamsparta, a coding training startup, has been hosting its own startup boot camp events and directly injected seed funds into five winners of the program in June. It has attracted more than 8,000 future entrepreneurs since its inception.
Korea's fashion platform unicorn Musinsa has recently acquired local fashion and beauty platform StyleShare and AboutBlank&Co., which owns multiple fashion brands.
Its venture capital affiliate Musinsa Partners has so far invested 64 billion won ($48 million) in more than 60 fashion brands.
Breeze Investment, a VC arm of Korean prop-tech startup Zicbang, has injected 10 billion won into a venture fund to invest in other startups, including shared kitchen startup Ghost Kitchen.
Baby Shark creator The Pinkfong Company has set up corporate venture capital Start Study Ventures, which has acquired stakes in Korean animation creator Red Dog Culture House and Tictoccroc, a childcare service startup.
Bucketplace, an operator of Korea's largest home interior platform, invested in Uglee Lab, a Korean waste tech startup providing a subscription-based waste collection service.
The Korean startup industry expects that with active collaboration among startups, the Pay-It-Forward culture, in which startups in Silicon Valley help early stage startups network and grow, will thrive in the Korean startup ecosystem, industry observers said.
Write to Joo-Wan Kim at [email protected]

Sookyung Seo edited this article.