Kadyrov threatens nuclear attack in case of defeat
---
Updated on 01/18/2023 – 18:06Reading time: 2 min.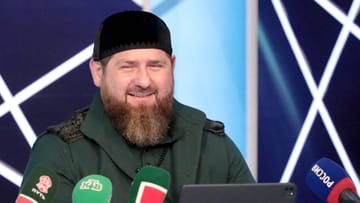 Chechen ruler Ramzan Kadyrov has referred to the nuclear option. Russia will not allow losing a battle.
The President of Chechnya and Putin confidante Ramzan Kadyrov has threatened a global nuclear strike. On his telegram channel, the autocratic head of state spoke of Russia's important role not only as a nation at war. "Russia is a great nation, and a nuclear nation. Russia will never allow it to lose a battle. We can press the button and then 'Salam alaikum'," said the Chechen leader. The phrase, which translates to "Peace be upon you," is typically used as a greeting among Muslims.
He went on to ask, "As our President said, why do we need a world without Russia?" and obviously meant corresponding statements by Vladimir Putin. He repeatedly warns that the West wants to destroy Russia as a state. Chechnya is part of the Russian Federation. According to Kadyrov, if there were no place for Russia, there would be no place for others. "So let's all go. We go to heaven, the others go to hell."
Embed
At the same time, in his own words, he still sees a third world war as a long way off because Russia still has allies like China, India and Pakistan. All three countries also have atomic bombs. The threat of a nuclear strike comes again and again, directly or indirectly, from the Russian side. For a long time it was reason for the West to hesitate in supplying heavier weapons and main battle tanks.
Recommended external content
We need your consent to display the Twitter content embedded by our editorial team. You can display this (and thus all other Twitter content on t-online.de) with one click and also deactivate it again.
"Putin's bloodhound" criticizes ex-military as "general blah blah"
Ramzan Kadyrov is not only president of the autonomous republic of Chechnya, but also plays an important military role in the Ukraine war. Vladimir Putin made him Colonel General of the Russian Armed Forces in October 2022. Chechnya has also sent its own soldiers to Ukraine, who are said to be particularly brutal. Kadyrov isn't called "Putin's bloodhound" for nothing. His units were involved, among other things, in the siege of the Azovstal steelworks in Mariupol.
Embed
Even though Kadyrov is considered a close confidant of Putin, he does not hold back in criticizing military failures and leaders. According to the Russian news agency Ria Novosti on Telegram, he called the former head of the Russian ground forces, Vladimir Boldyrev, "general blah blah." Vladimir Boldyrev commanded the troops of the Siberian Military District in 2001-2002, and then the troops of the North Caucasian Military District. In the summer of 2004 he was transferred to the Volga-Ural Military District. From 2008 to 2009 he was supreme commander of the ground forces, in early 2010 he resigned.
In September, Kadyrov criticized the withdrawal of Russian troops from areas in north-eastern Ukraine and called for a change in military leadership. In October he complained that the war was taking place on his own territory. By that he meant the territories annexed by Russia and counterattacks by Ukraine.
Along with the mercenaries of the "Wagner" force, the Chechen soldiers are considered an important part of Russian warfare. At the same time, there are reports of power struggles between Ramzan Kadyrov and "Wagner" boss Yevgeny Prigozhin. It should also be about the favor of Kremlin chief Vladimir Putin.