Every small studio working on their first commercial game dreams of achieve success, but it is something that happens very, very rarely; The most common is that that first attempt sells almost nothing and goes unnoticed in digital stores. In successive games the study will refine its style and it can only happen that it may get better results. Digital Sun Games is one of those white blackbirds that managed to succeed with its debut, Moonlighter, and roguelite which has sold more than two million units so far and in which the protagonist is the village shopkeeper, the one that exists in every role-playing game to which to sell and buy equipment and that in this case aspires to become one of the heroes those he serves, for which he ventures into the nearby dungeons as soon as he can while managing his shop. actually though Moonlighter it was his first own intellectual property the result of hard work and a risky bet, It was not the first video game created by the studio because miracles do not exist.
Javier Gimnez, CEO and co-founder of Digital Sun Games, he has been passionate about videogames since he can remember, and as a child he was also interested in creating his own games, "some foolish friends of my parents gave me a book on programming videogames, yes you clicked on the computer line by line all the lines in Basic would give you a game and I with that I learned a little to program when I was ten or eleven years old and I used to play guessing games with my sister and things like that. In high school, he enrolled in a Pascal programming course with a friend "and the first thing we tried to do was make ourselves Final Fantasy VI, which we liked. A total absurdity, there were 16,000 lines of code without knowing what object-oriented programming was or anything, but we spent nine months working on it. It was totally stupid but you are a teenager, you feel like it and you have a great time trying it. We were there for the last two quarters of the year and that summer we locked ourselves up at home to try to program it, do the art and things like that. It was a total disaster but we had a good time and we were learning. We put it aside I don't remember why, maybe because we entered the university, but It was a bit where you could see that making games was also nice", remember at the beginning of a video call.
Without a reference to indicate that you can make a living from creating video games
He studied, as expected, computer science at the Polytechnic of Valencia but video game development drifted away from his intentions during his career because, he explains, "I remember checking out DirectX books from the library to see how 3D worked a bit and trying to train myself, but there was nowhere to learn, we didn't know anything and we had no one around us who knew. At the age of 20 I stopped being interested in the subject because I saw it as impossible, I didn't have anyone around me who saw that I was working on video games and that I saw that it was something possible, it seemed unreal to me". During the next 10 years, nothing related to video games was raised. except play them. "If in the degree they give me three subjects of making videogames and they tell me that it is a possible profession, there is no doubt that I will shoot for that," he says, although he then adds that He did coincide in the first years of his career with Carles Pons, who worked at Exelweisshis father's video game studio, Jos Vicente Pons, "but they weren't doing very well and it didn't seem like a very solid thing either. Then they did super well with Akamon. I was at her house and they were him and her father in a small room. If there had been a CodiGames nearby, or us, or Tequila…, a benchmark of people who made a living from this… but I didn't know anyone, "she points out.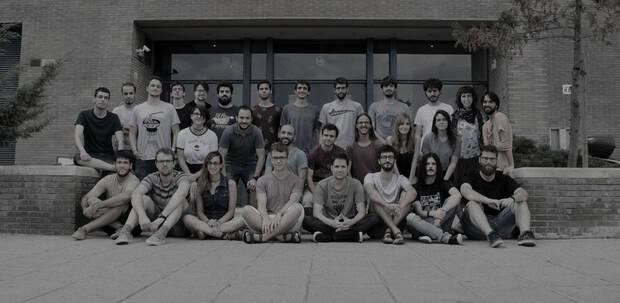 When I finished my degree, I created a company related to computing but as a consultancy. In fact, in In the following years he founded two companies, one in Madrid and the other in Valencia, and, according to his account, "the first one went more or less well, the second one went badly, The crisis caught us and when we had to close I spoke with an employee of mine, Rubn Pic, about the possibility of being partners. We had already spoken before because he knew that the company was not going very well and when I had to fire them all, including him, he suggested that he and I start something. He had some money from both companies and a lot of learning and I proposed to try how it worked in the video game sector, because he had a thorn stuck in him".
Gimnez returned to videogames eight years after finishing his training, "on the one hand I would have liked not to dedicate 8 years to software business and things that do not interest me so much, but having dedicated myself to videogames when I finished my degree, I would have 8 more years of experience but the second thing is that what I felt when we returned and I think I was 31 years old when we started Digital Sun it was that I had found my place. I am a technician but I have always been very interested in the whole creative part and the video game industry merges the two things, "he says.
"I was 31 years old but I was completely unaware of the sector, what I had learned as a child and adolescent was of no value. We had to learn the entire trade from scratch, we started the video game company without knowing anything about the industry"
A service company to learn about game development
To get into video games, in addition to the vocation, I weighed the fact that they were mobile games were beginning to take off and some titles were beginning to stand out indies with the beginnings of digital distribution. "We got very scared, to see if it made sense and, if not, to dedicate ourselves to other things that we knew how to do, consultant of the software or business and things like that. We start super humble. He was 31 years old but was completely unaware of the sector, what he had learned as a child and adolescent was of no value. The whole trade had to be learned from scratch, we started the video game company without knowing anything about the industry, neither do nor how the industry works or anything", acknowledges Gimnez.
Aware of this, Pic and Gimnez decided take the first steps as a service company "because it seemed like a good way to learn how to make games," he says. that's how I was born BraveZebra. which is still active. With the initial capital, which was their savings, they looked at the Polytechnic for people interested in creating video games to hire them for internships. Among them were some of the current components of Digital Sun, Agustn Esteve (studio programming director), Ester Mar (art director) as well as two others who are no longer with us: David Fernández and Sergio Alapont. A small group that grew little by little.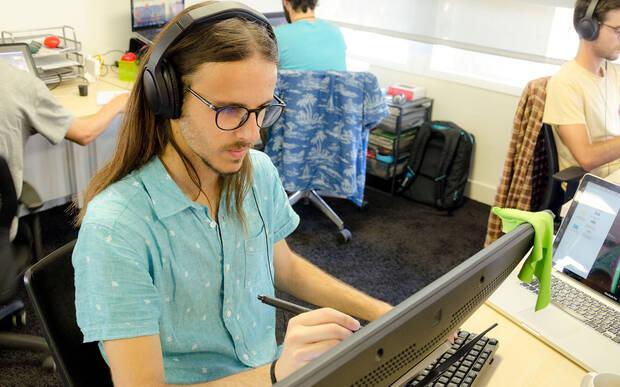 The company's clients were looking for someone to make a video game for them, since then it was very fashionable to publish a mobile game "because it seemed that people made a lot of money with mobile games, there were always entrepreneurs who wanted to invest a thousand or two thousand euros to make a clone, super small projects and clients who didn't really know what they were doing either, just like us, who we took the little money they gave us and we used it to learn and we made that game the best possible. We were working with Unity early on because we looked at what was out there in the engine market and it looked the most promising and we hit it off." The first client came from Sri Lanka and paid them a thousand dollars (923 euros) to develop a clone of Doodle Jump for iOS and Android. "It helped us to learn how everything works, put spriteshow Unity worked… With Agus, who is now a technical director in one of our projects and was a technical director in Moonlighter and it's super important at Digital Sun, I sometimes joke that the first interface we made instead of using the Unity interface we put sprites 2D in a 3D environment, something very badly done, because we had no idea", says Gimnez.
55 projects and 6 years before releasing the first commercial game
The team was learning based on developing projects for clients; in six years they carried out 55 projects, most of them small and several of them for Grefusa, but it served them to tan in very different genres. Gimnez compares it to when in the movie Conan the Barbarian they tie the protagonist as a child to the Wheel of Pain that he has to push and there is an ellipsis from when he is a child to an adult. "This it was our Conan wheel, we learned a lot and we made the team grow and with that we are trained while we maintain ourselves more or less", defines those years. During all these years the study He has had a very stable staff, more than usual in video game development, of the 54 people that are now in the company, only three of the initial team have left and about six have left in total, "Recently David Fernndez left, who is the creator of Moonlighter because they were many years old and he had other horizons. It's normal, after 10 years he wanted to do other things with his life. Of the original team there are 6 more or less people left, we are very happy. A game studio is your team and the first thing is the people that we are, Digital Sun exists to take care of us and we have always tried to do that, at each time with what we have been able to and as we have had more money we have been able to do better, but always a basic principle. ", says Gimnez.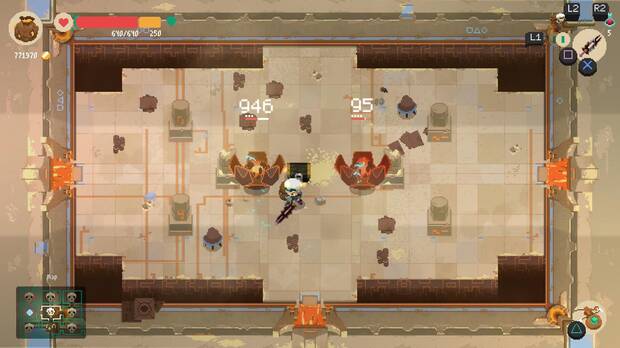 Work to create your own game with the surplus of money and time
In one of BraveZebra's internal brainstorming contests, Fernndez, who had been remembering Gimnez "playing a lot of Binding of Isaac and also games like Harvest Moon y Golden Sun and things like that, he got this idea of ​​a merchant who dreams of being a hero. At first it was going to be a rogue pure but then little by little we were doing it more lite, sin permadethand with a lot of dragging ourselves through the mud we managed to get it to the market, which was pretty hard work but it turned out well."
Fernández was also the director of game design, according to what Gimnez tells us, "Rubn and I are not creative directors. We get into production and everything, we talk about everything, but we don't impose our creative criteria. I personally don't get involved in design, in how things have to be, what we do is more of Jiminy Cricket, of Executive Production, if you want to see it that way, suggest, be remembering all the time. In cinema there are producers who destroy films and others who improve them, it depends on how you do it. David had a clear vision and what we did was help him David did not do it alone either, there were more people working on design, on many ideas. The artistic direction of David Aguado was super important, It was a team effort, like all games".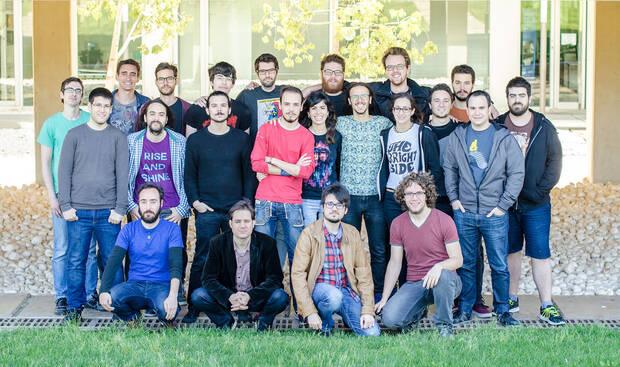 Despite this pick and shovel work, the goal of Gimnez and Pic was always to create their own IPs, and when there was not a peak of work in BraveZebra they took the opportunity to carry out rounds of ideas and prototypes: "From the beginning we dedicated the surplus of time and money to exploring the possibility of making own games. At first we didn't really know what could work, because we had no idea. We soon saw that what we wanted and what made sense was to make games for PC and consoles that we liked. We did four or five rounds of prototypes in those years, we did everything, I think it was the fourth prototype that later became Moonlighter, We saw that there was something interesting in the idea of ​​the shopkeeper who wants to be a hero, and in art. By then it had also been two or two and a half years since we started the company, we were already a little more veterans. We still had a lot to learn, but we already knew a little more and had more artistic ability, we see ourselves capable of carrying it forward and from the second year until it came out Moonlighterto the sixth year, it is four years of development that the company continued to provide services and all the time and money that we collected went to Moonlighterthe important thing was Moonlighterwe were aware that the service company was there to support what we really wanted, to work on our games," Gimnez confirms.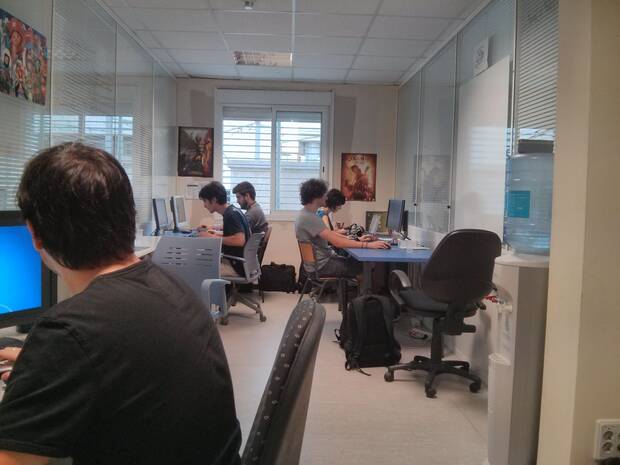 There were two teams, one for the utility company and one for Moonlighteralthough Gimnez admits that at the beginning "it was a bit chaotic. Moonlighter It started with very few people but then we started passing more and more people to Moonlighter> as we were able to afford it. It never got to be very big either, I think the maximum was 8 people or so. What we did was grow the company. If when we started the idea of Moonlighter There were 15 of us in the company by the time we left, there were 25 of us because we had to grow to be able to put more people into Moonlighter and be able to do more projects for clients and be able to pay Moonlighter. We tried to make it people who, when they went in to Moonlighter She will stay dedicated to making the game go well"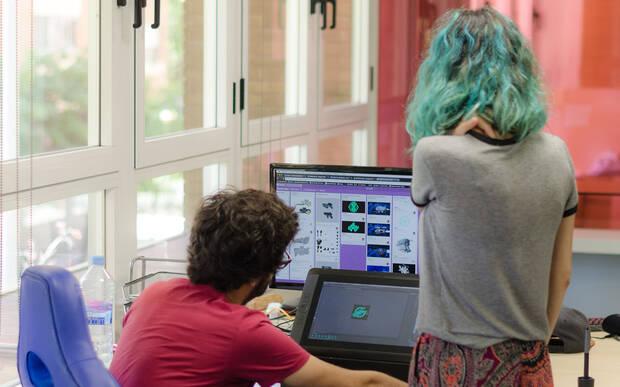 11bit, an editor that has helped improve Moonlighter
Moonlighter had as editor 11bit Studios. "They were starting to show up publishers interested in indie games. The first batch of games indie many are without publisherand then due to the success of Give back I would say, there are many people who get into publishing games indie, 11bit, which came from making a very good own game, This War of Mine and he had a lot of money and they knew how to play games, they began to consider being publisher. We were the second game they signed and the first relatively big one. The treatment was very good, they came with a lot of interest, I met Marek [Ziemak, director de desarrollo de 11bit Studios] At the Nordic Games, there was a very good vibe, they liked the game from the beginning, we liked who they were, they invited us to Warsaw to understand what they wanted to do with the game. We had some cool alternatives, including larger companies that we finally discarded because 11bit was very exciting to us, it seemed to us that they were going to contribute a lot to the project and so it was. The truth is that for us the experience of working with a publisher in Moonlighter It's been great, they've brought a lot to the game and the game wouldn't be what it is without them. In fact, we have repeated, it is already known that we are doing more things with them", informs Gimnez.
Although all studios create their video games with the conviction that they will be an instant success, Gimnez decided not to get carried away by excessive enthusiasm: "I am very prudent and I tried not to generate expectations that could later generate frustration throughout the world. I said that selling 30,000 or 40,000 was very good and I put 100,000 units sold as a great success. The game has sold two million units now, very, very, very, very much above what we imagined in the most optimistic scenarios. We thought it was our first game. I know we thought we had something good, we came from making a successful Kickstarter and from doing a campaign in Square Enix Collective in which it was the most rated game, So we knew that there were people who liked it, but not with the sales figures from the first day it was on Steam, Valve retweeted us and things like that, "he says.
In just a few hours, the studio already knew that the game was going to sell very well," it's crazy because, in addition, it's very immediate. In the first 8 hours you already know that the game is going to be a hit because it starts with a sales rate that 25,000 units had been sold the first day or something like that, and you know that he has a lot left to sell. If you have a lot of uncertainty before launching it, because the day before all the reviews press, which were not bad, really. I was very happy when the reviews and we saw that, with a few exceptions, they liked the game. We didn't know if people were going to give us six grades or that the game was a disaster. When we saw that people didn't hate the game we thought we had dodged the bullet, but when the first day you sell what for you was an average scenario… we were euphoric", says Gimnez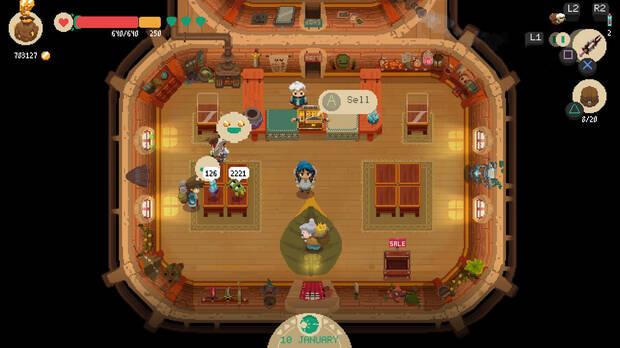 Separation between BraveZebra and birth of Digital Sun
When the sales figures for Moonlighter decided to take the next step and that BraveZebra, which already had a portfolio of clients, continue as a service company and Pic and Gimnez remained as minority partners and the rest is owned by Axel García, "He is an entrepreneur who already had a company and who wanted to imitate our model, we told him to keep the brand and some clients and how to merge the two companies. BraveZebra continues to exist, you can hire it and there are 20 people, but they are a team different, there is continuity with what the company was but with a different leadership", Gimnez points out. The Gimnez and Pic team went to Digital Sun and created only their own games.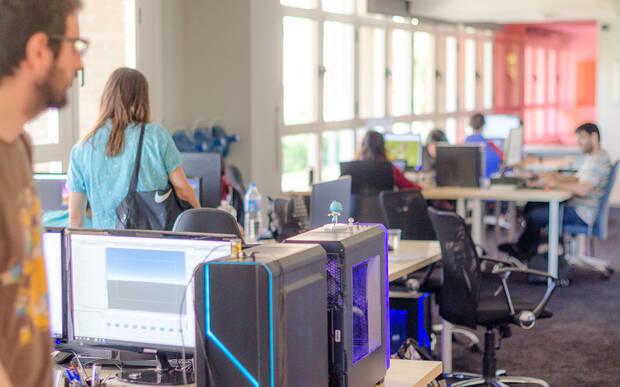 The originality of the proposal, a genre that at that time had had some success but did not have many games, the artistic style, an involved publisher, a studio that had invested time and money in the quality of the product, a campaign in which created a community of players interested in i>Moonlighter… there are too many elements to know what are the decisive factors for success of the game. Gimnez believes that the quality of the game was key: "our philosophy as a study is that we want to do only quality, even if it sounds presumptuous, all the quality that we are capable of, all that our talent allows us, always try games that are worth the player's time and not leave anything in the inkwell, but to give them all the love they need, we did that with i>Moonlighter, our philosophy was that we didn't know how to make games, we came from making games for clients, we had never made our own game but we gave ourselves time, we sacrificed everything. People were paid little, we were cramped. When i>Moonlighter went on the market, the company had 15,000 euros in the bank, we were a company of 25 people, we literally had no more gasoline to give him. I think that this philosophy of striving to do our best has been worth it in the case of i> Moonlighter, it has turned out super well for us ".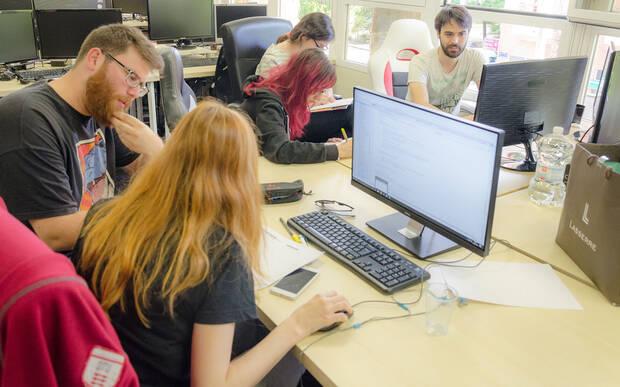 There are other elements that were important to Gimnez. He adds: "This is later reflected, for example, in the art of the game, which I believe has been a key to success, I think we like the game a lot, it seems to me that it turned out quite well; I mean, it has a lot of flaws but overall it's cool, the animations work very well and I think the visuals have been important for the game to work. then i think the basic idea of ​​duality, two mixed systems, the roguelite element and the management element, of the little town, is very good, and something important is that it has a simple message that goes down well, the idea that you are a merchant who dreams of being a hero, a simple idea that is reflected both in the mechanics and in the narrative, which is very basic, it is taken with bubble gum. That duality has always worked very well with Moonlighter, say 'this is the game' and that generates interest. It seemed to people that there were no similar games, although then we found out in the middle of development that there was a game that was very similar, which is Recettearbut we don't know him then they blamed us for copying it and the truth is that it looks very similar but we didn't know it, we knew it a year after it was developed because someone told us so. The basic idea of ​​the game was attractive and then the game has many flaws for me, it is repetitive, it lacks depth, many systems, which makes it become a bit routine in the end, but it works quite well, it also engages. For having given him all the love we can give him, the game is worth it. Our industry is very simple and, at the same time, very difficult, if you make good games it works and if you make bad games it doesn't. Moonlighter seems to be that it turned out well", although, he insists, it has defects and is "a super humble game, but it has things that can be greatly improved, go up with bugs, little mature, we had to do I think there were 6 updates so that the game had functionalities that we had not had time to add. The lesson we have learned is: give him love, be patient and release the games well, which later work, but then maybe we do it that way with the games we are making now and it doesn't work and it turns out that it was not an infallible rule", he adds.
Digital Sun decides to work on several projects at once
Given the spectacular initial sales figures, taking into account that it was a game indie of a "novel" study, the study decided create downloadable content and bring it to other platforms like switch and mobile (all have been made by Digital Sun except the port to Stadia) and started working on new projects. Digital Sun already had plans to develop more games, explains Gimnez, thinking that "even if it went wrong, there would be another one." publisher. I know it's true that there were some half-prepared ideas for another round of games, We were starting that process, but very little because we were waiting to see how the market would work. When we see that it works, the first thing is to separate the services part and focus only on our own games because at that time we were doing nine client projects at the same time that we were working on Moonlighterwe had to maneuver to close some clients that were very heavy and unprofitable and keep others but separate them in the other company. It was a process of practically two years in which we also started new games to ask what the future of the company was".
The study also decided that convenient to work on more than one game simultaneously "because we were enough in the team and we don't want to make very big games, pass from Moonlighter to a game of 25 people because it seemed to us that it was too big for what we knew, which was very little", he affirms. Currently, the updates of Moonlighter and the other versions and work on four new projects that are at different points in development and have not been announced yet, although Gimnez tells us that this year one will be seen.
Javi Gimnez in 5 questions
1- When you started the panorama of the in Spain it was very different, how do you see it now?
I believe that Spain as a market does not affect us because all the Spanish studios, in the end, what we want is to sell all over the world because your market is always global. So, what affects us the most is the state of the market indie globally, and is very saturated. I think it's harder than when it came out Moonlighter, which was already saturating. For ten years, each year that has passed is a little more complicated because there are a lot of people making very good games and you have to be able to make games that stand out among all those games of such quality.
I think it's more complicated not because of the particular situation in Spain, which I don't think will affect too much, I think Spain has gotten better, that the Spanish industry is much better than it was 5 and 10 years ago. In fact, I don't think the Spanish video game industry has ever been so good in history, it had good moments in the 80s but it was more amateur and good peaks in the 90s, but it has not yet consolidated. But just because the industry is doing well doesn't mean that companies have it easy. I think it is still difficult to make a game that works on the market and that is more difficult because there are many high-quality games, a lot has been democratized, a lot of money has come in and it was already what was called the Indie apocalipse three or four years ago, which I don't think happened Indie Apocalipse Rather, we continue to live in it, it is the new reality, that many high-quality games are released every year and it is difficult for your game to work. I think today you release a game like Limbowhich was a game indie of reference at the time and now it is much more complicated. The challenge is that for us, making games that are worthwhile for the player with such good alternatives that you have is more complicated.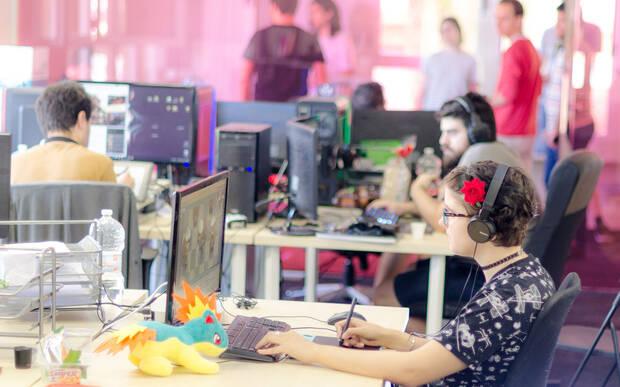 2- What is your favorite video game series or video game?
As a video game series probably Civilization It's the one I've played the most historically, I'm a big player of strategy games, it's the one I've probably spent the most hours on. Then I like the games that marked me as a child as Monkey Island 1 y Monkey Island 2and in modern games I am a super fan of everything that From Software puts out, all the Dark Souls y Elder RingI like it very much, and I am also very fond of rogue card games like Slay the Spire. I play everything, really.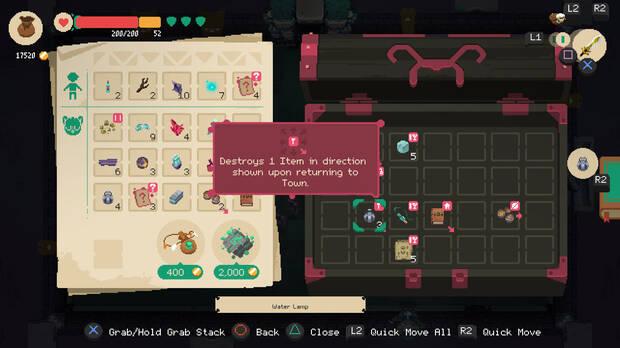 3- You said that a few years ago you didn't want to grow excessively because it was your first game. In a few years, hopefully you will have another successful game on the market, will you continue working on various developments, will you opt for a bigger game?
That is a debate that we have now, as we are going to finish a couple of projects we have to decide what to do next. Rubn or I are not going to decide it, the whole team is going to decide it. Whether we want to make bigger or smaller games will depend on what people basically want to do. From a business point of view, both things are worth it as long as we make good games, so I don't know, I honestly don't know. There are like three schools within the studio: people who would like to make more ambitious games and concentrating the team more, people who would like to make games that are smaller in scope but with a lot of quality, taking full advantage of the artistic quality that we have and such, that they be gems, and people who would like to make games more or less similar to what we have in size, something in between, like indies great, which is what we are doing now, taking advantage of what we already know how to do, but what we do depends on what the team wants more.

4- Before you talked about saturation in the market indie internationally, and I would add that this saturation is above all rogueliteswhich is also the genre that has put you where you are, so you have to look for strange combinations or try to innovate, to what extent do you think that originality prevails today when it comes to succeeding in the world? indie?
I think originality is still the most important thing. You need something fresh. Normally in the indie market because since you don't differentiate yourself by money, by production values, by crushing based on bills, you can't make a game to differentiate yourself from CD Projekt Red because it will crush you with the quality and production capacity that it offers. have. The games indie they have always needed to be original, be fresh and offer an innovative experience. I think that's still critical in the case of the roguelike you have an example, you can take a roguelike very good today that it will not work anywhere near as it would have worked 7 years ago because people are already very used to the experience, you need to get a Hades that the genre grabs you and on the one hand takes it to an extreme quality and on the other it does other things very well for you, like the narrative and so on. I think freshness is still essential. I freak out for example Vampire Survivors this year, it's a very simple game but it's a wonderful game, it's just fresh, it's something you haven't played before and it's really cool. But, in addition, quality is needed, but Vampire Survivors It is an example that maybe you don't have that much production capacity but if the game is cool…
5- Who would you like us to interview?
Since we talked about him before, you can interview Carles Pons. His father worked at Opera Soft and he has a tour, he has done many things.

Images: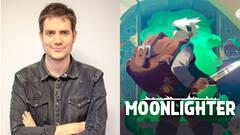 Other news about: