In May 1974, a 25-year-old Jackson Browne was on the cover of the magazine. Rolling Stone, Official bulletin of the counterculture that spoke of rock from the intelligentsia and also went deeply into the intimacy of its stars. A truly intimate snapshot was chosen. Also tender. The singer, who had just become a father, posed with his baby, Ethan, just a few months old. The image, by photographer Annie Leibovitz, showed the father stroking the newborn's cheeks with his lips. "The child prodigy grows up," read the headline. The singer has just released his third album, Late For The Sky, and it was at its peak. Everything changed three years later: Browne had to grow up suddenly. His wife and mother of that child, the actress and model Phyllis Mayor, died after an ingestion of barbiturates that was considered suicide. She was 30 years old and had married the musician five months earlier.
Today, Browne (Heidelberg, Germany, 72 years old) gets emotional in a video chat as he remembers what is surely the greatest tragedy of his life. How did I survive that? The short answer would be because I had to raise a child. I had no other. But going a little further I will tell you that I received a lot of love from the people around me, from my family, from my friends. And also from the public. I remember the first performance after that. It was a concert by the Eagles and Linda Ronstadt. I was only the guest, but the audience, aware of what had happened, received me with a lot of lit candles. It was exciting. And yes, I survived, for that and because in my songs I try to describe life, with its joys and harshness. That helps me move forward ".
Indeed, Browne is a musician with a special connection to the public. For the temper of his voice, for his lyrics, idealistic and romantic, and for his fierce commitment to indisputable causes, such as the environment and the visibility of the discriminated against. Even because of his image, that eternal figure of a vulnerable man. Still today, in his seventies, he is handsome, slim, with his straight hair and a graying beard. Edits these days his first album in seven years, Downhill From Everywhere. No hurry. In 50 years (his first job is from 1972) he has released 15 studio albums. "Maybe there are few albums, yes, but I can never release something that I don't think is good enough. I respect the public a lot, "he says.
How could I survive that? Well I think the short answer would be because I had to raise a child. I had no other ", says the musician about the death of his partner at the age of 30
The new work sounds like the most classic Browne and the texts appeal to things so logical that it is difficult not to subscribe to the message. "Dignity and justice are the basis of everything that matters in this life," he states. Actually, these are protest songs. The artist points up: "The problem is that large economic structures are stupid. They think they are very smart because they are taking most of the benefits. But they do not realize that to prosper the benefits have to be shared among all. And it has been seen with the pandemic ". Some lyrics speak of the concept of inclusion in an increasingly confronted world: "Openness to different people is basic. Without that attitude we will not understand the world ". And others about the obligation to take care of our planet: "I am 72 years old, I know that I do not have much time to live. But I have a grandson who is a beauty. We have a responsibility to leave those who come behind a livable world. " The singer has been working with environmental organizations for years.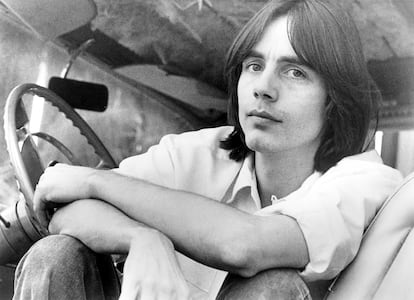 He was born in Germany, but when he was three years old he came to California with his family. From the age of 20 he was part of the Laurel Canyon scene, that neighborhood in Hollywood Hills that transformed rock in the seventies. Those talented musicians, supported by ambitious record executives, turned protest folk into rock for the masses. There were David Crosby, Neil Young, Joni Mitchell, the Eagles, Linda Ronstadt, the Byrds… and Browne. They all became millionaires, took LSD, and wrote memorable songs. One of their headquarters was the Troubadour club. "We were there all day. It was a sacred place for us. I'm still going. I saw a very intense Foo Fighters concert. They closed during the pandemic, but I think they have already started giving concerts, "he says.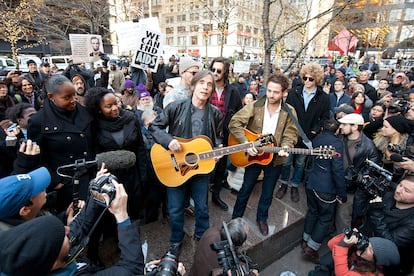 It is necessary to speak of its connection with Spain. In fact, his new album closes with Songs for Barcelona, the city he arrived in in the mid-nineties after a losing streak in Los Angeles: he fled after a bitter separation from actress Daryl Hannah (now Neil Young's partner) and irritated with the record companies there. "This song is for Barcelona, ​​city of gravity and light. / City that restored my passion and restored my appetite ", he sings in the piece. During his stay in Spain, the singer established friendship and has collaborated with musicians such as Raúl Rodríguez, Tino DiGeraldo, Los Secretos and Luz Casal. She still keeps her apartment in the Gràcia neighborhood, where she goes with her current partner, Dianna Cohen, a visual artist and environmental activist. The singer, apart from Ethan (the baby on the cover of Rolling Stone, now 47 years old), has another son, Ryan (39 years old).
"I'm not Spanish, so I can't tell you anything about the independence issue," he slips away. But then he thinks: "I have Catalan independence friends and others who don't. I listen to them and respect both positions. The important thing is to reach an agreement from harmony. What I did not like to see was the violence of the Police on October 1, 2017. I was very shocked when I saw it on television. There the Spanish Government was not correct ".
At the end of July, Browne resumed his tour of the United States together with another generation partner, James Taylor. He will also perform a solo one to offer songs from his new work and his classics, of course, where there will be no lack of songs from the one considered by many (perhaps together with Late For The Sky) his masterpiece, The Pretender, that album tinged with sadness where he dedicated songs to his deceased wife (Sleep's Dark and Silent Gate, The dark and silent door of sleep) and his son (The Only Child, The only son). This time the public will not receive you with candles, but with the light of mobile phones. The affection, however, will be the same.