At party conference in Greenville
Is Donald Trump wearing his suit pants the wrong way round? Video divides Twitter users
Donald Trump appeared on the bigger stage for the first time in months at the weekend. On the net, however, it was not the speech of the former US president that caused a stir, but his suit pants.
It had recently become pretty quiet around Donald Trump. There have been only a few public appearances by the former US President since he was voted out of office; he gave his last major speech in February. Last weekend, Trump appeared in front of a larger audience for the first time in months.
At the party conference of the US Republicans in Greenville, North Carolina, the 74-year-old spoke almost an hour and a half in front of 1250 spectators, who gave him loud applause for his verbal attacks on successor Joe Biden and China, among other things. Trump also hinted at a renewed candidacy in the 2024 presidential election ("A year that I'm really looking forward to"). On the net, however, it was less Trump's words that caused a stir than his suit pants.
Is Trump wearing his pants the wrong way round?

The reason for this was again a video from the event distributed on Twitter, on which users believe they can see that Trump is wearing his pants the wrong way round. "Donald Trump gave his big speech today with his trousers on the wrong way round. Look closely and tell me that I'm wrong," wrote New York Times columnist Brandon Friedman about the clip, which has now more than has been viewed nine million times. The hashtag #TrumpPants made it into the US Twitter trends.
While Trump opponents did not hold back with scorn and ridicule, his supporters sensed a fake.
Agency picture shows the seam in the crotch of the trousers

And what's right now? In the video there is actually no fly in the crotch of the trousers. Because the pants also have unusual folds on the inside of the thighs, many users are convinced of an embarrassing faux pas – and are just as wrong as the Trump supporters with their allegations of manipulation.
The fact that no fly can be seen in the crotch of Trump's trousers is simply due to the low quality of the recording. As the following, high-resolution agency photo from the party congress shows, at least one seam can be seen in the crotch, behind which the zipper should be sewn.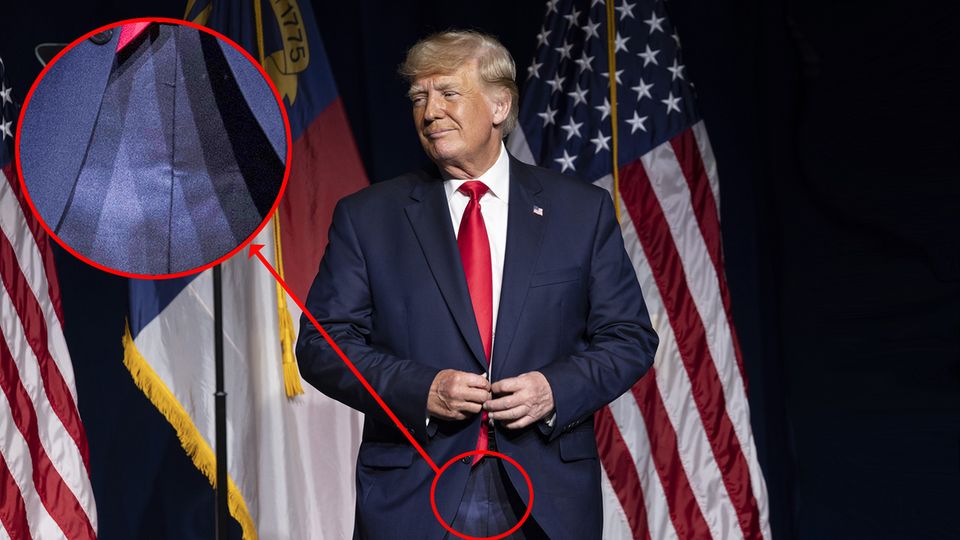 The author of the clip also later made it clear on Twitter after fake allegations arose: "To those who think I had edited this video, I didn't," wrote user ACJunior a little more than a day after his first video tweet. He explained the low resolution with the fact that he filmed his TV with the iPhone before posting the video on Twitter. The Trump supporters should therefore not blame him, but rather the broadcasting station for its poor camera and lighting.
Swell: Twitter / with DPA
mod