The lens manufacturer Irix is ​​expanding its range of cinema lenses and has now introduced the brand new 21mm T1.5 Cine lens. The bright, ultra-wide angle is designed for mirrorless photo cameras and cinema cameras that are equipped with a full-format image sensor. Accordingly, it is available with various common lens connections. These are in particular: ARRI PL, Canon EF, Canon RF, L-Mount, Micro-FourThirds, Nikon Z and Sony E.
As usual with cinema lenses, the 21mm T1.5 allows precise manual adjustment of the distance and has a toothed ring for this purpose, so that it can be used with a follow focus device. In addition, it offers a continuously adjustable aperture ring (also including a toothed ring) with an aperture scale in T values ​​(light transmission values). (For basic information on cine lenses, see an earlier article.)
Irix Cine 21mm T1.5 in use on a Blackmagic Pocket Cinema Camera on a stabilization system (gimbal)
.
Irix, a brand developed by photographers and filmmakers, offers a range of lenses for photographers and videographers. Irix combines precise Swiss design and quality with Korean ingenuity to provide a powerful blend of excellent optical performance and high-precision assembly. Irix lenses are designed to meet the needs of high-end full-frame cameras. Today Irix introduces the brand new full frame lens 21mm T1.5. This new product, like the other Irix cine lenses, is designed to take pictures with the latest cameras on the market, including "Ultra HD 8K +" cinema cameras with full frame, Super 35 (APS-C) and smaller sensors such as FourThirds.
The optical design of the Irix 21mm T1.5 includes 4 glass elements with extra low dispersion, 4 highly reflective elements and 2 aspherical lenses. There are a total of 15 elements in 11 groups. The image circle of 43.3 mm completely covers all sensor sizes from full format 35 to 1/3 ″ sensors. The circular, 11-leaf aperture construction ensures a pleasant background blur and a stepless setting in the range from T1.5 to T16. The lens has practically no focus breathing (less than 1 degree in the entire range from 0.3 m to infinity). The lens is also free of distortion (less than 2%). In addition, the Irix cine lenses are designed to give substance and a unique soul to the film. They should have that "special look", the unknown that makes the film stand out. Irix lenses have their own cinematic look, the "Irix look".
Optical structure of the 21mm T1.5 with its 15 lens elements in 11 groups.
.
The new Irix 21mm gives free rein to your creativity. It's wide, but controlled enough to avoid unnecessarily distorting the subject. The Irix 21mm T1.5 is perfect for close-ups in tight spaces where the background should also be visible. At the same time, the large aperture helps isolate the subject, similar to the use of telephoto lenses. T1.5 opens up almost unlimited possibilities for taking pictures in all lighting conditions.
It is also useful that the new Irix 21mm fits together optimally with the Irix 30mm and the 45mm, both T1.5 – the result is a uniform, bright T1.5 lens set that enables recordings in almost all situations. This set can easily be expanded with other Irix cine lenses such as the 11mm T4.3, the 15mm T2.6 and the 150mm T3.0.
Irix Cinematic Design
The new 21mm T1.5 follows the other Irix cine lenses, designed and manufactured to the standards of the professional film industry. They all combine traditional lens solutions with modern innovation. All Irix cine lenses have a front lens of 95 mm and a Mod 0.8 M-ring, which ensures compatibility with most accessories available on the market such as Follow Focus or Mattebox.
The new 21mm T1.5 is part of the Irix range of cine lenses. All lenses have the same housing diameter and an identical arrangement of focusing and aperture rings for easy lens changes in a professional video carrying system (rig) with follow focus.
.
All Irix lenses are rigorously tested under controlled conditions to ensure buyers receive a lens of the highest quality. The focus and aperture rings of all Irus cinema lenses are aligned at the same distance and have the same angle of rotation. With the exception of the Irix 150mm T3.0 Macro 1: 1, which requires a longer focus path of 270 degrees, the other lenses in the Irix Cine series have a ring rotation of 180 degrees for the focus ring and 75 degrees for the aperture ring.
Ready for all shooting conditions
Irix lenses are designed to work in all conditions a human can handle. It doesn't matter whether your new film is to be shot in the very hot and humid jungle, in the desert or in the snow of the North Pole. The lenses are resistant to rain, sand, snow or dust. The engraved markings on the lens are filled with UV-reactive ink, which makes reading the apertures and distance scales easier in difficult lighting conditions.
Light and compact design
The cine lenses from Irix are among the most compact and lightest film lenses for full format. As with the other lenses in the Irix series, the housing of the new 21mm T1.5 is made of a light but durable aluminum-magnesium alloy. Thanks to this construction and taking into account the importance of weight balance, Irix claims to have managed to keep the weight constant with other Irix cine lenses – 1.1 kg. Because of this relatively low weight for cinema lenses, the Irix cine lenses can be used on smaller cameras with handheld rigs or gimbals as well as with professional equipment.
The Cine 21mm T1.5 on a "Red Komodo 6K" cine camera with a mounted follow focus (orange wheel) that accesses the gear rim of the focus ring.
In addition, all Irix cine lenses are equipped with a removable lens support foot, which provides better stabilization and more convenience when working with follow focus systems. Depending on your needs, this support foot can be attached to the lower or upper part of the lens.
Irix Cine 21mm T1.5 – The main features:
Unique, cinematographic image look from Irix
Full format
Weatherproof
Very low focus breathing (change of focal length by focusing)
Relatively compact and lightweight for a cine lens
Compatible with other Irix lenses (uniform diameter, uniform arrangement of the setting rings)
Almost no distortion
Choice of seven different lens mounts (including mirrorless photo system cameras)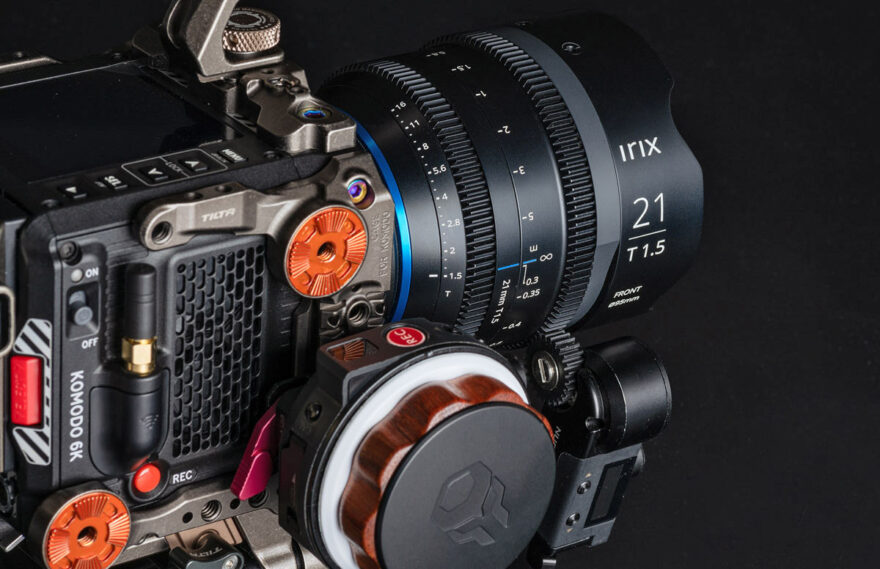 Available lens mounts
The "Irix Cine 21mm T1.5" lens will be available with seven common lens connections for different camera systems. These include the ARRI-PL mount, which has been used in cinema cameras for decades, or the "Canon EF" bayonet, which is also widespread, as well as the newer connections of common mirrorless cameras: Canon RF, Nikon Z, Sony E, L-Mount Alliance (Leica, Panasonic, Sigma ) and Micro-FourThirds (MFT for short) (Olympus, Panasonic, etc.).
Prices and availability
The new "Irix Cine 21mm T1.5" lens should be available in the coming weeks – probably in the course of February 2022. From today (2022-01-12) the lens can be pre-ordered from selected dealers and in the Irix online store with the preferred / required connection and the variant with meter or foot scale.
The prices are 1195 euros for all connection variants except for the variant with PL-Mount which is more expensive. With PL mount, the lens costs 1295 euros. No prices in Swiss francs were communicated.
Further information
Irix Cine 21mm T1.5 (product page) Product video on YouTube
Irix (manufacturer's website)
Irix Cine 21mm T1.5 – specifications
Sensorabdeckung
up to full format (43.3 mm image circle)
Focal length
21 mm
Aperture range
T1.5 ~ T16
Minimal Fokusdistanz
0,3 m (11.81")
Focus ring
Rotation angle: 180 °
Sprocket spacing: 0.8 M (module)
Sprocket Teeth: 117
Distanzskalen
Metric or in feet
Aperture ring
Rotation angle: 75 °
Sprocket spacing: 0.8 module
Sprocket teeth: 110
Number of aperture blades
11 (shaped for an almost circular aperture)
Angle of view
(horizontally, depending on the sensor format
or crop factor in brackets)
Full format: 79,4°
S35mm 1.39x: 65,6°
APS-C 1.53x: 57°
APS-C 1.62x: 54°
MFT (2.0x: 43,2°
Frontales Filterwinde
none
Seals
4 O-ring made of rubber (with PL-Mount: 3 O-rings)
Markings
laser engraving
UV-reactive
Maximum diameter
95 mm (as with all Irix cine lenses)
Dimensions (L x E)
(without accessories)
Arri PL mount: 93 mm x 95 mm
Canon EF: 101 mm x 95 mm
Canon RF: 124 mm x 95 mm
L-Mount: 125 mm x 95 mm
MFT-Mount: 126 mm x 95 mm
Nikon Z: 129 mm x 95 mm
Sony E: 127 mm x 95 mm
Weight
Arri PL mount: 1105 g
Canon EF mount: 1109 g
Canon RF mount: 1211 g
L-Mount: 1209 g
MFT-Mount1054 g
Nikon Z mount: 1229 g
Sony E mount: 1179 g
Accessories included
Rear lens cap
Front lens cap
Removable lens support foot with 1/4-inch tripod threaded hole
.