Have you already sent Pirelli the bill for the Verstappen crash?
Marko: No, we don't, because unfortunately it is theoretically not possible.
How much does such an accident through no fault of your own hurt in times of budget constraints, when every dollar is at stake?
Marko: Thankfully, the damage is limited because Verstappen hit a spot where there is a bulge on the route. This gave him a little more run-off area. But that is not the point. At that point we were in first and second place with Red Bull. We were also well placed with Gasly and Tsunoda. Max's lead over Hamilton would have grown to 15 points.
The zero hurts Verstappen more than Hamilton.
Marko: It just hurts. We are the fastest combination. Car plus driver. But we're only four points ahead. That doesn't reflect our strength. With the luck that Mercedes has, you have to be happy at every point by which you can break away.
But it could also have turned into a meltdown for Red Bull. How worried were you that Hamilton would win?
Marko: It was very big and very justified. And thank goodness Perez had spinning wheels when he restarted. If he had got away better, Hamilton would have cleared him with him. Blessing in disguise.
How exactly was it that Perez could get away with the hydraulic problem at all?
Marko: 50 to 50. His car just lost hydraulic fluid. It happened earlier in the race. When the car stopped during the break, it continued to trickle.
How far would he have come? He parked the car immediately after reaching the finish line.
Marko: He put it down just to be on the safe side. It cannot be said when exactly the failure would have occurred. At some point he would no longer have power steering. That would have triggered a chain reaction.
Has Perez finally arrived at Red Bull? He was quick all weekend.
Marko: He was always at the front. But that was already the case in Monte Carlo. As soon as he had free travel there, he set fast or even faster lap times than Verstappen. This also made the overcut possible.
How much did Red Bull manage the race until the Verstappen retirement? Did you even have to show real pace?
Marko: We controlled it confidently, I would say. Max could have gone much faster.
Is Red Bull's big advantage of having a better all-rounder car than Mercedes.
Marko: We had the fastest car in Baku and Monaco. And on other routes. We may not have been that good in Barcelona. But that was mainly due to tire wear. But we generally have the faster package. And we don't talk so much about mistakes and the like. And we hardly do them either.
Where do you see the greatest need for action with the parcel?
Marko: We are fast. Singapore falls away. This is a very crucial step in development. Singapore demands something very different from the rest. It's just a slow course. This is Budapest. But it's not as extremely slow as Singapore either. Thank God the cancellation came so early that we can plan our development accordingly.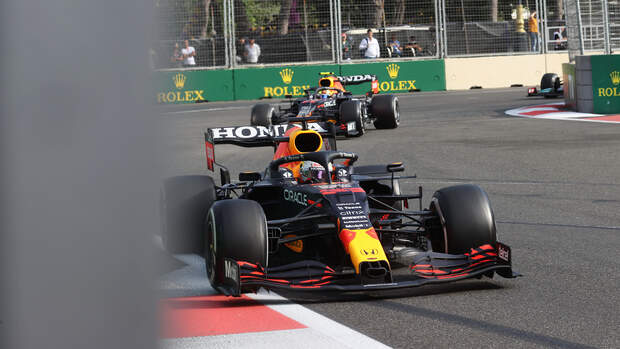 So there are adjustments to the timetable.
Marko: Clearly. Of course, Singapore would have been a route that would have suited us very much. But that's the way it is.
What's next from Honda? No fresh engines were pulled in Baku.
Marko: We try to run the first engine as long as possible. Now that Red Bull Racing has shown no signs of fatigue or drop in horsepower, we will keep it that way. The damage to Gasly with the loss of performance is investigated in Sakura. Should there be anything that also affects the engines in the Red Bull, it would be a new insight and would influence further plans.
Honda is also delaying the change in order to further secure the stability and thus to get more performance out of it.
Marko: Well thought.
What are the prospects for France? It goes back to a permanent racetrack.
Marko: France is again an atypical course with a surface that does not exist anywhere else and with special curve sequences. We go there with the attitude that we have to be the fastest everywhere.
How did Alpha Tauri come to be so fast?
Marko: The car was very fast not only in Monaco and Baku, but also in Imola. There are only certain problems why the speed is not always available. In general, we are already hoping that we can hold onto fifth place. The Yuki is now enjoying his stay in Italy. This is already noticeable in the performance.
Can it be done so quickly after moving from England to Italy?
Marko: You can see that. We see the slip in the qualification after him. He was the only driver because he didn't know the course yet. He was strong in the race. The maneuver in which Alonso slips through him – he wanted to grab the Norris. Yuki didn't make a mistake the whole race.
With more experience, it should get better and better.
Marko: I expect points from him regularly in the second half of the season.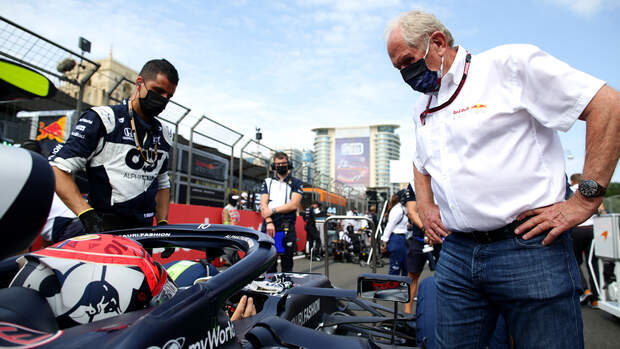 Does Pierre Gasly still surprise you in any way?
Marko: No. That comes up to ever higher and best form. At Alpha Tauri, the package fits perfectly. The combination goes well together. We still have a contract that lasts for two more years. I don't know where the talk about Renault came from. Pierre is the ideal ambassador for Alpha Tauri as the slightly fashionable Frenchman. Above all, the performance in the car is strong. He had a loss of performance in the race in Baku. That he kept Leclerc behind him was a really great achievement.
So you don't have a headache when Gasly comes up to you and says: I want to drive the second Red Bull.
Marko: This question does not arise at the moment. We have a great pool of drivers. You have already written that we have no offspring. The Vips wins in Formula 2 at will if the car stops. Lawson is absolutely at the forefront. You can only push it back with a ten-second penalty. So there are many talents from our own ranks who want to drive the Red Bull.
Perez will cling to his seat.
Marko: Yes, and above all, he integrates very well in the team. He's a very good team player.
Does it meet expectations?
Marko: We expected his racing speed. In qualifying he fell short of expectations. But that is also slowly resolving. In Monte Carlo, for example, a better lap would have been possible. But our approach wasn't right. We wanted to be safe with the first set of tires and attack with the second set. In both cases, both in Monte Carlo and in Baku, the red flag got in the way. We have to do it the other way around: first hit a super lap, and then we'll see. The frequency of accidents in the third qualifying is simply given. Ascending trend.
One more word about Sebastian Vettel. How do you see your old protégé?
Marko: That was Vettel as we know him. How he jumped on the podium. But above all his overtaking maneuvers. The fights with Gasly. The first round. I am very pleased that this change has been achieved in a relatively short period of time. I hope that is the case on other courses as well. He's number one on the Stroll team, which Dad probably won't find that good.
.