Togocom, leader of the Togolese telecommunications market, paid tribute to its women on the occasion of the international day of women's rights celebrated on March 8.
The 2023 edition of International Women's Day took place under the theme of innovation and technologies for gender equality: for an inclusive digital world. It helps recognize and celebrate the women and girls who champion the advancement of transformative technology and digital education.
In Lomé, Togocom organized a talk-debate on gender equity in connection with career management, through a workshop called "Between us", which allowed internal discussion of the situation of women within the company: update on the commitments made, the progress, the challenges, as well as the prospects.
The debate focused on the under-representation of women in strategic, technical and decision-making positions, as well as possible solutions to remedy this.
At the end of the very rich exchanges, recommendations were formulated, in particular the design of career plans for women, the promotion of their career by capitalizing on their professional experience, the strengthening of their skills through training, then coaching by the transfer of skills from hierarchical superiors to their female employees.
'Ending socio-cultural barriers'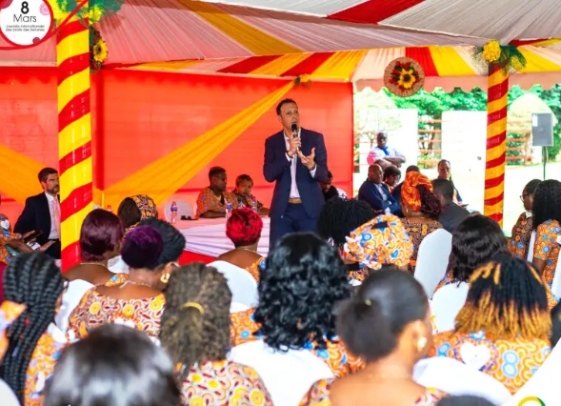 With the aim of helping to put an end to the socio-cultural barriers that hinder the harmonious development of young girls, the women of Togocom have been called upon to encourage their daughters to take a greater interest in scientific and technological fields, in order to qualify for technical positions, highly sought-after profiles on the job market.
"We are placing this day in a framework of assessment. We have quite strict objectives in terms of gender balance, which is to achieve 50/50 parity by 2025. We want to have more women in decision-making, in strategic thinking," said Tarik Boudiaf, acting CEO of Togocom.
"This fight is much deeper, it must start with the family unit…Let's fight together…Today we also celebrate ideas; this freedom that women have to express themselves to offer us projects that go even beyond Togocom", he specified.
Togocom's gender equity and equality policy, implemented by the Axian group since 2021, aims to advance women and men towards progress by leaving no one behind. In this dynamic, particular attention is paid to female candidates while prioritizing, with equal skills, recruitment.
Note that the attraction of this celebration is the association "Les femmes du numérique" (LFN), solemnly presented to all women. She embodies the aspirations of women in the sector to carry their ambitions far.
Recall that Togocom, precursor of 5G technology in Togo and in the sub-region, is the leader of the Togolese telecommunications market.
Resulting from the merger of Togo Telecom and Togocel, Togocom, a subsidiary of the Axian group, aims to become the champion of quality of service to the best international standards. FIN
Edem Etonam IS GOOD