At the IFA in Berlin, Lenovo is showing a 27-inch LCD monitor that can display three-dimensional images at the touch of a button. In addition, there are digitally switchable lenticular lenses on the viewing angle stable IPS panel. These are used to track the viewer's stereoscopic views, with the camera built into the lower display frame tracking the user's eyes. The monitor presents the viewer with the two views for the right and left eye. You don't need 3D glasses for three-dimensional images. The recommended viewing distance is the usual 60 to 100 cm for desk work, and Lenovo specifies the field of view in 3D mode (field of view) as 40 degrees.
The monitor has a 4K resolution with 3840 × 2160 pixels, in 3D mode this is reduced to 1920 × 2160 pixels due to the vertical lenses.
The color-rich monitor is said to cover 99 percent of DCI-P3, and Lenovo states a DeltaE of less than 2 as color accuracy – so you shouldn't be able to see any color distortions with the naked eye. This means that the monitor can also be used productively in 2D mode for image processing or desktop publishing.
Furnishing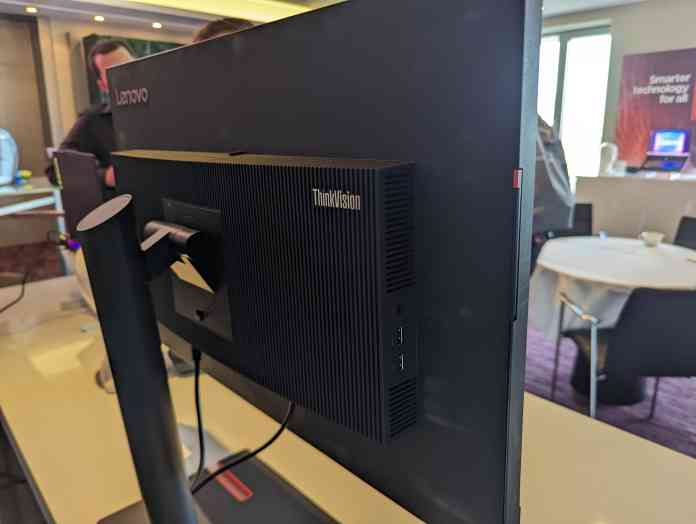 The Thinkvision monitor has two HMDI 2.1 connections and a DisplayPort in version 1.4, the built-in USB hub is controlled via USB-C and among the 5 USB-A connections for peripherals there is also a USB-C version. Devices connected via USB-C can be supplied with up to 100 watts (USB-PD).
If you want to operate the ThinkVision 27″ monitor with the 3D Explorer software, you need at least an Nvidia GeForce GTX 1060, 16 GB DDR5, an i5 7200 and Windows 10/64 bit. The 3D Explorer platform provides developers with tools hand, including a 3D player for viewing videos and files with 3D effects, support for design and productivity software, and an SDK for developers to create 3D applications.
The 3D monitor ThinkVision 27″ is intended for professional use for visualization. It should be available from February 2024 for 3,000 euros.
(uk)