Actress Afaf Mustafa caused a crisis after announcing the death of the artist's wife, Mohamed El Helou, and the mother of musician Hamada El Helou, without confirming the timing of the news.
Afaf wrote on her Facebook account: "The death of the wife of singer Mohamed El-Helou, Mrs. Enas Saudi, and the mother of Hamada Mohamed El-Helou."
We recommend to you: Amr Adib attacks Muhammad Ramadan: This is the money for the man who died, Maftari
After that, Afaf apologized for the publication, after some explained to her that Mrs. Enas, El-Helou's wife, died 6 years ago.
Afaf confirmed that a mistake occurred when she found one of her friends wrote this news on his Facebook account, and she did not realize that the death occurred years ago.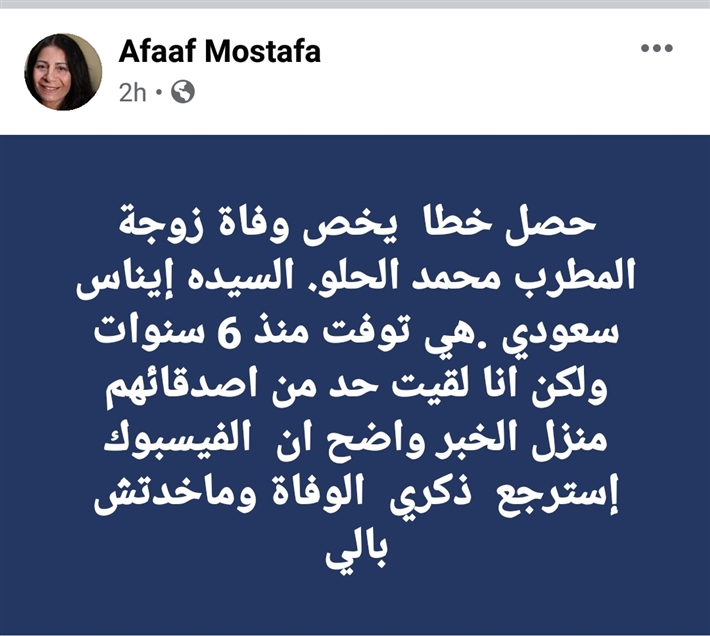 Al-Helou's wife passed away on September 17, 2015 after suffering from illness, and her funeral took place at the Al-Noor Mosque in Abbasiya.
Read also:
Ahmed Helmy and Mona Zaki support their daughter Lily Li in her new project… Proud of you
Tamer Hosny is mentally ill in the first trailer for the movie "Not Me"
Amr Adib, attacking Muhammad Ramadan: He lies to us and says the country put its hand on my money
Amr Diab sings at the wedding of the son of businessman Mohamed Abu El-Enein – photos
.