It is ergonomic and comes in an exciting format for image processing. We tested whether the LG monitor DualUp is sufficient for photographers.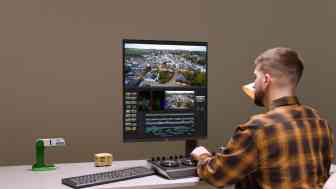 Which monitor is particularly suitable for image processing? That's a question many photographers ask themselves. There are often heated discussions with colleagues. The main topic here is usually the color coverage (sRGB, Adobe RGB or the P3 color space), and the aspect ratio also evokes emotions.
The common 16:9 formats are intended for video consumption and gaming and are therefore not optimal when it comes to editing photos. The 16:10 format allows more content on the screen, but it's not perfect. But there are alternatives.
I looked at the LG DualUp from LG's Ergo Line in 16:18 format. In addition to the aspect ratio, this model has another special feature – a massive swivel arm, which is intended to provide more space at the work table and is much more flexible than any standard stand.