How do you distinguish pericardial tamponade from pericardial effusion? Even at 3 a.m., emergency medical professionals must make decisions within minutes before obstructive shock occurs.
This article is not – and this is important – about acute pericardial tamponade. That means: an echocardiographically demonstrable pericardial effusion and a simultaneous hemodynamic instability. This situation is usually always to be evaluated as a pericardial tamponade, which requires an immediate pericardiocentesis. In this context, it is particularly important to consider that in the case of an acute pericardial tamponade (e.g. after trauma), even the smallest effusion (~ 50mL) can be sufficient for haemodynamic instability. In contrast to subacute tamponades, the pericardium does not have time to expand here.
There is a nice graphical representation of this in Ivens et al.
follow that 12-Channel for more cardiology topics.
consequences

Are you also interested in news from other medical fields? Discover more DocCheck channels here.
The clock is ticking
Instead, this article is about the minutes, and possibly hours, before obstructive shock occurs. Where emergency physicians have to decide whether it is a case of subacute pericardial tamponade or pericardial effusion – in line with Felix's presentation on periarrest situations. A special focus is always that the tricks work without any problems even at 3 a.m.
Subacute pericardial tamponades are usually associated with a rather chronic course. The pericardium can stretch and even compensate for large effusions of 1-2 l. But only up to the point in time X when the pericardium can no longer expand and even a small, further increase in fluid leads to pericardial tamponade. The diagnostic criteria for pericardial tamponade are not uniform, so the information on the sensitivity and specificity of the individual echocardiographic findings should be treated with caution.
Since it cannot be mentioned often enough, the disclaimer again: A pericardial effusion with simultaneous hemodynamic instability is generally to be evaluated as a pericardial tamponade and requires a pericardiocentesis!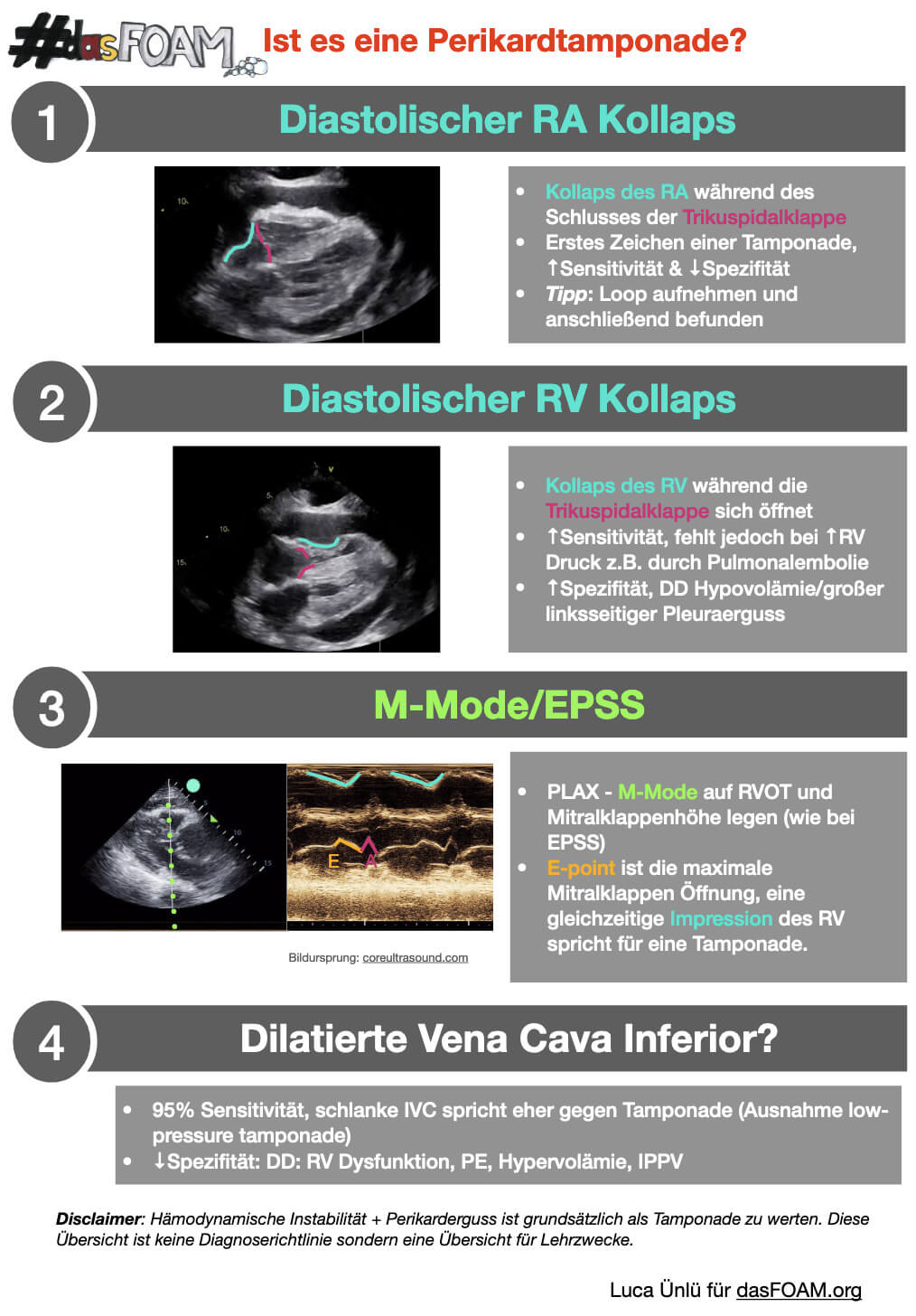 Is it a pericardial tamponade? Credit: dasFOAM
Systolic or diastolic?
All information on sensitivity and specificity were taken from the narrative review, which was published in 2018 in American Journal of Emergency Medicine has been published. Strong reading recommendation – almost all recent resources on the topic of pericardial tamponade in emergency medicine refer to this review. In May 2022 will appear in the American Journal of Emergency Medicine an even more comprehensive review by the same group of authors.
A point that can cause some confusion is the "systolic RA collapse", which we, like coreultrasound.com, call "diastolic RA collapse" because when the tricuspid valve closes, the right atrium is in diastole and the right ventricle is in systole. Because when the atrium is in the systole, a collapse of the right atrium (RA) can actually always be shown by echocardiography – since it empties into the right ventricle (RV).
Image source: Paige Codyunsplash