Hogwarts Legacy just shared its PC specs, it's going to hurt a lot. So sell your chopsticks, it's time to invest in a big machine.
It is not yet out that Hogwarts Legacy is already creating the event. Although many are trying to put a spoke in its wheels by attacking it on Steam or outright want to see it boycotted, the game is already a hit on PC. Unfortunately, some are already becoming disillusioned when they see the configurations required to take full advantage of it. You will have to break the piggy bank if you hope to play it in the most optimal conditions.
On paper, Hogwarts Legacy promises to be a real technical monster, particularly greedy if you want to play it in its recommended or higher version. And if you were hoping to play in 4K, go sell your car or take out a loan. It's a 3090 Ti or a 7900 XT or nothing.
Hogwarts Legacy in 720p and 1080p, it's okay
With the options at a minimum, Hogwarts Legacy opens to most current machines. The studio tells us that the game runs at 720p 30fps, with all options at a minimum, on machines equipped with a GTX 960 or an RX 470 and an I5 6600 processor or a Ryzen 5 1400. Even observation to play in 1080p 60fps with the options in high this time, where the game requires at least a GTX 1080, or an RX 5700, coupled with an I7 8700 or a Ryzen 5 3600. Rather "small" configurations, although we are still asked for 16GB of RAM.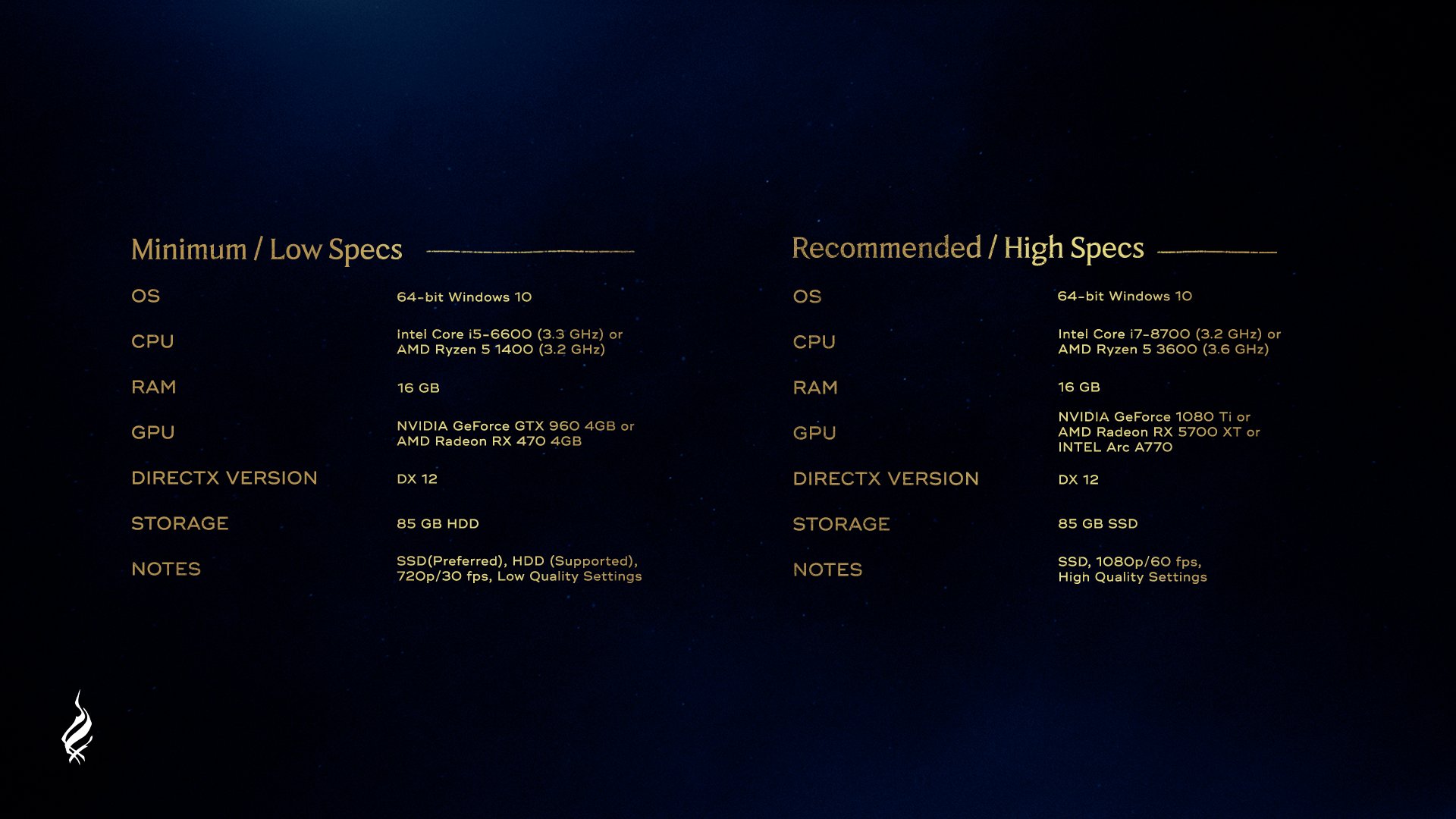 On the other hand in 1440p or in 4K, it stings
On the other hand, if you want to play in 1440P 60fps, you will have to raise the stakes. Here, Hogwarts Legacy requires an RTX 2080 Ti or equivalent and an I7 10700K (or equivalent) as well as 32GB of RAM. For 4K at 60fps, it will be strictly reserved for those who have been able to get their hands on RTX 3090 Ti or RX 7900 XT at fair prices (which is still difficult these days). Here too, the studio recommends 32GB of Ram and an I7 10700K processor or equivalent. In other words, it is clearly not within the reach of all budgets since we are talking about PC configs around 2000 € at the very least.
However, good news, the game is not very big compared to other current standards and weighs only about 85GB. It's always taken.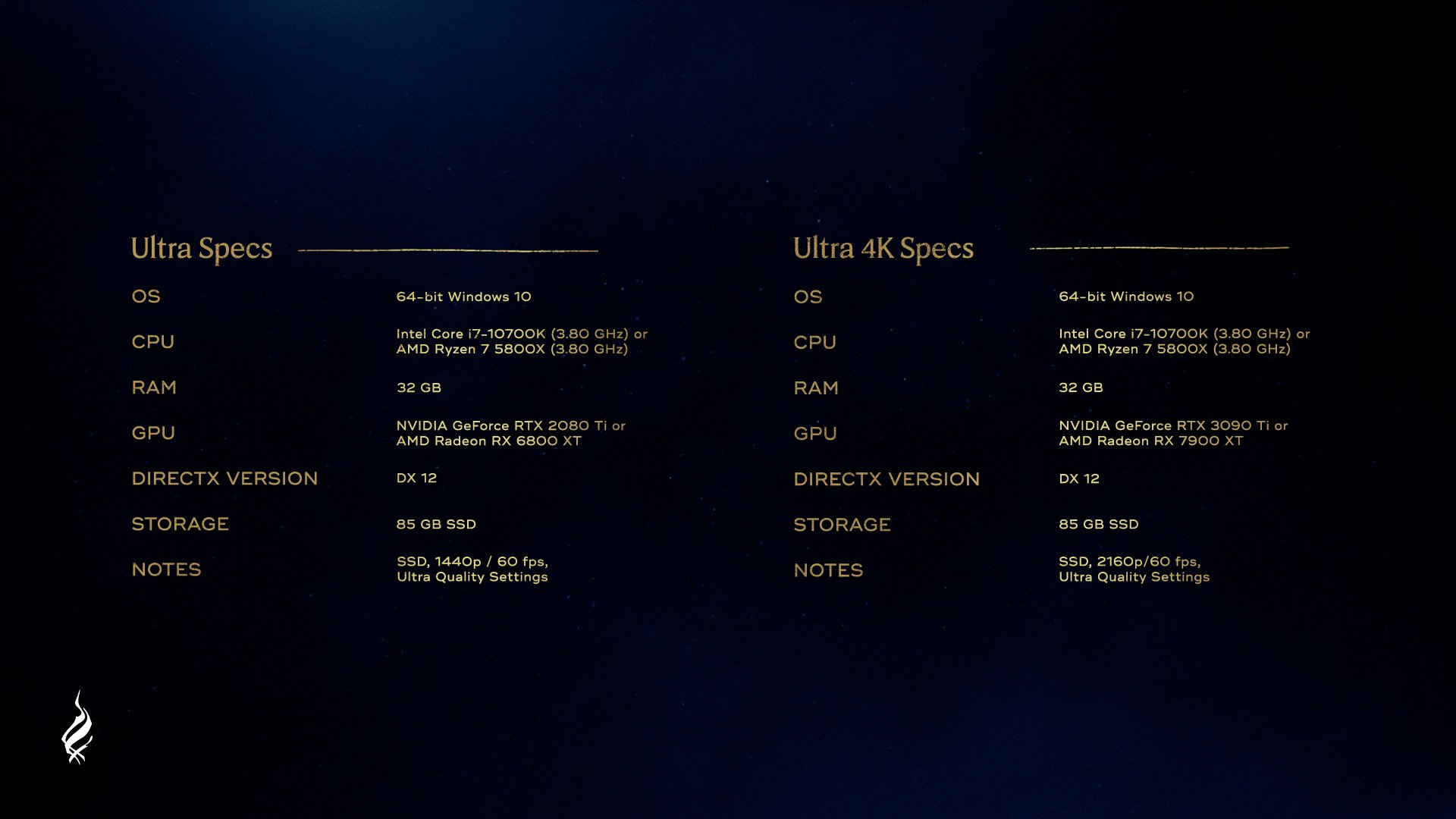 Fans are already worried
barely shared on Twitter, the required PC configurations are already debated among players. The game is rather greedy and some fans say they have already canceled their pre-order on Steam. In addition, many are wondering about the port to PS5 and Xbox Series. If the game already requires a solid configuration to run even in 1440p, what about our consoles which are supposed to display 4K?
Gamers are already starting to sense that the PS5 and Xbox Series versions ofHogwarts Legacy will be seriously downgraded so that they can hope to run correctly.
Many questions about optimization also keep coming up and players are worried that Hogwarts Legacy will end up having a chaotic launch like The Callisto Protocol, the last game to suffer major technical issues upon release.
Needless to say, the postponement of the Xbox One, PS4 and Nintendo Switch versions is also causing a stir on social media, especially now.
Hogwarts Legacy has been in the spotlight since its announcement and now fans are fearing the worst for the most part. Right or wrong ? Verdict on February 10 on PC, PS5 and Xbox Series.