Is there a threat of a heat pump ban now?
---
03/04/2023 – 5:30 p.mReading time: 3 min.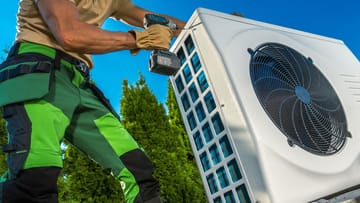 Heat pumps are more in demand than ever. But that could change now, because they contain toxic chemicals.
Due to the sharp rise in energy costs, the announced end of gas and oil heating and for environmental reasons, more and more homeowners are turning to heat pumps for heating. According to statistics, these alternative heating systems can now be found in almost every second newly built detached or semi-detached house.
Toxic gases in heat pumps
However, heat pumps are not as climate and environmentally friendly as they are often made out to be. The reason: their refrigerants.
Heat pumps absorb the heat from the outside – from the air, the water or the earth – and introduce it into their cycle. The heat is then compressed with the help of refrigerants, causing it to heat up even more. This heat is then used to heat the living space.
The problem with this method: The refrigerants almost always contain per- and polyfluorinated alkyl substances (PFAS). These artificial gases are considered to be very toxic and persistent, i.e. existing forever or not disappearing or degradable. They are also considered carcinogenic.
For these serious reasons, among others, PFAS are to be banned in Europe in the future. Germany has now spoken out in favor of banning the production and use of PFAS throughout the EU.
Heat pump as a poison slingshot?
It is true that the toxic chemicals are in a closed circuit, so that there is usually no danger for their owner during operation. However, that may change. For example, if the circuit or the coolant tank has a leak and the artificial gases can escape.
It is worse, however, when the heat pumps have to be disposed of. Because then the gases will definitely escape – unless they have been professionally pumped out and disposed of beforehand.
Heat pump ban because of PFAS?
If the EU bans PFAS in refrigerants, could that also mean the end of heat pumps? And what do consumers do who have equipped their heating system with heat pumps for a lot of money?
Sooner or later they could end up having to change or at least convert their heating alternative: the refrigerants used in the established heat pumps cannot simply be exchanged. To do this, the manufacturer's approval must first be obtained – and the latter then states whether this would be possible at all with the model used. In addition, it is not always clear whether the alternative, natural refrigerants can be integrated into the cycle. Heat pump owners should therefore definitely contact the manufacturer and a specialist company.
However, there will probably not be a general end for heat pumps, since there are alternatives to the toxic refrigerants. This is how the consumer advice centers advise anyone who is toying with the idea of ​​buying a heat pump: rely on models whose GWP value (English for "Global Warming Potential", in German: "Global Warming Potential") is particularly low – this information must be available always be specified for the heating methods. You should also use devices whose refrigerants do not use PFAS, such as propane.
Tipp
The federal government is currently also promoting the purchase of heat pumps that work with natural refrigerants.
The Association of the German Heating Industry (BDH) is currently still in favor of using refrigerants that contain F-gases – the climate target cannot be achieved otherwise, it is said. However, he also recommends using natural refrigerants whenever possible. Even if these are not yet relevant enough for the mass market.