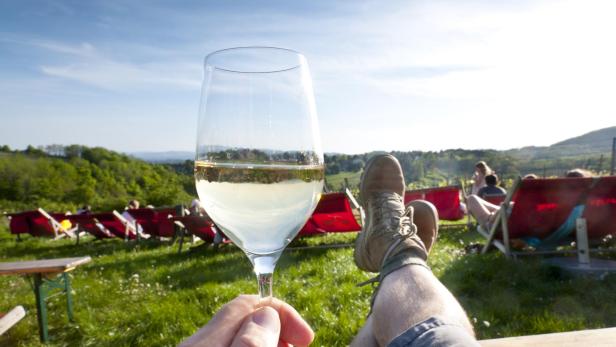 © grabi/istockphoto / grabi/istockphoto
The winegrowers speak of a good wine year in Austria. In Europe, however, things are not looking so rosy.
Of course, climate change does not stop at Austria's vineyards either. In the thermal region or in Andau, among other places, winegrowers have already joined forces and started watering the gardens. But that is currently the exception. Schmuckenschlager estimates that currently only around five percent of the vines in Austria are irrigated.
You can rely on the Austrians – at least when it comes to buying wine "Made in Austria". Three out of four bottles of wine that Austria's winegrowers fill are drunk within the country's borders, says Chris Yorke from Austria Wine Marketing. Of course with the help of the numerous tourists, but so be it.
Austria's wines are also gaining in importance abroad, the export quota is now 28 percent, with more than half of the exports going to Germany and the leaps in growth taking place above all in the USA and Canada (although starting from a comparatively low level than in the neighboring country).
In any case, supplies from the vineyards are taken care of. The main harvest time does not start until mid-September, but experts are already aware that the harvest volume will be only slightly below average at 2.3 million hectoliters. The volume has thus been relatively stable for five years, which is also an important sign for domestic and foreign customers. Viticulture President Johannes Schmuckenschlager also assumes good quality: "The alternation between precipitation and heat periods during this year's growing season forms the perfect basis for this", he speaks of a "good acid structure and sugar formation in the grapes".
In short: fungal diseases and unpredictable weather had little impact on the nationwide harvest – even if the damage to individual winegrowers was enormous. Not only in Austria, by the way. In Italy and France, fungal diseases have significantly reduced the harvest, while Spain reports losses as a result of the heat wave. According to Schmuckenschlager, the situation is tense throughout Europe, also because of "systemic problems, such as the lack of skilled workers in the Prosecco-growing region". Schmuckenschlager assumes "that production in Europe will be reduced, which will stabilize the market".
Deforestation in Bordeaux
Just one example: In Bordeaux, France, after the grape harvest, a number of winegrowers have to use heavy equipment in the autumn: the vines on an area of ​​around 9,500 hectares are uprooted with millions in state aid, because there is overproduction and economic problems. Wine consumption in France has been declining for a long time.
Younger people in particular prefer to have a beer instead of wine or avoid alcohol altogether. In a survey (n=1000), the wine-growing association claims to have discovered a problem that does not exist in Austria. In this country, wine and the wine industry are gaining popularity, especially among women and the under-30s. Or as Schmuckenschlager puts it: "The wine is getting younger and more feminine."
( kurier.at, sh ) | Today, 10:34 AM