Sport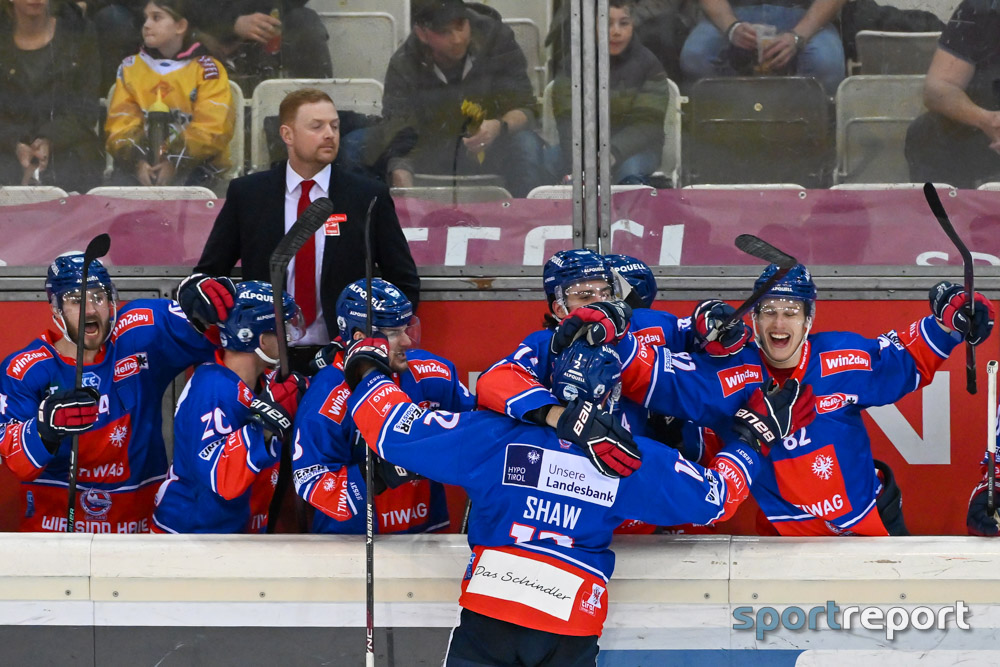 © Sportreport
Game 3 in the series between HC TIWAG Innsbruck and the Vienna Capitals starts tomorrow. The sharks want the impressive 4: 0 in Vienna immediately follow.
"Don't fly too low when you lose, don't fly too high when you win" – head coach Mitch O'Keefe and goalie René Swette (first shutout for the Haie in more than 5 years) found exactly the same words after the important victory in Vienna. Knowing full well that tomorrow's game in the TIWAG Arena will be just as important. "Defensively we have to be as compact as we were in Vienna. To be honest, I didn't think we could play that well," Swette was full of praise for the men in front after the 4-0 win at the Caps. And Coach O'Keefe added with satisfaction: "It was exactly the right answer that we had to give after the bitter home defeat. But on Sunday everything will start from scratch again, it won't get any easier."
The defensive behavior of the sharks should again be the key to success tomorrow. In addition to the outstanding René Swette, the penalty-killing and the irrepressible commitment of every single player also impressed in Vienna. The Haie cracks blocked countless shots and made life easier for goalie Swette as much as possible. Tomorrow the Tyroleans want to take the momentum in the series with them and follow up with a win. Then the Caps would already be under some pressure in the following game in Vienna on Tuesday. Support from the stands will also be important tomorrow. The Haie are hoping for a completely sold-out hall.
Remaining tickets and subscription exchange
Tickets are still available for Sunday's game. Tickets can either be purchased via Ö-Ticket or on the day of the match from 3 p.m. at the box office at the TIWAG Arena. The Haie's victory yesterday also means that there will be at least one more home game in the TIWAG Arena on March 17th, 2023. The subscription for this game can also be exchanged tomorrow from 3 p.m. at the box office.
HC TIWAG Innsbruck-Die Haie – married Vienna Capitals
Sunday, March 12, 2023, 5:30 p.m. – TIWAG Arena
Stand in der Best-of-Seven-Serie: 1:1
Media information HC Innsbruck
11.03.2023