GTA 6 returns to talk about him, but this time no leak, but teasing. Since it seems that one of the most famous rappers in the world has decided to raise the sauce before the hour.
Summary
GTA is a series that we don't even present anymore. Known to both players and non-players, this saga is certainly one of the most cult in video games. Between the controversies, the records and above all a GTA 5 which ranks as one of the best-selling games in the entire history of video games, it is difficult to miss the Rockstar franchise.
So when the studio announced the development of GTA 6, the canvas went up in flames. It literally exploded when a hundred visuals of the game appeared on the web after a massive leak. Since then, information has been discreet, if not completely absent. But today, a famous rapper decided to put his two cents in it. And not just any, since we are talking about 50 Cent, a legend of US rap.
A huge project concerning GTA 6?
On his Instagram account, the prolific singer has indeed teased a project concerning GTA. 50 Cent has indeed shared a logo of GTA Vice City, which city has been confirmed in GTA 6 in this case, with an evocative message that could hide something huge about the game, or something else concerning the franchise.
I'll explain that later, GLG GreenLightGang. This sh*t is bigger than POWER. Trust me. BOOM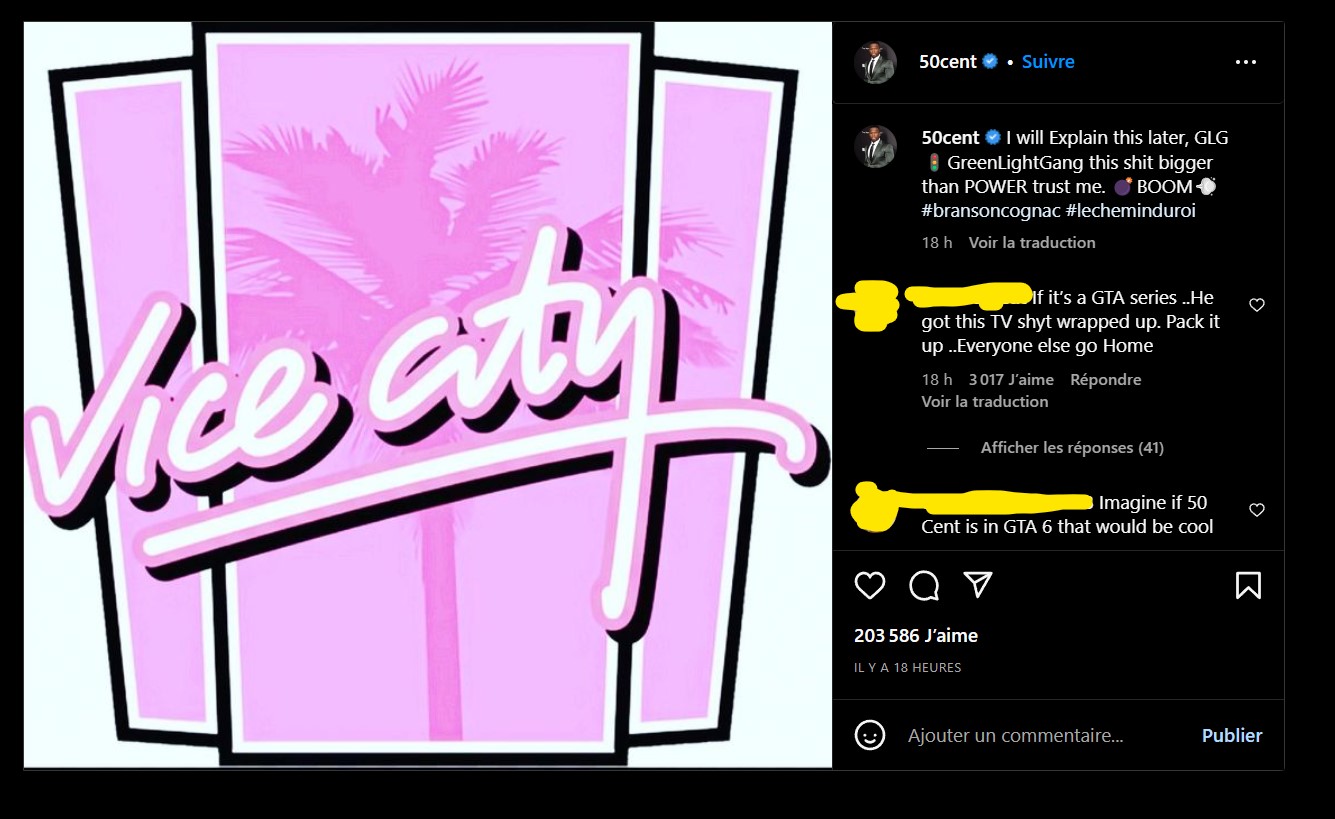 50 Cent in Rockstar's next big game?
50 Cent is indeed referring to an important project in connection with GTAand which would be even more imposing than POWER, a rather appreciated series of which he was the producer, while playing a role in it.
So there could be several things here. The first that would come to mind would be that the rapper would have a role to play in GTA 6.
One could also think that the singer would lend a few songs to put in the game's playlist, or even unreleased songs. But given his statement, one would tend to think it's even bigger than that. Will he be present as an important character? Will he be a playable hero? Which is unlikely given the information that has already leaked, or something else perhaps? Good question, for the moment, the teasing is vague. But it wouldn't be the first time Rockstar has partnered with famous rappers. Especially Dr. Dre with GTA Online.
A film or a series perhaps?
If it's not related to GTA 650 Cent could also be closely or remotely linked to a film or series project Grand Theft Auto. As an actor or producer for example. After all, he is making a direct reference to one of his series here and it would not be his first appearance on the small screen or the big screen. Not only has he lent his features to one of the characters in the series POWER, but the singer also has several other appearances to his credit, notably in his film Succeed or dieinspired by his own story.
Anyway, something is brewing and we should soon be fixed. Without a doubt, the rapper will return to the charge soon to give us new information or else, an even bigger announcement could be made in the weeks or months to come. All you have to do is stay on the alert.