According to a study conducted by Recurrent Auto, very few electric vehicles would have needed to change the battery. Good news for those who feared spending thousands of euros in the event of a technical problem.
Since the arrival of electric vehicles on the automotive market, a question has constantly come up on the lips of potential buyers: how long will the battery last? An important question, when we know that the cost of replacing a battery in an electric car amounts to several thousand euros, depending on the manufacturers.
But if we rely on the data provided by Recurrent Auto and reported by Inside EVs, very few owners of electric vehicles have had to replace the battery. According to the study carried out on more than 15,000 electric vehicles, only 1.5% of them underwent a battery change, without taking into account the recalls of the brands for potential manufacturing defects.
Tesla, battery conservation champion
According to data collected by Recurrent Auto, Chevrolet Bolt EV and Hyundai Kona Electric owners are the least fortunate: they are the two tracked vehicles that have had the most battery replacements, with 34% and 25% respectively. of replacements. Note that these two vehicles have however experienced recalls from their respective brands in order to proceed to an official replacement. On the other hand, Tesla enthusiasts will be delighted to learn that their vehicles are among those that have undergone the fewest battery changes among the vehicles analyzed by Recurrent Auto. At the bottom of the ranking, we therefore find the Tesla Model Y, the Tesla Model 3, but also the Audi e-tron.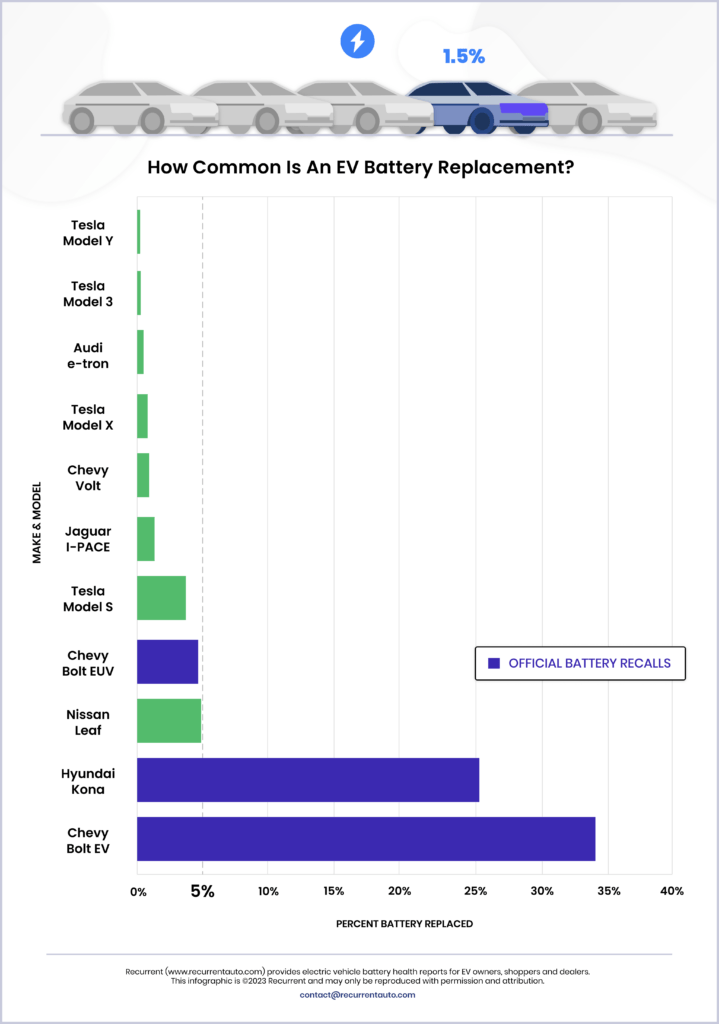 Regarding the almost zero replacement rate of the Tesla Model Y, it should be noted that this model of the brand of Elon Musk has only been available for 3 years on the automotive market.
Extending the life of your battery is possible
The study conducted by Recurrent Auto, dated March 27, 2023, also mentions the percentage of electric car batteries replaced, by year. According to the data, this is a declining figure over time. Two spikes were noted, in 2017 and 2019, which match the Chevrolet Bolt EV and Hyundai Kona Electric recalls. Liz Najman, the researcher behind this study also dwells on battery life and its degradation.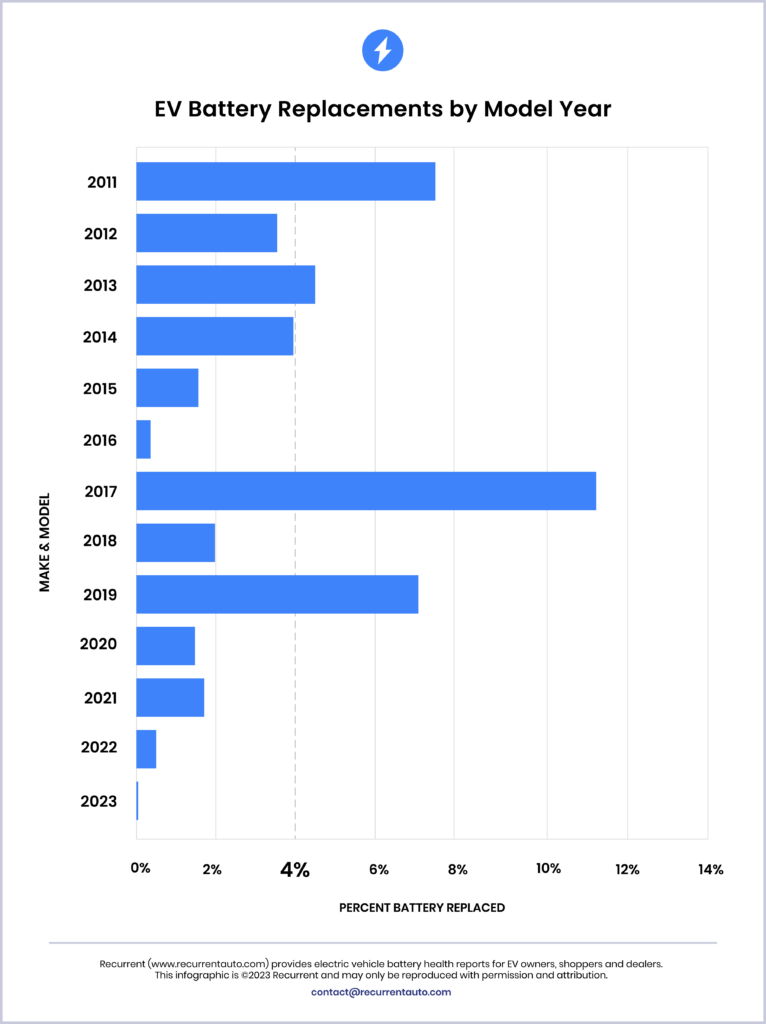 Depending on the brands and vehicles, the battery will experience (or not) a gradual degradation. For example, Tesla's Model S, with a 100 kWh battery, will see more degradation over time, while its versions with a smaller battery will experience less degradation.
Other more recent vehicles, like the Hyundai Ioniq 5, see their degradation curve maintain over time.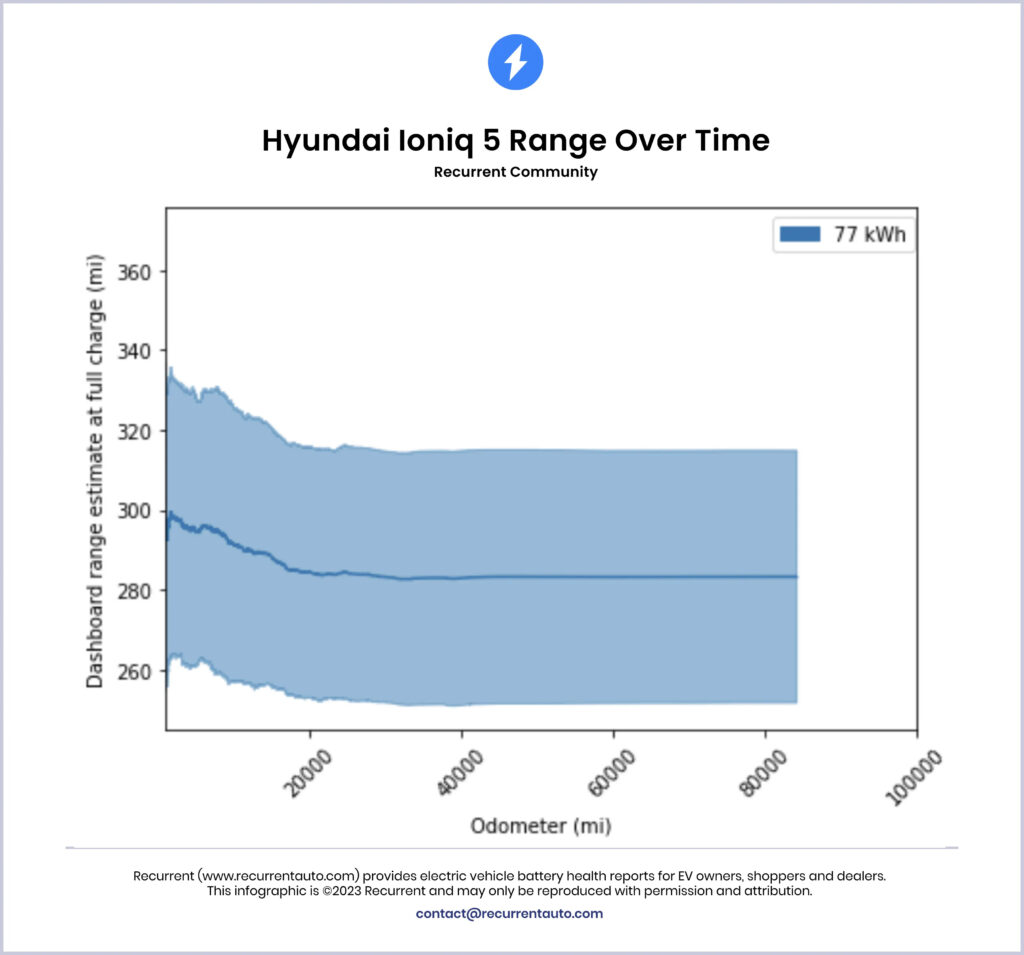 Finally, the study concludes with some advice to extend the life of electric batteries, such as avoiding using fast charging daily, or avoiding exposing your vehicle to heat (or cold) for too long. Basic advice, but which can save you thousands of dollars in the long term.
Is the electric car your thing? Do you love everything related to the mobility of tomorrow? Subscribe to Watt Else, Numerama's new free newsletter, 100% guarantee without jargon on the industry, its innovations and its limits.
Newsletter Watt Else
You wish to receive the newsletter Watt Else in your mailbox?
The data transmitted through this form is intended for PressTiC Numerama, in its capacity as data controller. These data are processed with your consent for the purpose of sending you by e-mail news and information relating to the editorial content published on this site. You can oppose these e-mails at any time by clicking on the unsubscribe links present in each of them. For more information, you can consult our entire personal data processing policy.
You have a right of access, rectification, erasure, limitation, portability and opposition for legitimate reasons to personal data concerning you. To exercise one of these rights, please make your request via our dedicated rights exercise request form.
---
Do you want to know everything about the mobility of tomorrow, from electric cars to pedelecs? Subscribe now to our Watt Else newsletter!